Tulsa Flipped the Script from Horror to Comedy
Something significant was going to happen to Tulsa. Who could have predicted a genre shift?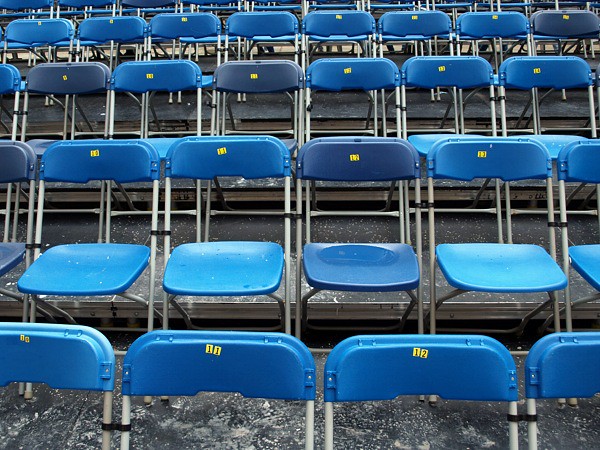 It was clear that something significant was going to happen in Tulsa last weekend. If you were pitching the Trump rally as a movie premise, you'd stand a good chance that the studio executive would want to hear what happens next. First rally in months…Coronavirus cases spiking across the country, including in Oklahoma…Campaign officials bragging that a million of the faithful plan to attend…Racial wounds still raw…Rally was originally scheduled for the anniversary of a race riot and massacre, and now it's moved just one day after…Trump threatening state violence against peaceful protesters, in the aftermath of a police murder that ignited weeks of protests…Trump needs his adulation fix, and his campaign needs a boost…You can see the studio suit sitting up, suddenly more attentive, asking, "Yeah, and what happens next?"
A good movie premise leaves you with the sense that virtually anything can happen, once you've bought into the premise. It's the rare movie that capitalizes on that uncertainty to move not only the plot and characters in unexpected directions, but shift the entire feel, even the genre, of the movie. If you saw Alien for the first time the way I did, as a teenager — not knowing exactly what sort of movie it was going to be — you might have thought, from the first few scenes, that it would be a space exploration movie. Quickly, it turns into a horror movie that followed a haunted house motif. When you start watching Baby Driver, you might think it's a standard caper movie. Later, you realize that it's also a musical. Few movies try to make this sort of shift, and even fewer make the transition successfully.
For many people who are not Trump devotees (loyalists, adherents, acolytes, call them what you will), the last few years, and the last few months in particular, have felt like a horror movie. We watched helplessly as the creeping doom advances on things you care about — the rule of law, economic inequality, racial inequality, America's standing in the world, the environment, the Constitution, you name it — with the determination of Jason murdering teenagers, or Dracula slowly draining his victims, or the xenomorph from the Alien franchise stalking blue collar workers and grunts. Some tried to stand in the path of the monster, but they failed. One by one, the body count increased. Suddenly, the story shifted into high gear. The first half of 2020 has felt like the climax of the movie, after the villain has swept past the cop or the colonial marine or the priest armed with just a crucifix or the scientist or whatever else seemed like the last line of defense.
This period, near the end of Trump's first term, seemed to follow a parallel path to one of two typical climaxes to a horror movie. We've been retreating into our homes to avoid the relentless coronavirus the way in which horror movie characters try to escape from the monster. (And we are tired in the way that Danny must have felt during the hedge maze chase at the end of The Shining.) The other way horror movies end is with a brave stand, like the mass protests against police violence, in the face of further police violence. This time, we've hoped and prayed, we'll defeat the villain.
Then, Tulsa happened, and the script seemed to flip.
I don't normally watch Trump rallies, for the same reasons that I don't eat expired lunch meat. Still, we watched the Tulsa event for a few minutes because we were interested in the turn-out, given how much the Trump campaign proclaimed the record crowds, and how tragic it would be for thousands of unmasked people to stand shoulder to shoulder inside a convention center. We tuned in just in time for Trump's long, bizarre, unnecessary, and counter-productive re-telling of his conquest of a ramp and a glass of water. We saw the empty seats in the background. A little later, we heard about how K-Pop fans and TikTok users waged their own pranksterish protest. Once again, Trump's antagonists seemed to be, not dictators in North Korea or Russia, but ordinary people like Plaid Shirt Guy. This time, however, these ordinary people were more successful, becoming more than just a meme.
And we laughed.
I laughed the hardest I have in years. Probably since 2016, at least. I laughed as hard as I did at one of my favorite comedies, for exactly the same reason why I found that particular film outrageously funny. Unfaithfully Yours stars Rex Harrison as an orchestra conductor who believes (wrongly) that his wife is cheating on him. He decides to exact his revenge on his suspected rival through an elaborate murder plot. In the first half of the movie, we see how he imagines that he will execute this plot with clockwork smoothness and precision. In the second half, we see how it actually turns out. That's the part where I laughed uncontrollably, operatically, even after the movie ended. I still laugh when I remember certain parts of it.
My sense of humor doesn't run down the cruel lines of the physical pratfalls of America's Funniest Home Videos, in which nice people just trying to have a good time jumping on trampolines suffer surprisingly painful consequences. I find the moral pratfalls of pompous, overwrought, selfish, and self-important people much, much funnier. Getting their just deserts for their personal failings tickles my funny bone. I can watch Inspector Clouseau try to demonstrate his "mastery" of the parallel bars, or Basil Fawlty try to convince his guests that everything is fine in the kitchen, and laugh as hard as I did when I first saw these bits.
In Tulsa, Trump seemed a lot more like Basil Fawlty than the xenomorph. Aggrieved, he wasted his time, and the patience of everyone around him, complaining how wronged he was. His slow walk from Marine One to the White House that night felt more like Basil Fawlty wearily trudging back to his hotel than the xenomorph relentlessly chasing Ripley through the Nostromo.
Because I have a social science background, I know the difference between an anecdote, my levity in response to the botched Tulsa rally, and the aggregate, any seismic moves that might happen in the American electorate. Still, I'm not alone in finding Trump's bad awful day in Tulsa hilarious. His already worsening poll numbers haven't reversed direction, largely because of his mishandling of both a pandemic and a critical moment in the history of race and policing in this country. Many people, I suspect, found Tulsa to be a distillation of everything wrong about Trump. In truly Basil Fawlty-esque fashion, he behaved like a buffoon, not in spite of his best efforts to master the moment, and others, but because of them.
Trump's kryptonite is looking ridiculous. (Especially in his binary world, where there are only two states, domination and humiliation.) He fears it, and he's right to do so. Perception rules elections in a way that Trump understood in 2016, even though he never understood that stage management and special effects matter far less when the election is over and governance begins. Perception of the protagonist as capable and sympathetic, instead of foolish and boorish, can make even a flawed production bearable. The plot of The Big Sleep makes no sense in the end, even famously stumping its author, but it's fun spending a couple of hours with Humphrey Bogart.
Surely, the show runners of the Trump campaign won't be able to flip the script back from comedy to horror simply by mindlessly playing out the same scenes again. The Republican convention in Jacksonville will repeat the failed script from Tulsa, down to scheduling the event in the same place and on the same calendar date as a white riot. Promising it will be bigger and better isn't going to lead to a better outcome, and may damage the franchise further in the same way Jaws 3-D just made things worse after the awfulness of Jaws II.
Of course, all of this could be wishful thinking on my part, the result of watching too many movies in which the script writers find a way to a happy ending, no matter how strained. Still, there are those shifts in the polls, in which many previous Trump supporters in Florida, Ohio, Michigan, Pennsylvania and elsewhere have stopped wanting to watch more episodes of his current reality show.
I'm normally reluctant to give away endings of movies, even old ones, but in this case, I'll make an exception. At the end of The Lost Boys, the person who saves the day is Grandpa, an old white guy who is just sick of the damn vampires. It's a funny and satisfying moment that we hope will replay in real life.