Oklahoma Police Officer Charged In Shooting Death Of African-American Man
An Oklahoma police officer has been charged in the shooting death of an African-American man while North Carolina authorities continue to balk on releasing a video in a shooting case there.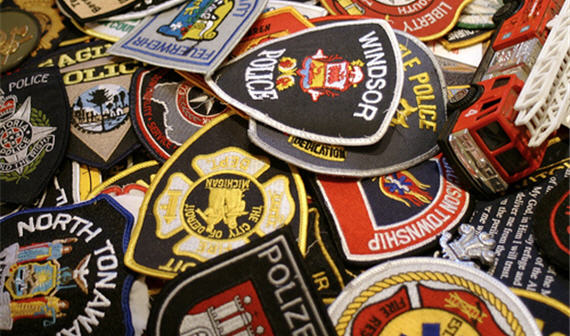 The police officer involved in the shooting of an unarmed African-American man has been charged with manslaughter:
TULSA, Okla. — The white police officer who fatally shot an unarmed black driver here last week as he stood outside his vehicle overreacted during a confrontation captured on video and was charged on Thursday with first-degree manslaughter, the authorities said.

According to court documents, the officer, Betty Jo Shelby, 42, was overcome with fear that the man, Terence Crutcher, 40, who was not responding to her commands and was walking away from her with his hands up, was going to kill her.

An investigator with the Tulsa County district attorney's office said in an affidavit that Officer Shelby became "emotionally involved to the point that she overreacted" and fired her weapon even though she "was not able to see any weapons or bulges indicating" that Mr. Crutcher had a gun.

Prosecutors have charged the officer with committing manslaughter "in the heat of passion." Oklahoma law defines such passion as a strong emotion, such as fear or anger, that exists to such a degree in a defendant that it affects "the ability to reason and render the mind incapable of cool reflection." Those found guilty of first-degree manslaughter face a sentence of no fewer than four years in prison.

Officer Shelby, a Tulsa police officer since 2011, has been on paid administrative leave. The authorities said that a warrant had been issued for her arrest and that arrangements were being made for her to surrender to sheriff's officials.

Mr. Crutcher was unarmed when he was shot, and no weapons were found in his vehicle, officials said. The Tulsa County district attorney, Stephen A. Kunzweiler, said he filed the charge against Officer Shelby after reviewing video of the shooting from both a patrol car's dashboard camera and from a helicopter that had responded, as well as 911 calls, witness interviews and other evidence.

Court documents state that based on Mr. Crutcher's noncompliance, Officer Shelby's fear "resulted in her unreasonable actions" that led her to fire her weapon. Mr. Crutcher died from a single gunshot wound to the chest.

The shooting is one of a string of deaths of black people at the hands of the police that have stoked outrage around the country. The unrest and violence in Charlotte, N.C., that has followed a police killing of a black man in that city were part of the backdrop in Tulsa. In a statement, Gov. Mary Fallin of Oklahoma praised city leaders, law enforcement officials "as well as the citizens of Tulsa for keeping peace and order during this difficult time." She asked residents to keep both the Crutcher and Shelby families in their prayers.

"No matter how you feel about the prosecutors' decision in this case, I hope Oklahomans will respect the views of your friends and neighbors, because we still have to live peacefully together as we try to make sense of the circumstances that led to Mr. Crutcher's death," she said.
Meanwhile, the family of Keith Scott, the man shot by Charlotte, North Carolina police, is calling on police to release the videotape in that case as protests and rioting continued to rock the city:
CHARLOTTE, N.C. — The grieving relatives of a man who was killed by the police here watched videos on Thursday of the fatal shooting, a wrenching experience that they said revealed no hint of aggression in him and left the family members convinced that the videos should be made public. But the city's police chief, who had arranged for the private viewing, held fast to his decision not to release the recordings.

The wife and other relatives of the dead man, Keith L. Scott, watched his killing from two angles, recorded Tuesday by police dashboard and body cameras, and "it was incredibly difficult," a family lawyer, Justin Bamberg, said in a statement.

He said the family had come away with more questions than answers and a different interpretation from the account offered by the police, who have said that Mr. Scott, 43, was shot after he got out of his car brandishing a gun.

"When told by police to exit his vehicle, Mr. Scott did so in a very calm, nonaggressive manner," Mr. Bamberg said. "While police did give him several commands, he did not aggressively approach them or raise his hands at members of law enforcement at any time." When an officer opened fire, he added, "Mr. Scott's hands were by his side, and he was slowly walking backwards."

On Thursday night, hundreds of people gathered at an intersection in central Charlotte, holding signs and chanting, "We want the tapes!" in a peaceful demonstration.

Mayor Jennifer Roberts ordered a midnight-to-6-a.m. curfew, the first since the unrest began, though the demonstrations were largely peaceful, and the police did not enforce the curfew as it went into effect. The police said that two officers were being treated after protesters sprayed them with a chemical. There were no immediate reports of injuries to civilians.

On Thursday evening, some protesters marched to the police headquarters and held a moment of silence, fists raised in tribute to a man who was fatally shot during the previous night's protest and to those killed by the police. They marched to the county jail and chanted for the inmates behind the slats. Some inside blinked their lights off and on in apparent solidarity.

Later, Interstate 277 was briefly shut down as demonstrators moved onto the roadway, and the police fired smoke to try to disperse them.

Mr. Scott's death touched off violence in Charlotte on Tuesday and Wednesday nights. As hundreds of National Guard troops and State Police officers fanned out across the city on Thursday in an effort to head off further violence, Chief Kerr Putney of theCharlotte-Mecklenburg police brushed aside demands by activists, community leaders and the news media to make the police video public.

"We release it when we believe there is a compelling reason," he said.

Until they viewed the videos on Thursday afternoon, Mr. Scott's relatives had said they were uncertain whether they should be released to the public, according to Mr. Bamberg.

While the family members differed with the police on some major points about the videos, they seemed to be in agreement with Chief Putney on one aspect. "It is impossible to discern from the videos what, if anything, Mr. Scott is holding in his hands," they said in a statement.

Earlier in the day, Chief Putney said, "The video does not give me absolute, definitive visual evidence that would confirm that a person is pointing a gun." He added later that he could not see Mr. Scott's hands. But the chief, speaking at a news conference, said that eyewitness accounts and other evidence suggested that Mr. Scott was holding a pistol at the time he was shot, and that a weapon had been found at the scene.
Based on the available evidence, the charges in the Oklahoma case seem entirely appropriate. The video of the encounter that we've seen so far seems to make clear that Crutcher was not armed, that he posed no threat to the officers, and that he was not taking any action that could reasonably deemed threatening toward the group of officers seeking to detain him. Indeed, it appears from the point of view that we have that he was attempting to comply with whatever demands they were making of him at the time and that the officer who fired off the shots either grew impatient with him or, more likely, panicked and fired off her weapon, killing him without any real justification. This would explain the "heat of passion" indictment that the prosecutor issued and why they chose not to go with a murder charge in this situation since the facts don't necessarily justify the finding that she had the requisite intent at the time the shots were fired. Instead, this would fall into one of those situations where the circumstances induced sufficient fright or anger in the defendant to cause them to act, but where the circumstances are such that it still amounts to an improper act. Again, while this is less than the murder charge that some may have desired we have learned from recent cases that prosecutors who approach these cases with the idea of hitting officers with the maximum charge possible often end up regretting the decision.
As for the North Carolina case, the refusal to release the video of the incident in question strikes me as the wrong decision in the light of the situation on the ground there. It's understandable that authorities would prefer to wait until the investigation is complete before any such move is made, but failure to do so also plays into the suspicion that authorities are trying to sweep this case under the rug. If it's true that the videos are not conclusive, then the public deserves to see this so that it can understand why the investigation is taking so long, or why it may turn out that the investigation reveals that no charges are appropriate. Continuing to hold the tape back, though, just plays into the suspicions that have been motivating these protests from the beginning, and to guarantee that they are likely to continue through the weekend. Indeed, one need only compare the relative openness that we're seeing from police and prosecutors in Oklahoma and compare it to how authorities are acting in North Carolina to see the impact that being honest with the public in these situations can have. While there have been protests in Tulsa in the wake of Crutchter's shooting, they have not turned violent in the same way that the Charlotte protests have. There are likely several reasons for this, but the fact that the authorities in Tulsa have been more open with the public has no doubt had a huge impact on how the public has reacted. North Carolina authorities would do well to pay attention to this.