Turkey Embassy Bombing Not Another Benghazi
Ross Wilson, former US ambassador to Turkey, says yesterday's suicide attack on our embassy in Ankara "was no Benghazi."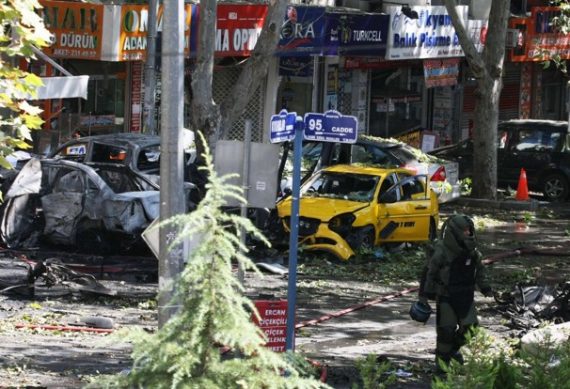 Ross Wilson, former US ambassador to Turkey and now my colleague at the Atlantic Council, says yesterday's suicide attack on our embassy in Ankara "was no Benghazi."
This was no Benghazi.  The Ankara embassy's tight security perimeter did its job, stopping the assailant before he could endanger the US mission and its diplomatic staff and confining the security breach to one of the several reinforced gatehouses that screen visitors into the embassy compound.  Embassy staff under Ambassador Francis Ricciardone reacted calmly and efficiently, immediately sealing the compound and securing the people and facilities inside.  Ricciardone promptly went outside the embassy fences to make a statement to the media, demonstrating confidence, not confusion, about his post and its security.

As today's televised images make clear, Turkish policy deployed with great-and customary-speed to ensure security outside the perimeter as well.  One can wonder whether the rush of uniformed personnel into the tight street adjacent to the destroyed embassy gatehouse might have made a tempting target for a second bomber, but the bravery and determination were remarkable.  I saw something similar while serving as US ambassador in Ankara myself in 2005-2008 when gunshots were fired from the street into my office.  Literally within seconds and before most of our own staff knew that anything had happened, dozens of uniformed Turkish security police appeared out of woodwork around the embassy and chased the gunman down.

Another difference from Benghazi:  this was apparently not al-Qaeda.  The authorities' presumed culprit, DHKP/C, is a Marxist splinter group with a far out ideology that is anti-American, anti-Western, anti-capitalism, and anti-authority.  Its modus operandi has been violent opposition to non-leftist institutions of power whatever they may be, whoever runs them, and regardless of the purposes they serve.  Despite its 1960s name and brand, the organization has a history of brutal efficiency in the murder and terrorism business.  Over the past two decades or so, it has carried out dozens of assassinations and many more bombings and assaults.  Targeting of Americans and American institutions was less effective, but has happened.
Much more at the link.