Two GOPs
A policy-leaning wing and a political-leaning wing make for an unworkable coalition.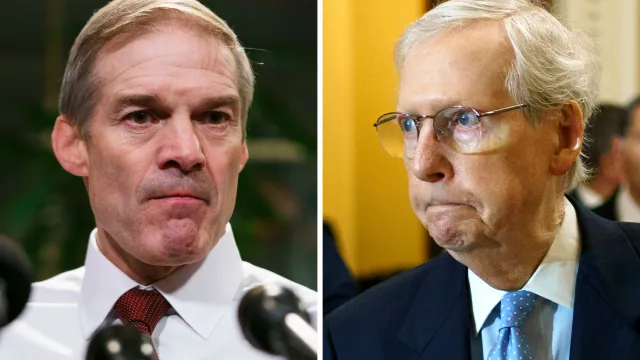 POLITICO politics bureau chief Jonathan Martin offers this explanation as to "Why the GOP Can't Unite."
There is no longer a cohesive Republican Party. There's a pre-Trump GOP and a post-Trump GOP, living together uneasily. They may be roommates but they're not married.

Which is why it was unintentionally unironic for Rep. Jim Jordan (R-Ohio), after watching 20 Republicans oppose his candidacy for speaker, to lament what could come next in the House. "No one in our conference wants to see any type of coalition government with Democrats," Jordan told reporters after the first vote Tuesday.

Yet that's precisely what his own conference has become — a would-be coalition government, if under the same banner. The fitful and still fruitless negotiations that have taken place since Kevin McCarthy's ouster two weeks ago are closer to a European-style coalition-led parliament struggling to be born than a factional dispute within an American party.

But don't take my word for it.

At about the same time as Jordan was making those comments, I was sitting down with perhaps the purest archetype of the pre-Trump GOP, the man who was seen as the future of the party 11 years ago this fall.

"It's basically a bifurcated coalition government," former House Speaker Paul Ryan said of the Republican conference he once led.

Former President Donald Trump's takeover of the GOP has accelerated the remake of Congress, where Republicans in his image have been arriving since 2018 while those anchored in the Ryan-era party have either followed the former speaker's path to the exits or accommodated the party's transition.

"This is a political-leaning conference right now, not a policy-leaning conference," Ryan told me. Which makes sense, he added, because "our party is a populist-leaning party right now, not a policy-leaning party."
That there is a wing of the Republican Party that wants to govern and a wing that wants to burn the whole thing down has been apparent for quite some time. What's hard to gauge, because most of the "normies" have proven themselves spineless, is how large the two factions are.
At the same time, Martin's origin story just doesn't add up. The Tea Party and the so-called Freedom Caucus didn't emerge in 2018, or even 2016. But, rather clearly, they have held the whip hand since Trump was elected.
Apropos Martin's column, a report in POLITICO ("Senate fills the void as House GOP burns from within") illustrates the schism.
With the House effectively shut down, the Senate has the upper hand on Washington's two biggest issues this fall — aiding Ukraine and Israel and keeping the government open.

Even if the House GOP selects a speaker or a caretaker leader to claw out of the current chaos, its Republicans will already be in a weakened state as the White House prepares a massive, potentially $100 billion request for national security aid. Instead, Minority Leader Mitch McConnell's Senate GOP looks to have the Republican sway over both that foreign money debate and the fight to avoid a shutdown.

As his last act before getting ousted, Rep. Kevin McCarthy (R-Calif.) made the Senate swallow a spending bill without Ukraine aid that his conservative members opposed. But with a Nov. 17 shutdown deadline less than a month away and Ohio GOP Rep. Jim Jordan's speaker bid sputtering, the next confrontation over federal funding is looking very different.

That's in large part because McConnell, after enduring public scrutiny of his health all summer, is embracing a generous aid package for Ukraine and Israel and is in harmony with Senate Majority Leader Chuck Schumer on the framework of that legislation. The Senate minority leader faces real internal opposition of his own, but at the moment his anti-shutdown, pro-Ukraine position at least gives Democratic leaders a Republican they can talk to.

It's a harsh unintended consequence for the House conservatives who ejected McCarthy: The Senate minority leader who many of them abhor is, for the moment, the most influential leader in the congressional GOP.
There's a faction of the OTB commentariat who dismiss the notion that there are "wings" of the GOP, lumping them all together as crypto-facists. But, while there's plenty to criticize McConnell for, he has survived as his party's Senate leader for almost seventeen years now because he's able to build coalitions and navigate the policy space. When he's in the majority, he gets bills passed. When he's in the minority, he blocks bills and/or extracts policy concessions for letting them pass.
Now, part of this is simply the difference in the design of the two Houses. Senators are elected statewide for six-year terms while Representatives are (mostly) elected from smaller districts that are often (usually by design) skewed toward a given political party.
Regardless, the effect of what Ryan dubs the political-leaning wing having undue sway in the House means that we've flip-flopped the normal order of things. Both because of the above-mentioned design and the evolution of rules like the filibuster, the Senate has always served as the "saucer" as compared to the House's "cup." The House was where new policy ideas got passed into law and the Senate is where they went to die. Now, the Senate has to cajole the House to pass any bill at all.
Indeed, as The Hill's Alexander Bolton ("McConnell, Jordan would be ultimate GOP odd couple") notes,
Senate Republican sources point out that McConnell has often had to step in to clean up the political messes caused by Jordan and other members of the House Freedom Caucus, such as the brinksmanship that nearly caused a national default in 2011 and a 16-day government shutdown sparked by a fight over the Affordable Care Act in 2013.

Jordan declared in 2011 that conservatives in the Republican Study Committee, which he led at the time, would oppose McConnell's plan to raise the debt limit by putting the burden on then-President Obama to request debt increases and give congressional Republicans to vote for resolutions of disapproval.

In 2013, Jordan pressured House GOP leaders to add language to a short-term government funding bill to defund ObamaCare, which resulted in a shutdown that McConnell likened to "the second kick of a mule."

More recently, McConnell broke with the House Republican efforts to challenge the results of the 2020 election, which Jordan helped lead, and warned the House about launching another round of impeachment proceedings, calling impeachments generally "bad for the country."

McConnell knows how to throw a political punch and Democrats have loudly complained about his partisanship over his more than 16 years as Senate Republican leader, but throughout that time he has prided himself on governing, even if the deals he cut with Democrats unpopular with his party.

Jordan, by contrast, has been a leading antagonist of House Republican leaders. He founded the House Freedom Caucus to pressure GOP leaders to move rightward and helped push former Speaker John Boehner (R-Ohio) from power.
To be sure, as part of keeping a motley caucus running, McConnell has used questionable tactics (the stonewalling of Merrick Garland being the most obvious case) and been feckless on key issues (impeaching Trump in the wake of the Capitol Riots being the most egregious case). But, at the end of the day, he understands that budgets and laws have to get past and that this requires getting some Democratic votes. That puts him and his wing in effectively a different party than Jordan and his ilk.