Ohio Congressman Jim Jordan Accused Of Covering Up Sexual Abuse At Ohio State
Jim Jordan, who heads the powerful House Freedom Caucus, is being accused of ignoring reports of sexual abuse by a team doctor while he was a coach at The Ohio State University.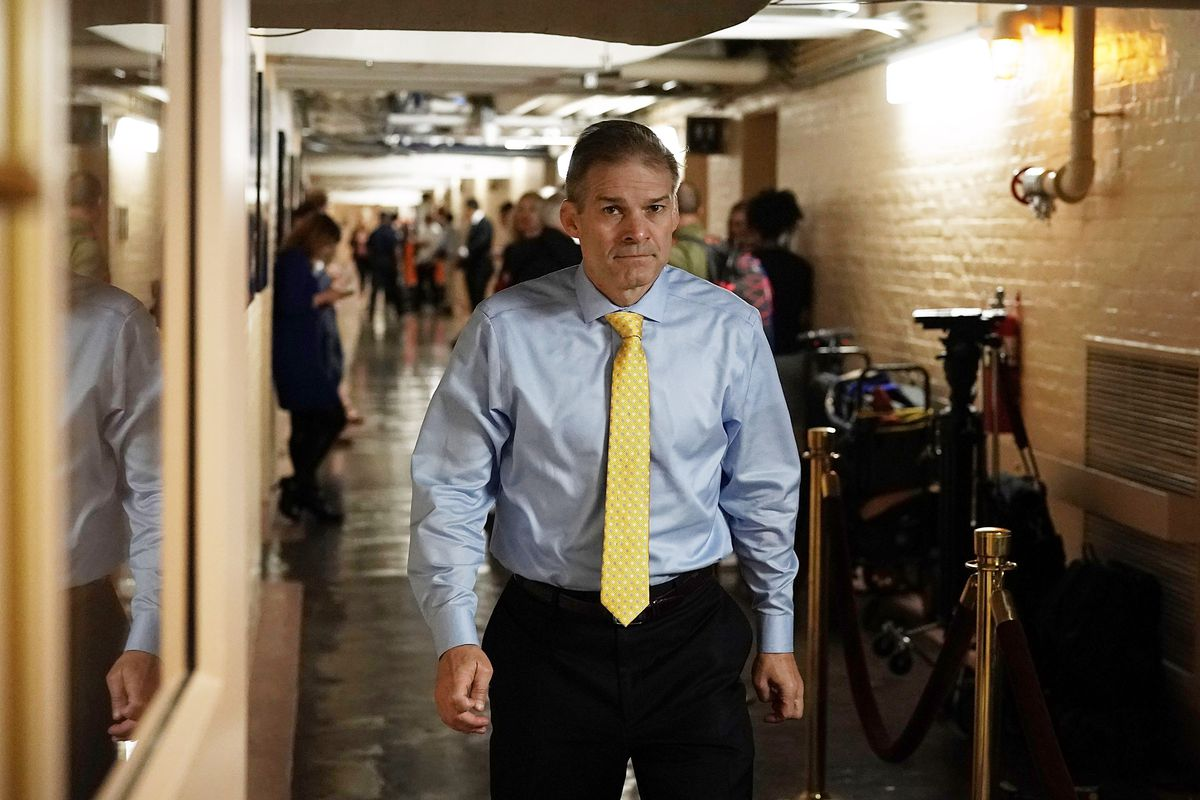 Ohio Congressman Jim Jordan, who heads the powerful House Freedom Caucus and is being prodded by supporters to run to succeed Paul Ryan as Speaker of the House, is being accused of ignoring reports of sexual abuse by a team doctor while he served as a coach at The Ohio State University:
A news report on Tuesday accusing Representative Jim Jordan of ignoring accusations of sexual abuse as a wrestling coach at Ohio State University has left a cloud over the powerful congressman as conservative activists put him forward as potentially the next speaker of the House.

The university announced in April that it had started an investigation into accusations of sexual misconduct against a former team physician, Dr. Richard Strauss, who killed himself in 2005.

The report, by NBC News, said that three former wrestlers said it was commonly known that Dr. Strauss showered with students and touched them inappropriately during appointments, and that Mr. Jordan, an assistant wrestling coach at Ohio State from 1986 to 1994, must have known about the abuse. Mr. Jordan, a Republican, has denied that.

"Jim knew this — there's no ifs, ands or buts," Michael DiSabato, one of the former wrestlers named in the NBC account, said Tuesday in an interview. "It boggles my mind that he would take the position that he's taken."

A spokesman for Mr. Jordan, a founder of the hard-line House Freedom Caucus who represents a solidly Republican district in Ohio, said the congressman was unaware of any abuse.

"Congressman Jordan never saw any abuse, never heard about any abuse and never had any abuse reported to him during his time as a coach at Ohio State," the spokesman, Ian Fury, said in a statement. "He has not been contacted by investigators about the matter but will assist them in any way they ask because, if what is alleged is true, the victims deserve a full investigation and justice."

Doug Andres, a spokesman for Speaker Paul D. Ryan of Wisconsin, said: "These are serious allegations and issues. The university has rightfully initiated a full investigation into the matter. The speaker will await the findings of that inquiry."

Mr. Jordan is one of the most prominent conservatives in Congress. With Mr. Ryan retiring at the end of the year, Mr. Jordan was likely to emerge as an important figure as House Republicans consider their next leader. Conservative groups have urged him to run for speaker, and although his elevation to that post was considered unlikely, he and other Freedom Caucus members were expected to influence the selection of Mr. Ryan's successor.

More immediately, Mr. Jordan has stepped forward as one of President Trump's most visible, aggressive and undaunted defenders in the House, helping lead a Republican counterinvestigation of those F.B.I. and Justice Department officials who are investigating potential connections between the Trump campaign and Russian election interference efforts.

(…)

Mr. DiSabato said the abuse perpetrated by the convicted former Olympics gymnastics doctor Larry Nassar had prompted him to alert Ohio State about Dr. Strauss in late March.

Before meeting with university officials, he said, he had contacted Mr. Jordan, with whom he said he spoke regularly. He said that Mr. Jordan asked him not to get him involved. Concerned in mid-April that Ohio State might ignore the accusations, he said he emailed Mr. Jordan asking for help, but heard nothing back.

Dunyasha Yetts, the captain of the wrestling team for the 1993-1994 season, who was named in the NBC story, also implicated the congressman. He said in an interview on Tuesday that he had confided in Mr. Jordan multiple times about "the way Strauss performed physicals on us."

Dr. Strauss's inappropriate touching of athletes was open knowledge, he said, and he remembered talking about it with Mr. Jordan on road trips, in the sauna and after practices.

"Coach Jordan knew what was going on, 100 percent," Mr. Yetts said. "I don't know how he could have forgotten because this was traumatic for all the athletes."
In addition to stating that he had no knowledge of any reports of abuse during his time as a coach, Jordan has, as noted, said that he's never been contacted about these charges. However, the law firm representing Ohio State contradicted that statement in a statement of its own, so it's not clear that Jordan is being entirely forthcoming about anything at this point. Jordan is also being contradicted regarding what he knew and when he knew it by several men who were part of the Ohio State wrestling program in the 90s, including a handful who say that they were subjected to what was clearly sexual abuse by the team doctor, who has since passed away, that Jordan was well aware of what was going on, and that he failed to report the matter to either law enforcement or to higher-up university officials.
All of this brings up obvious comparisons to two other scandals that have embroiled Big Ten athletic programs in recent years. The most notable, of course, is the Jerry Sandusky scandal, which led to the firing of legendary Penn State coach Joe Paterno and criminal charges against Sandusky that currently have him serving a prison sentence that will effectively mean that he will die in prison. That sandal also lead to civil lawsuits against Penn State that have been largely settled at the cost of tens of millions of dollars, as well as sanctions from the NCAA that were ultimately lifted several years later. More recently, the athletic department at Michigan State University has come under scrutiny due to the fact that Larry Nassar, who has pled guilty to sexually abusing dozens of young women who were part of the U.S. Olympic Gymnastics program, was also a team doctor and employee at that school.
At this point, it's unclear if the Ohio State allegations are as far reaching as the Sandusky or Nassar cases since the investigation is just starting to become public, but the fact that it involves a Congressman could make this a high-profile case indeed. As noted, Jordan is already a powerful force on Capitol Hill due to his leadership of the House Freedom Caucus even though he does not, as of yet, have a position in House GOP leadership. His caucus has been one of the chief obstacles that both former Speaker John Boehner and Speaker Paul Ryan have had to deal with in pushing legislation through the lower chamber of Congress. This has given Jordan an important, and some would argue outsized, role in shaping budgetary and tax issues as well as the debates over health care reform and immigration, especially over the past eighteen months. Additionally, Jordan is being prompted by many colleagues to challenge Majority Leader Kevin McCarthy in the upcoming race to succeed Paul Ryan as Speaker, which will be voted on when the new GOP Caucus meets for the first time after the midterm elections. While Jordan has not formally announced his candidacy for that position, he has stated that he intends to be "involved" in the decision making process in some significant manner. Quite obviously, these allegations could have an impact on his ability to mount a challenge to McCarthy as well as his career in Congress depending on which direction they head.