Two Joe Biden's On The Ballot In 2016?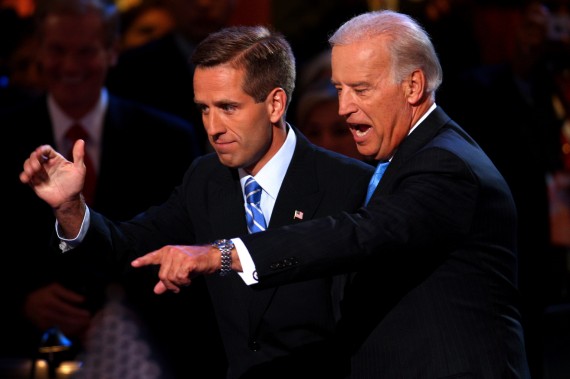 Vice President Biden continues to leave open the possibility of running for President in 2016, but his son Beau Biden, whose actual name is Joseph Robinette Biden III, has already decided that he'll be running for Governor of Delaware that year:
DOVER, Del. — Vice President Joe Biden's eldest son, Beau Biden, said Thursday that he has decided not to seek re-election as Delaware attorney general this year and instead plans to run for governor in 2016.

"Over the past few months, as I've been planning to run for re-election, I have also been giving a great deal of thought to running for governor in 2016," Biden said in an e-mail to supporters Thursday morning. "What started as a thought — a very persistent thought — has now become a course of action that I wish to pursue."

Biden, who underwent surgery at a Texas cancer center last year, had said previously that he would seek a third term as attorney general.

"After careful consideration, I have concluded that it is not right to ask for your support in 2014, knowing that my focus would be divided between doing my job as attorney general while at the same time running as a candidate for governor," he said in the statement. "Therefore, I am announcing today that I will not seek re-election as your attorney general this November."

The announcement by Biden, 45, caught Delaware's political establishment off guard. He was seen as a virtual shoo-in for re-election.

"I don't want to use the word disappointed. I'm surprised, as everybody else is," John Daniello, chairman of the Delaware Democratic Party, said in a phone interview.

"But on the other hand, I truly believe that he's an honest young man in terms of just telling everybody what his ambitions are," Daniello added. "I just admire the hell out of him for looking at the situation and saying 'I'm going to play this thing straight up.'"
The current Governor, Jack Markel, is term limited so he won't be on the ballot in 2016, and so far he appears to be the only major candidate to enter the race. Biden has served two terms as Delaware's Attorney General, having won office in 2006 by a five point margin, but one re-election in 2010 with nearly 79% of the vote, although Republicans didn't even bother to put up a candidate that year. No doubt, Biden's association with Delaware's favorite son will help in his run for Governor.