U.S. Carrier Group Moves Toward Korean Peninsula
A warning to North Korea.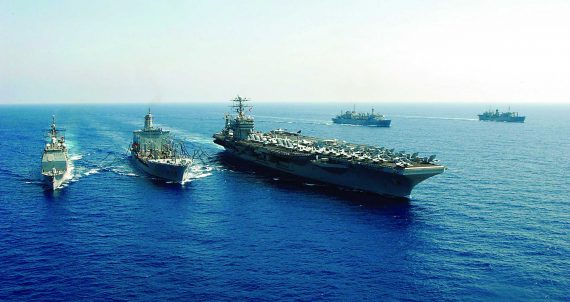 The United States is moving a Naval task force toward the Korean peninsula in response to recent missile tests and other North Korean actions:\
SEOUL — A U.S. Navy strike group led by the USS Carl Vinson aircraft carrier was making its way towards the Korean peninsula Sunday "to maintain readiness" as Kim Jong Un's regime in North Korea prepared to mark key anniversaries this coming week.

North Korea is expected to hold a huge military parade on April 15 to celebrate the 105th birthday of its founding president, Kim Il Sung, and to mark the 85th anniversary of the creation of the Korean People's Army on April 25 with similar fanfare.

Analysts expect the recent barrage of missiles to continue, and activities around its known nuclear test site have raised concerns North Korea may be preparing for a sixth nuclear test.

Over the weekend, North Korea said it was not afraid of military strikes like those the United States launched on Syria last week, saying it could defend itself with its "tremendous military muscle with a nuclear force."

In this atmosphere, the Carl Vinson strike group, which includes a carrier air wing and two guided-missile destroyers, was ordered to travel to the "western Pacific." When the group left Singapore on Saturday, it was bound for Australia before receiving the new orders.

"The U.S. Pacific Command ordered the Carl Vinson Strike Group north as a prudent measure to maintain readiness and presence in the Western Pacific," said Dave Benham, a spokesman for the Pacific Command.

"The number one threat in the region continues to the North Korea, due to its reckless, irresponsible and destabilizing program of missile tests and pursuit of a nuclear weapons capability," he said, according to the AFP news agency.

The Vinson group last month participated in joint drills with the South Korean military to prepare for a sudden change on the peninsula — including the collapse of the North Korean regime or an invasion.

North Korea has been testing medium-range missiles over recent months, and Kim in January said North Korea had "entered the final stage of preparation for a test-launch of an intercontinental ballistic missile" capable of hitting the mainland United States. In response, President Trump tweeted: "It won't happen!"

During a 20-minute phone call Saturday, Trump told South Korea's acting president, Hwang Kyo-ahn, that he had "in-depth discussions about North Korea's serious nuclear problems and how to respond to them" during his summit meeting with Xi Jinping last week, according to the South Korean leader's office.

Trump's vow to act alone if China didn't rein in North Korea, combined with the American president's sudden decision to launch airstrikes on Syria last week, have some analysts speculating that North Korea could be next.
This isn't the first time that the United States has moved naval or other military assets into the area in response to provocative North Korean actions. We've seen similar moves in the past in response to one of the DPRK's many missile tests or tests of its nuclear weapons capability. Typically, that's all that it amounts to, and the forces are quietly withdrawn after several weeks or more of an increased American presence in the area that is designed mostly to send a message to not only North Korea but also the Chinese and to America's principal allies in the region, Japan and South Korea. Most likely, we're looking at the same sort of situation here. Notwithstanding the bravado and tough talk, the odds that the Trump Administration is about to launch the first American military action against North Korea since the end of the Korean War sixty-five years ago strike me as being fairly low. For one thing, as I have noted repeatedly in the past, the risks of North Korean retaliation are fairly high and the likelihood that such retaliation could escalate into something that quickly spins out of control. Secondly, North Korea remains under the protection of China and any attack on the peninsula is likely to be viewed negatively by Beijing, something that could prove to be problematic with regard to the other important issues that the United States has with regard to that country. Finally, it's hard to believe that a limited attack would do much to restrain an already irrational regime in Pyongyang. If anything, it's more likely to inflame the situation than calm it down. In other words, even a limited military strike on North Korea like the one we saw last week in Syria seems unlikely.
The move is interesting for several reasons nonetheless as it comes just a day or so after the conclusion of a summit meeting between the President and President Xi of China at Mar-A-Lago during which North Korea was no doubt a substantial part of the discussions, although it's not clear if President Xi was made aware of the decision to move the carrier group during those meetings. It also comes just a few weeks after Secretary of State Rex Tillerson said that "all options" were on the table when it came to American policy toward North Korea, a comment that led to immediate speculation that Trump might end up being more aggressive than his predecessors in responding to North Korea. As I said, the recent attack on Syria caused that comment to re-enter the public sphere and this move by American naval forces is likely to do the same. In any case, I guess we'll need to keep an eye on things in Korea for awhile.