U.S. Defense Secretary Says Iraqis Have Lost The Will To Fight ISIS
Some unusually blunt, but true, language from the U.S. Secretary Of Defense.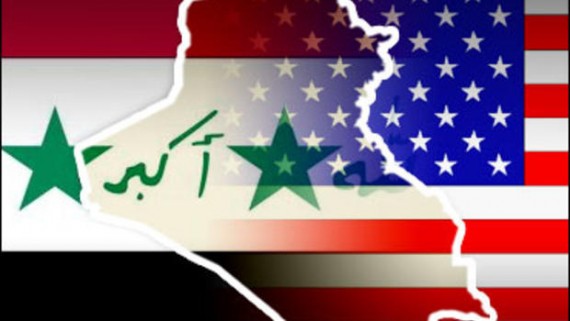 Over the Memorial Day Weekend, Defense Secretary Ashton Carter has some unusually blunt words for the Iraqi Army, specifically in reference to the recent loss of the city of Ramadi to the forces of ISIS:
Defense Secretary Ashton B. Carter warned that Iraqi troops will not be able to defeat the Islamic State until they develop a "will to fight," reflecting the deep level of concern and frustration inside some quarters of the Obama administration in the wake of the Iraqi military's collapse in Ramadi last week.

His comments, in an interview that aired Sunday, came after fighters with the Islamic State, which had appeared to be retreating in parts of Iraq, swept through the western Iraqi city of Ramadi and were gaining ground in Syria.

President Obama has described the losses as a "tactical setback" and said that the administration's overall strategy in Iraq and Syria would not change. Carter's comments, though, suggested deeper problems with Iraqi forces. His remarks about the recent Iraqi defeats in Ramadi, a city where scores of U.S. troops were killed during the Iraq war, carried added gravity because they came over the Memorial Day weekend.

"What apparently happened was that the Iraqi forces just showed no will to fight," Carter said in an interview that aired Sunday on CNN's "State of the Union." "They were not outnumbered, but in fact, they vastly outnumbered the opposing force. And yet they failed to fight."

"What apparently happened was that the Iraqi forces just showed no will to fight," Carter said in an interview that aired Sunday on CNN's "State of the Union." "They were not outnumbered, but in fact, they vastly outnumbered the opposing force. And yet they failed to fight."

U.S. officials have been saying for several months that U.S. airstrikes were degrading Islamic State fighters in Iraq and that the radical Sunni group, under pressure from Iraqi forces, had lost as much as 25 percent of the territory that it gained during its blitzkrieg last year. A large offensive involving Iraqi army forces, Sunni tribal fighters and American airstrikes was supposed to begin soon in western Iraq's Anbar province, where Ramadi is the provincial capital.

The unexpected collapse of Iraqi forces in Ramadi, including elite counterterrorism troops from Iraq's Golden Division, suggests that the Iraqi forces may be weaker than many in the U.S. government had thought. The recent battlefield setbacks also point to a broader challenge facing the Obama administration's campaign against the Islamic State throughout the Middle East.

The president has insisted that only local ground forces, bolstered by U.S. training and air power, can defeat Islamic State fighters who have gained ground and new recruits in Yemen, Libya, Syria and Iraq.

(…)

Those questions have proved particularly vexing in Iraq, where Sunni tribesmen have been largely unwilling to battle the Islamic State on behalf of a Shiite-dominated government in Baghdad that they think is out to oppress them.
The reports out of Ramadi about the unwillingness of Iraqi troops to fight when the battle was pressed against them is, of course, not a new one. We saw much the same thing happening last year in the face of the Islamic State's initial advances into large swaths of Iraqi territory. In battle after battle, Iraqi forces would surrender or retreat rather than fight, and often it seemed as though this would happen even when it was clear that the forces arrayed against them where less numerous and possibly even not as strongly armed. To some degree, it's probable that this was motivated by the reports that had come out about what ISIS fighters were doing to Iraqi troops that they captured. Most of all, though, it's likely that the real problems were that the Iraqi troops were poorly trained, poorly led, poorly paid, and not necessarily dedicated to the national government. While some of those problems could arguably be fixed with more money and better training, the last factor is one that can't so easily be fixed and if, in the end, that Iraqi Army is made up of men who aren't really willing to lay their lives on the line for their country, then it really doesn't matter how much money it has or how well trained its troops are.
Not surprisingly, though, this blunt talk from Secretary Carter hasn't sat well with the Iraqis:
BAGHDAD — Iraq's military vowed Monday to recapture the city of Ramadi from ISIS "within days," after a stinging criticism of its troops' "will to fight" from Secretary of Defense Ash Carter.

An 8,000-strong force of Iraqi forces, bolstered by Shiite militias and Sunni tribesmen, were amassed east of the city in the town of Khalidiya and were awaiting orders to launch "a major offensive," the official said, speaking on condition of anonymity.

"Yesterday Prime Minister Haider Al-Abadi stated that the operation to liberate Ramadi will start soon, and the city is going to be liberated within days," the official said.

(…)

Responding to Carter's comments, Al-Abadi's media director Dr. Sa'ad Al-Hadithi told NBC News the Iraqi government had "started its own investigation to punish those who neglected their duty" in Ramadi.

The senior defense official conceded that "the Iraqi government now is under a real pressure after the latest statement by the U.S. secretary of defense concerning the will of Iraqis to fight for their country."
This is brave talk, of course, but whether or not the Iraqis can recapture Ramadi is still an open question, and it's possible that any effort to do so may only make things worse. According to reports, for example, the force that his being assembled to attempt the recapture of the city is made up primarily of Shiite militas. While these forces have often proven to be a more effective fighting force than the Iraqi Army, the fact that they are being sent into a primarily Sunni area raises prospects for ethnic retribution against the mostly Sunni population of Ramadi and the surrounding area, something that would likely only act to sent even more Iraqi Sunni's into the arms of the Islamic State.
The most significant thing about Secretary Carter's comments, though, are the extent to which they have demonstrated that notwithstanding months and months in which the Administration and the Pentagon have asserted that the combination of American air strikes and Iraqi military action was degrading ISIS's position, the fact is that ISIS is apparently as strong as resilient as it ever was. Yes, it's true that President Obama had said from the start that the campaign against ISIS would be a long one, but he also acknowledged, and is assuredly aware, of the fact that the American public is not likely to have the stomach for a long drawn out slog of a war, even if it doesn't include large numbers of American troops on the ground. Indeed, if the political collapse of Syria and Iraq continue at the pace they have been for the past year or more, then it's probable that nothing can stop ISIS. That's probably not going to be good news for the future of the Middle East, but there doesn't seem to be very much we can do about it.