Unemployment Rate Drops As Labor Force Participation Rate Falls Once Again
The truth behind today's unemployment numbers.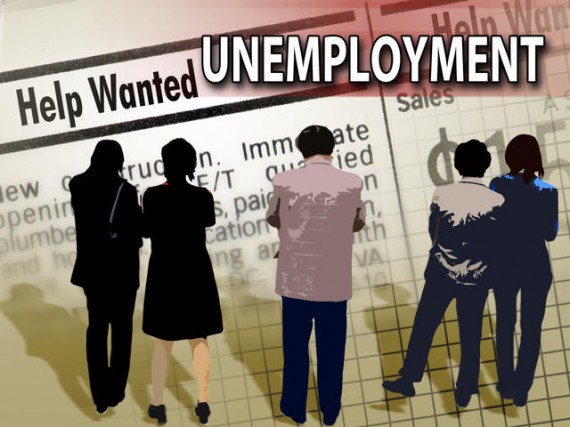 Before today's November Jobs Report was released, an analyst on CNBC quipped that it was the least important jobs report in the last five years. Given the fact that we're beyond the 2012 elections and that the midterms are still two years away, this is largely correct. At the same time, though, the state of the economy is of grave concern to those concerned about the impending fiscal cliff given the fact that a weak economy is far more likely to be adversely impacted by the triple hit of tax increases, spending cuts, and an end to the Payroll Tax Cut. Additionally, quite obviously, if you're still one of those people looking for a job, or working part-time because they can't find anything better right now, the whole issue is very personal for you. Going into today, expectations were that the combination of Hurricane Sandy and a weak economy would lead to rather disappointing jobs report, as it turned out we got numbers that were slightly better but still nothing to be impressed by:
The unemployment rate edged down to 7.7 percent in November. The number of unemployed persons, at 12.0 million, changed little. (See table A-1.)

Among the major worker groups, the unemployment rates for adult men (7.2 percent), adult women (7.0 percent), teenagers (23.5 percent), whites (6.8 percent), and Hispanics (10.0 percent) showed little or no change in November. The unemployment rate for blacks (13.2 percent) declined over the month. The jobless rate for Asians was 6.4 percent (not seasonally adjusted), little changed from a year earlier. (See tables A-1, A-2, and A-3.)

The number of long-term unemployed (those jobless for 27 weeks or more) was little changed at 4.8 million in November. These individuals accounted for 40.1 percent of the unemployed. (See table A-12.)

The civilian labor force participation rate declined by 0.2 percentage point to 63.6 percent in November, offsetting an increase of the same amount in October. Total employment was about unchanged in November, following a combined increase of 1.3 million over the prior 2 months. The employment-population ratio, at 58.7 percent, changed little in November. (See table A-1.)

The number of persons employed part time for economic reasons (sometimes referred to as involuntary part-time workers), at 8.2 million in November, was little changed over the month. These individuals were working part time because their hours had been cut back or because they were unable to find a full-time job. (See table A-8.)

In November, 2.5 million persons were marginally attached to the labor force, essentially unchanged from a year earlier. (These data are not seasonally adjusted.) These individuals were not in the labor force, wanted and were available for work, and had looked for a job sometime in the prior 12 months. They were not counted as unemployed because they had not searched for work in the 4 weeks preceding the survey. (See table A-16.)

(…)

Total nonfarm payroll employment increased by 146,000 in November. Since the beginning of this year, employment growth has averaged 151,000 per month, about the same as the average monthly job gain of 153,000 in 2011. In November, employment rose in retail trade, professional and business services, and health care. (See table B-1.)
A total of 146,000 jobs created isn't what I'd call very good news. For one thing, it's not enough to keep up with population growth, which means that we're actually losing ground on a month-to-month basis. For another, it ought to be noted that this month's jobs report included significant revisions to the numbers for September and October. Net jobs created in September was revised downward from 148,000 to 132,000, and October was revised downward from 171,000 to 138,000. That's a net change for both months of 49,000 jobs. This suggests strongly that we'll see similar downward revisions for November when the December jobs report is released in January. At the very least, though, it's now clear that average monthly job creation for 2012 won't be very much better than it was in 2011, when it averaged 151,000 jobs per month.  While it's of course always better when companies are hiring than not, the fact of that matter is that this is an unacceptably low job creation rate which, if it continues, will guarantee high unemployment for pretty much the rest of Barack Obama's Presidency.
As for the Unemployment Rate, the only reason it went down is because of the drop in labor force participation. As noted above, that dropped 0.2% and remains near historic lows. If the number of people participating in the labor force — meaning actually working or actively looking for work — were the same as it was in January 2009 when President Obama took office, the Unemployment Rate would be over ten percent today. Instead, it dropped two tenths of a point this month because 540,000 people stopped participating in the labor force. So while the media will tell you that there's good news in today's jobs numbers, the reality is that they are masking serious underlying problems that show no signs of being solved any time soon.