US Retaliates Against ISIL-K
An unsatisfying first(?) response.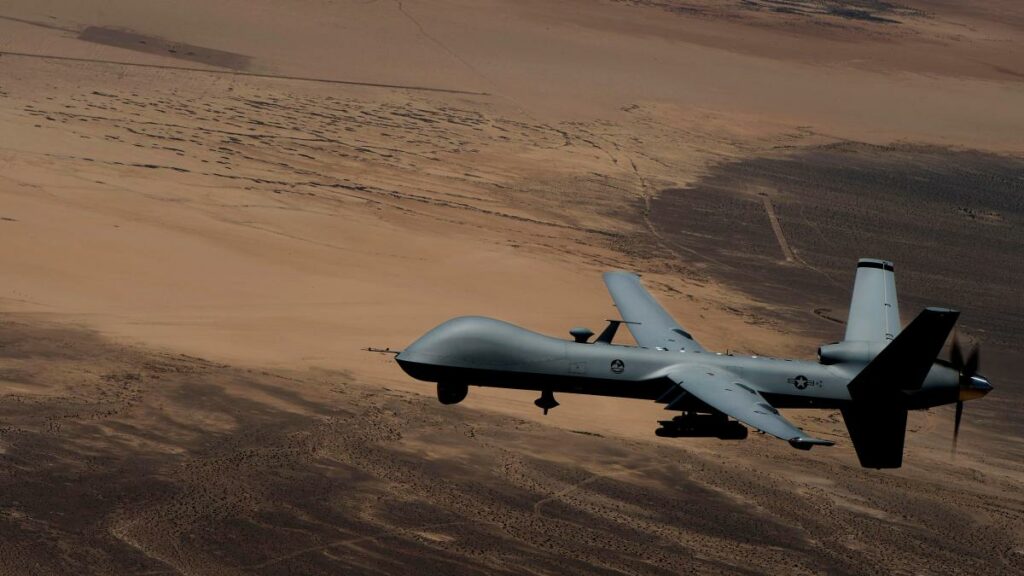 President Biden promised the perpetrators of the Islamic State attack that killed thirteen American servicemembers in Kabul that "We will hunt you down and make you pay." He didn't wait long to carry out the threat but, if this is the entirety of the US response, it's unimpressive.
The details are scant at this point but BBC's report ("Afghanistan: US says drone strike killed IS-K planner") is the most comprehensive I've found:
The US military says it believes it has killed a planner for the Afghan branch of the Islamic State group in a drone strike in the east of the country.

The suspected member of the IS-K group was targeted in Nangarhar province.

[…]

Capt Bill Urban of Central Command said: "The unmanned airstrike occurred in the Nangarhar province of Afghanistan. Initial indications are that we killed the target. We know of no civilian casualties."

He described it as an "over-the-horizon counterterrorism operation".

A Reaper drone, launched from the Middle East, struck the militant while he was in a car with another IS member, killing them both, an official told Reuters news agency.

Most of IS-K's several thousand extremists are believed to be in hiding in the province, east of Kabul.
So, terrorists killed thirteen Americans and dozens of innocent civilians and we've retaliated by blowing up one car with a "planner" and some other dude? That's a tradeoff they'd take again and again. Hell, they sacrificed at least one person in the suicide attack itself.
UPDATE: Another report in The Hill ("Pentagon says 2 'high-profile' ISIS targets killed in strike") provides more details on the initial strike:
The Pentagon said Saturday that the U.S. military strike the day before killed two "high-profile" ISIS targets and wounded a third in the first known U.S. military action since Thursday's deadly suicide bombing at the Kabul airport.

Maj. Gen. Hank Taylor, deputy director of the Joint Staff for regional operations, described the two targets in a press briefing as "planners and facilitators."

[…]

U.S. Central Command initially said Friday that an "over-the-horizon counterterrorism operation" had killed a single target, described as an "ISIS-K planner."

However, Pentagon press secretary John Kirby said in the briefing Saturday that "as the assessments and information flowed over time, we were able to recognize that another was killed as well and one wounded."

When asked if the strike was part of ongoing anti-terrorism efforts or an action in retaliation for Thursday's bombing, Kirby acknowledged it was "a little bit of both."

"We have the ability to conduct over-the-horizon counterterrorism capabilities," he said, adding, "It's not a coincidence that it happened just a couple of days after we lost 13 brave service members."
A more recent story by POLITICO's Lara Seligman ("'Guidance is to just do it:' Military expects additional retaliatory strikes on ISIS-K") indicates that this is, indeed, just the opening salvo.
The U.S. military is actively hunting terrorists connected to the deadly attack in Kabul this week and expects to carry out additional airstrikes in the coming days and weeks, according to U.S. officials.

President Joe Biden has given the Pentagon the "green light" to strike any targets affiliated with the Islamic State's affiliate in Afghanistan, ISIS-K, the group responsible for the attack, without seeking White House approval, according to three U.S. officials with knowledge of the operation.

Senior Pentagon leaders already had this authority, but Biden reaffirmed it in instructions to the military on Friday, one of the officials said.

The president's "guidance is to just do it," the person said. "If we find more, we will strike them."