Utah Democrats Back Republican Evan McMullin in Bid to Unseat Trumper Mike Lee
Seeing no way to win under their own label, they've called a Hail Mary.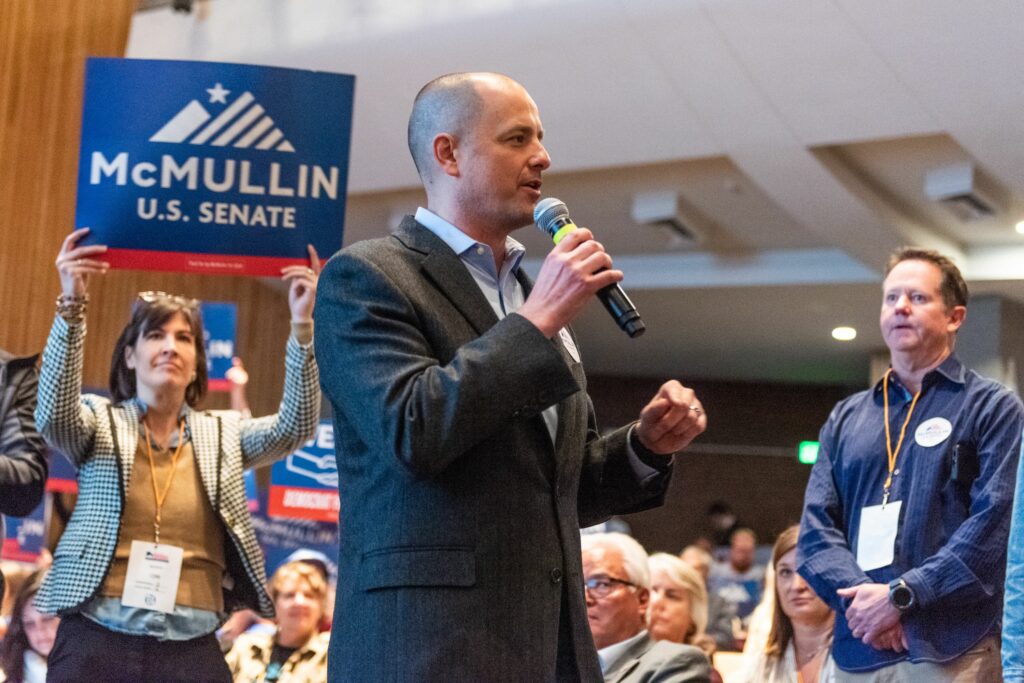 ABC News ("Utah Democrats back independent as US Senate candidate"):
Utah Democrats pulling hard to defeat Republican Sen. Mike Lee took the unusual step Saturday of spurning a party hopeful to instead get behind an independent, former presidential candidate Evan McMullin.

Democrats were swayed by calls from prominent members who said McMullin, a conservative who captured a significant share of the vote in Utah in 2016, was the best chance to beat Lee in the deeply conservative state that hasn't elected a Democratic U.S. senator for more than 50 years.

"I want to represent you. I'm committed to that. I will maintain my independence," McMullin told Democratic delegates.

Lee also faced two GOP challengers at his party's nominating conventions. He handily won in front of the right-leaning crowd with over 70% of the vote. But those candidates will still appear on the primary ballot because they used the state's other path to the primary ballot and gathered signatures. Former state lawmaker Becky Edwards garnered about 12% of the vote Saturday. Former gubernatorial deputy chief of staff Ally Isom came in third.

Lee's relationship with former president Donald Trump has been front and center since CNN reported on text messages showing that the senator was involved in early efforts to overturn the results of the 2020 election, though Lee later pivoted and voted to confirm the election results after no widespread fraud emerged. "I did my job," Lee said about the messages. "I did my job the way that I've always promised I would go about doing my job."

McMullin is a former CIA officer ran for president in 2016 and made inroads in the deeply conservative state where where many GOP voters had reservations about then-candidate Trump. Lee himself cast a protest vote for McMullin, though he later became as staunch Trump ally, and the former president has endorsed him.

A Democrat ran for the nomination, Kael Weston, but the pro-McMullin camp ultimately convinced party delegates to nominate no one, clearing the path for the independent as much as possible. His supporters included prominent Democrats like former Congressman Ben McAdams.

"I know Evan. I trust Evan," McAdams told delegates during the contentious debate, framing McMullin as the best possible chance to unseat Lee in a state where Republicans outnumber Democrats 4-to-1.

Republican Party Chair Carson Jorgensen took aim at the Democrats' decision, arguing it showed a weakness in the other party's platform. "We as Republicans, now's our time to shine," he said. "I don't know if everyone quite understands the gravity of this."
Deseret News ("How bad do Utah Democrats want Mike Lee out? Bad enough to ditch their own nominee and back Evan McMullin instead"):
The Utah Democratic Party made an extraordinary decision on Saturday.

A majority of delegates decided to not put forth a Democratic candidate to face off with Republican Sen. Mike Lee and to instead back independent candidate Evan McMullin.

The decision has big implications for Utah's U.S. Senate race. It injects significant momentum into a more moderate, independent movement in Utah politics — and signals Utah Democrats are so eager to up the chances of beating Lee they're willing to ditch their own candidate. At least for now.

[…]

McMullin, a former Republican, ran an unsuccessful independent campaign for president against former President Donald Trump in 2016. Now he's got Lee in his crosshairs.

"We know that Sen. Mike Lee was quite involved in the effort to overturn our democracy," McMullin told reporters shortly after his victory was reflected in vote tallies, seizing another opportunity to blast Lee over his text messages to then-White House chief of staff Mark Meadows as he explored ideas on how to overturn the 2020 presidential election before ultimately deciding to vote to certify the electoral results on Jan. 6.

"We have got to take a stand as Utahns," McMullin said. "I don't care if you're a Democrat or or an independent or a Republican or a member of the United Utah Party, this is a line that cannot be crossed, our right to hold our leaders accountable and to vote for or against them and have a peaceful transition of power is essential for liberty and justice in America. We cannot compromise on that, and we must all be united to defend it."

Despite several failed maneuvers from Democratic candidate Weston's supporters to block it from coming to a vote, the motion to back McMullin won with 782 votes to Weston's 594. It passed with 57% of the vote, according to preliminary results.

[…]

The move to back an independent candidate rather than their own nominee is the first effort of its kind in Utah's party history.

The unprecedented decision, McMullin said, shows "Utah Democrats are putting country over party."

"We have a tremendous amount of common ground (in) this coalition of Democrats, independents, principled Republicans … who want to make a change," McMullin said. "This idea that our differences are greater than what we have in common are just false."

[…]

Wilson, who voiced the key motion in favor of McMullin, made an emotional plea to her fellow Democrats. She said she knows from her unsuccessful bid for U.S. Senate against Sen. Orrin Hatch in 2018 "our numbers don't add up."

"We need this coalition. It's a practical matter," Wilson said. "This is a good move for us."
Two posts in one day involving Utah is almost certainly an OTB record.
I had never heard of McMullin until he launched his quixotic bid to siphon votes away from Trump in August 2016, well after the deadline to get on the ballot in half the states. While there was some hope that he would at least turn the tide in Utah, it did not come to pass.
As Steven Taylor reminded us again yesterday, the flawed nature of representation in the US system makes party labels matter more than just about anything else, including policy positions and even common decency. Still, despite no experience as a political candidate, McMullin garnered 21.54% of the votes in Utah in 2016, compared to 27.46% for Clinton and 45.54% for Trump. While that doesn't seem impressive, Trump got 58.13% of the vote to Biden's 37.65% in 2020.
Absent a Democrat on the ballot, then, it's not inconceivable that McMullin could win. If you add his votes and Clinton's in 2016, you get to 49% and beat Trump.
Then again, Lee did much better than Trump in 2016, getting 68.2% of the vote to his Democratic opponent's 27.1%. Note that this is also ten points better than Trump did in 2020.
Still, Utahans are fine people and maybe there's a backlash against Lee's role in the attempt to steal the 2020 presidential election? Color me skeptical. The latest polling I can find is from March 30 and this is what it shows:
Sen. Mike Lee comes out on top in a three-way race for U.S. Senate against a Democrat and an independent in a new poll, though less than half of Utah voters would choose the incumbent Republican.

The latest Deseret News/Hinckley Institute of Politics survey also found nearly a quarter of Utahns don't know who they would vote for with the November election still seven months away.

The poll found 43% of voters say they most likely would support Lee in the general election, 19% favor independent candidate Evan McMullin and 11% would pick Democrat Kael Weston. Another 3% would go for someone else, while 24% are undecided.
Let's assume that 43% is Lee's floor. Again, he got half again that much the last time he was on the ballot. Let's assume, for the sake of argument, that Democrats will go along with being disenfranchised and hop aboard the McMullin train without reservation. That brings McMullin from 19% to 30%. Let's assume that McMullin also gets the "someone else" votes. That brings him to 33%. Only ten points behind! So that would just mean he'd need to split the "undecided" votes a little more than 2-to-1 to overtake Lee.
So I'm saying there's a chance? I am. But, frankly, not much of one. Then again: there's no conceivable scenario in which a Democrat would beat Lee. (No, not even a Roy Moore scenario. While Alabama is a deep red state, it's still 40 percent Democratic, mostly owing to a sizable Black population.)
One other thing: I can't answer a rather obvious question from the news articles I've read this morning or scouring of McMullin's campaign website: with whom does he intend to caucus in the event he somehow wins? He says he's an "independent voice for Utahans" and his policy priorities are hard to pigeonhole. But the two "Independents" currently in the Senate, Bernie Sanders and Angus King, both caucus with the Democrats. Will McMullin do the same? If so, he's effectively a Democrat. If he caucuses with the Republicans, he's effectively a Republican even if he's the GOP's version of Joe Manchin. And if he refuses to caucus with either party, then Utah is denied representation on important committees.
But, again, that's largely a theoretical question. I'd bet a lot of money that Utahans vote for the person on the Republican ballot line over the "independent" who was a staunch Republican six years ago.