Trump In Danger In Deeply Red Utah?
Donald Trump is facing potential trouble in a state that has gone for a Democrat only twice since the end of World War II.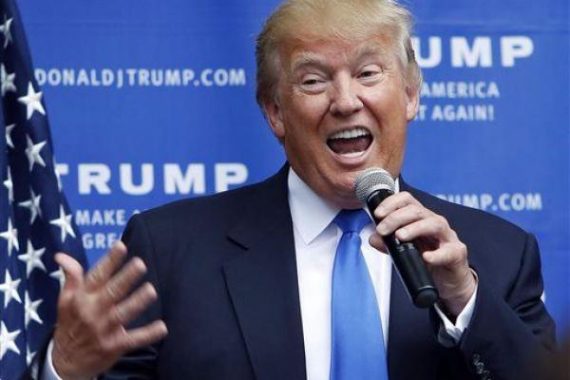 A new poll suggests that Donald Trump is at risk of losing Utah thanks to Mormon voters who clearly don't like him and the presence on the ballot of two third-party candidates who are clearly drawing votes away from him:
Republican Donald Trump appears to have, in his earlier words, "a tremendous problem in Utah" as a new poll shows him slipping into a dead heat with Democrat Hillary Clinton since crude comments he made about women surfaced last weekend.

And along with the billionaire businessman's sudden fall, independent candidate and BYU graduate Evan McMullin surged into a statistical tie with the two major party presidential nominees, according to survey conducted Monday and Tuesday by Salt Lake City-based Y2 Analytics.

"A third-party candidate could win Utah as Utahns settle on one," said Quin Monson, Y2 Analytics founding partner.

McMullin may well have caught lightning in a bottle.

The poll shows Clinton and Trump tied at 26 percent, McMullin with 22 percent and Libertarian Gary Johnson getting 14 percent if the election were held today. Y2 Analytics surveyed 500 likely Utah voters over landlines and cellphones Oct. 10-11 The poll has a plus or minus 4.4 percent margin of error.

Also, a majority of voters statewide and specifically Mormons, as well as a near majority of Republicans, say Trump should drop out of the race, according to the poll.

The poll shows that 94 percent of Utahns have watched or heard about the video in which Trump had an extremely lewd conversation about women caught on a hot microphone in 2005. Y2 Analytics managing partner Scott Riding called that high percentage "astounding" for political news.

Those who viewed the video felt more strongly that Trump should step aside than those who only heard about it, according to the poll. Republicans, however, are split over whether Trump should go.

A cascade of rank-and-file Republicans and GOP leaders in Utah abandoned their support for Trump soon after the video became public. A BYU political science professor described the reaction in Utah as a "full-scale revolt" against Trump.

Gov. Gary Herbert and Utah Reps. Jason Chaffetz and Chris Stewart were among those announcing they would no longer vote for their party's nominee. The Deseret News called for Trump to resign his candidacy.

"It's quite the cacophony of voices coming from this state," Monson said, adding that doesn't appear to be happening to the same degree nationally or in other states. "Utah continues to be quite different in its rejection of Donald Trump."

Clinton, too, though hasn't captured Utahns' hearts. Both she and Trump have unfavorability ratings of about 70 percent, according to the poll.

"These are very deeply disliked candidates," Riding said.

McMullin's ballot strength is striking considering that only 52 percent of voters are aware enough of his candidacy to offer an opinion, according to Y2 Analytics. However, among those that recognize his name, four out of five see him favorably.

Boyd Matheson, president of the conservative Sutherland Institute, said there's a distinction in Utah that's becoming more apparent nationally that voters aren't going to settle for political rhetoric on either side of the aisle.

"It doesn't matter if it's Trump or Clinton, Utahns are saying, 'No, that's not what leadership looks like to us,'" Matheson said.
To put this in historical perspective, Utah has not gone for a Democrat since Lyndon Johnson's landslide in 1964 and has only gone for a Democrat one other time since World War II, in the 1948 contest between Harry Truman and Thomas Dewey.
If this poll is accurate, it really is bad news for Trump's Electoral College chances regardless of whether it means that the state's six Electoral Votes go into Clinton's column or end up going to either of the two third-party candidates that seem to be benefiting from Trump's troubles among the state's Mormon voters. Taking those six votes out of Trump's column makes it that much harder for him to get to the 270 votes that he would need to win the election. Indeed, any loss in any state that Mitt Romney won in 2012 would be nearly fatal to his campaign since it would increase the number of Obama states he would need to win this time around. In that regard, polling has already been showing Clinton leading in North Carolina, which would take another fifteen Electoral Votes off the table for Trump. If Utah were to leave his camp as well, it would mean Trump starts 21 Electoral Votes behind where Romney was four years ago.
This isn't the first poll to show Trump with a surprising lead in the Beehive State. Steven Taylor made note of similar polling back in June but it is worth noting that more recent polling has shown Trump with the same comfortable lead in the state that you'd expect any other Republican to have. The present RealClearPolitics poll average, for example, which doesn't include independent Evan McMullen, gives Trump a thirteen point lead, which is less than the margin Mitt Romney won the state by four years ago and also below where Republicans have generally polled in past elections dating back to  1968. That average, though, includes only a handful of polls taken in August and September, well before the latest troubles that Trump's campaign has experienced. This suggests that it would be helpful to have additional polling out of this state given that it could cost Trump the election. We've seen before, however, that Utah voters are not impressed with Trump at all. In addition to tepid support in the polls at best, Trump came in a distant third behind Ted Cruz and John Kasich in the state's Presidential caucus and has generally been seen in a bad light by the state's Mormon population, which isn't surprising given what he has said about Mitt Romney in the past and his, shall we say, colorful lifestyle..