Virginia's Foolish Personhood Law
Virginia has become the latest battleground for advocates of laws that define life as being at conception.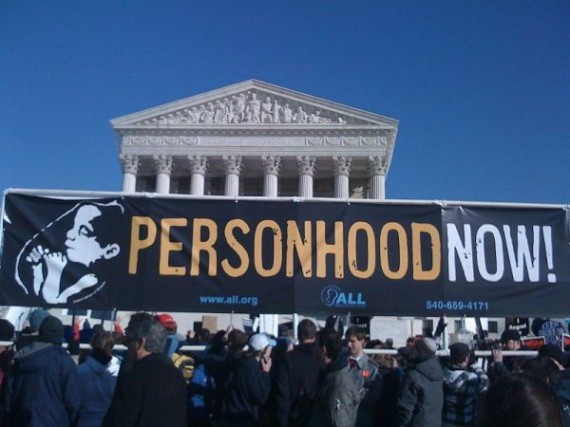 Virginia's legislature was very busy last week. Not only did they pass a bill that will require every woman seeking an abortion to undergo an unnecessary and invasive medical procedure, but the House of Delegates also passed a bill that purports to define life as beginning at the moment of conception:
Virginia lawmakers took a step toward outlawing abortion on Tuesday by approving "personhood" legislation that grants individual rights to an embryo from the moment of conception.

The Republican-controlled House of Delegates voted 66-32 in favor of defining the word person under state law to include unborn children "from the moment of conception until birth at every stage of biological development."

The measure now heads to the Senate, which is evenly split between Republicans and Democrats but with Republican Lieutenant Governor Bill Bolling wielding the tie-breaking vote.

Republican Delegate Bob Marshall, an abortion opponent who introduced the legislation, said the 1973 Roe v. Wade Supreme Court decision legalizing abortion in the United States would not have been rendered if Texas state law had regarded the unborn as a person "in the full sense."

"So this is a first step, a necessary step, but it's not sufficient to directly challenge Roe," Marshall said in a phone interview.

Virginia's approach differs from failed attempts to define a fertilized egg as a legal person in Colorado in 2008 and 2010 and in Mississippi in 2011.

Virginia's effort avoids involving a constitutional amendment like those states, instead seeking changes throughout the legal code, said Elizabeth Nash, public policy associate at the Washington-based Guttmacher Institute, which studies reproductive health issues.

But she said the intent is the same, with the measure ultimately aimed at banning abortion, contraception and infertility treatment.

"Should this bill become law, it could have a far-reaching impact on women's access to health care," Nash said. "No state, as yet, has adopted anything like this."
Delegate Marshall and other supporters of the bill deny that the Personhood Bill would outlaw abortion or any other procedure and, as a direct matter, that's true. However, all you need to do is take a look at the text of the bill to see where this is all headed:
Be it enacted by the General Assembly of Virginia:

1.  § 1. The life of each human being begins at conception.

§ 2. Unborn children have protectable interests in life, health, and well-being.

§ 3. The natural parents of unborn children have protectable interests in the life, health, and well-being of their unborn child.

§ 4. The laws of this Commonwealth shall be interpreted and construed to acknowledge on behalf of the unborn child at every stage of development all the rights, privileges, and immunities available to other persons, citizens, and residents of this Commonwealth, subject only to the Constitution of the United States and decisional interpretations thereof by the United States Supreme Court and specific provisions to the contrary in the statutes and constitution of this Commonwealth.

§ 5. As used in this section, the term "unborn children" or "unborn child" shall include any unborn child or children or the offspring of human beings from the moment of conception until birth at every stage of biological development.

§ 6. Nothing in this section shall be interpreted as creating a cause of action against a woman for indirectly harming her unborn child by failing to properly care for herself or by failing to follow any particular program of prenatal care.

§ 7. Nothing in this section shall be interpreted as affecting lawful assisted conception.
At first glance you can see that the drafters of the Virginia law have learned a few lessons from the failed efforts to pass a "Personhood" initiative that have taken place in other states over the years. Unlike those efforts, Virginia is purporting to place this definition into the Virginia Code. Additionally, the law states that it is subject to the Constitution and the decisions of the Supreme Court, and includes a provision stating that it should not be construed as "affecting lawful assisted conception." At the same time, however, Section 5 of the bill defines life as beginning at the moment of conception, meaning that every form of birth control that seeks to interfere with implantation of a fertilized egg in the uterus would be potentially illegal. While Marshall insists that this is not the case, it is noteworthy that he rejected an amendment that would have exempted contraception from the law.
Moreover, while Marshall attempts to paint his legislation in an entirely benign light, it's fairly clear that it would have broad implications across a wide range of Virginia law:
Marshall said his bill, modeled after legislation in Missouri, would not affect birth control, miscarriages or abortions but would affect the way that courts define a person. For example, parents could receive damages for the death of a fetus in a wrongful death lawsuit.

"To claim using birth control will get you in trouble with this statue is simply false," Marshall said. "It does not have the affect of criminalizing birth control. This does not directly effect abortion."

Critics disagree.

"This bill requires every single code section in Virginia that uses the word 'person' to apply to a fetus," Del. Jennifer McClellan (D-Richmond) said. "That opens families and doctors to a wide variety of criminal and civil lawsuits for health-care decisions not only in cases of unwanted pregnancies, but every pregnancy and even miscarriage."
Put simply, Marshall's contention that this is a law of limited applicability is false. It is, in fact, a Pandora's Box that is likely to have a whole host of unintended consequences if allowed to go into effect, starting with the impact on contraceptives that I noted above. For that reason alone, it's telling that the bills supporters decided to go the legislative route rather than proposing this as an Amendment to the state's Constitution, which would have required approval by a voter referendum. That's something that's been tried twice before, in Colorado and just last year in Mississippi, and it failed miserably both times. If a Personhood Amendment can't pass in on of the most conservative states in the Union, then it likely would not pass in Virginia either. It's far easier to get something like this through a Republican-controlled legislature, where members will see the vote as a way to burnish their pro-life bona fides.
From here, the bill goes to the State Senate, which is divided equally between Republicans and Democrats,  but where a tie would be broken by the Republican Lt. Governor Bill Bolling, who just so happens to be running for Governor in 2013 and faces a primary next year against Attorney General Ken Cuccinelli. Given that, I have little faith that Boling would buck his own party Even one Republican defection, though, would mean the bill is dead at least for this ear. Even there, though, I'm not at all optimistic. This bill looks for all the world like it's going to pass, and then it will be up to the courts to save Virginia from the mess that it would create.