Voters Head To Polls And Caucuses In Five States On 'Super Saturday'
They haven't gotten much attention, but there are five contests today as the 2016 nomination process continues to move forward.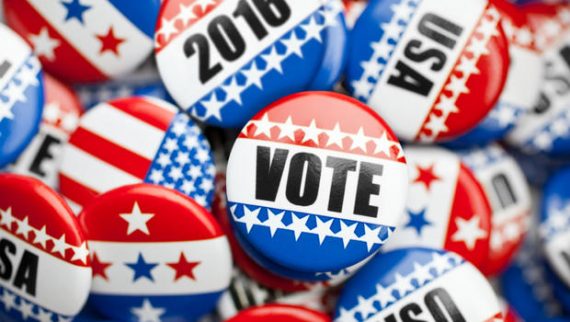 While they aren't receiving as much attention as the contests coming up next Tuesday in Michigan, or on March 15th in Florida, Ohio, and a number of other important states, both parties are holding contests this weekend that will take us further down the road toward deciding who the respective Democratic and Republican nominees will be. On the Republican side, we have caucuses in three states and a primary in Louisiana while Democrats have a primary in Louisiana and caucuses in two other states:
Texas Sen. Ted Cruz's strength with conservative voters will match up against Donald Trump's edge among working-class whites and Bible Belt Evangelicals as four states hold their Republican contests on Saturday.
The two could get more distance on Florida Sen. Marco Rubio and Ohio Gov. John Kasich. Republicans have four contests on tap: Caucuses in Kansas, Kentucky and Maine, and a primary in Louisiana.

Democrats, meanwhile, also caucus in Nebraska and hold a primary in Louisiana — plus another caucus in Kansas. The results could shape the debate Hillary Clinton and Vermont Sen. Bernie Sanders are set to have Sunday night on CNN.

(…)

Saturday's contests offer Cruz one major tactical advantage.

A crucial component of Trump's strength has been his ability to expand the Republican electorate — shattering turnout records in states like Virginia and bringing into the fold "Reagan Democrats" in northern states.

But those contests were open. To participate, registered voters don't have to be registered members of the GOP — they could just walk in on election day.

Republicans have held four contests that were closed: Iowa, Nevada, Oklahoma and Alaska. And Cruz, not Trump, won three of the four.

The most important factor to keep in mind Saturday: Kansas, Kentucky, Louisiana and Maine's contests are all closed.

That makes Saturday an immediate test of Cruz's long-term viability. If he can win as many states as Trump, it'll bolster his argument that he is the logical alternative to the front-runner — particularly if those two are the day's only winners.

She's already won South Carolina, Texas, Virginia, Georgia, Tennessee, Alabama and Arkansas.

Now, Clinton is looking at Louisiana — followed by Mississippi on Tuesday — to close out the Deep South.

Her strength among African-American voters has helped her run up huge margins of victory across the South so far, and Saturday should be no different.

Her campaign isn't conceding Kansas and Nebraska, either. Wins there would show she can expand the map, shutting Sanders out of states with whiter electorates and caucuses, rather than primaries — events that tend to favor well-organized activists further to the party's left.

Saturday's results might not shake up the delegate count in the Democratic race.

But they will set the tone for three intense days in Michigan, where Clinton and Sanders will meet for a debate Sunday night in Flint and follow it up with campaigning through Tuesday's primary.
There hasn't been much polling in any of these states, so it's hard to say where we might be headed today, but there are sufficient numbers to suggest that Donald Trump will continue to do well on the Republican side while Hillary Clinton will do well on the Democratic side. In the biggest prize of the night, the Louisiana Primary, for example, Trump and Clinton seemed well-poised for victory. Recent polling on the Republican side has shown Trump with a double digit lead over the rest of the field, which is consistent with where he has been in other states all along. On the Democratic side, the numbers also strongly favor Hillary Clinton in Louisiana, which is not surprising given the fact that this is yet another state with a significant African-American population like the rest of the South, which Clinton has so far swept in her contest with Vermont Senator Bernie Sanders. There's no reason to believe we won't see the same thing this time around.
As for the rest of the states up for grabs today, there's insufficient data to give any indication where voters may be leaning in either party. On the Republican side, there's polling that seems to indicate that Trump is leading in both Kansas and in Kentucky, however in both states the polling is old enough that it may not be entirely reliable. There doesn't appear to be any reliable polling of the contest in Maine, but the fact that Trump has been endorsed by the state's Republican Governor and held a highly successful rally in that state this week could provide enough momentum for him to pull of a win there. There also doesn't seem to be any polling of the Republican race in Puerto Rico, which holds a caucus on Sunday, but most of the analysis I've seen of the race suggests that this is a race that Marco Rubio should be able to win easily. On the Democratic side, the dearth of polling also make it hard to have any idea where the race stands. One poll out of Kansas shows Clinton up ten points in that state, but that poll is from early February and there is no polling out of Nebraska.
As far as any forecasts go, I'll go ahead and say that I think Trump will win the Republican contest in Louisiana by at least the double digit gap shown in recent polls, while Hillary Clinton will once again crush Bernie Sanders in a southern state to overwhelmingly win in Louisiana. Beyond that, it's anyone guess. I suspect that Trump will win the caucuses in Kentucky and Maine, and that Ted Cruz is likely to be competitive in Kansas given that the GOP electorate there is similar in many ways to Iowa, but I'm largely guessing in all three cases. I'll go ahead and predict Rubio will win Puerto Rico tomorrow, though, since he seems to be the only candidate who has campaigned there. On the Democratic side, I'm just going to have to say that all the two caucus states are just a toss up, and I wouldn't be surprised to see either candidate win both, or to see them split the two states.
Meanwhile, the candidate are paying more attention to Michigan, Ohio, and Florida, because that's where the real delegate prizes are and, in the case of the GOP race, that is the battleground on which the current effort to try to stop Trump is being played out. This should make the next ten days quite interesting.