Vuvuzelas Ruining The World Cup ?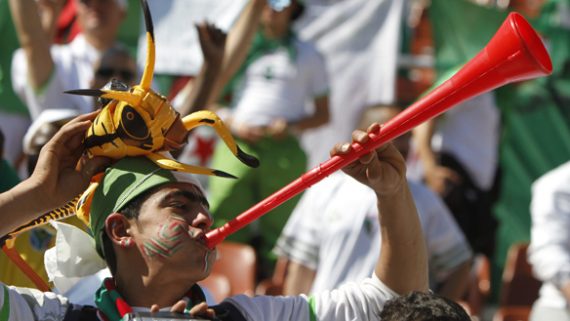 If you've watched even a little bit of the World Cup coverage so far, you've heard it. It sounds like a swarm of bees, or maybe a squadron of alien locusts, are about to attack the stadium. What it actually is, though, is a South African horn called the vuvuzela:
JOHANNESBURG (Reuters) – South Africa's vuvuzela, the trumpet that will be a fixture at World Cup matches, is the loudest of all fan instruments and can cause permanent hearing loss, a global hearing foundation said on Monday.

Soccer governing body FIFA has okayed the plastic trumpet for the tournament, which starts on Friday, after organisers did tests at a match at Johannesburg's 95,000-seater Soccer City due to worries the din could drown out emergency announcements.

While normally reserved for local games, the vuvuzela can now also be heard at warm-up matches and practice sessions ahead of the tournament, even those not involving South Africa's Bafana Bafana.

The Hear the World Foundation — an initiative formed by Swiss hearing products group Phonak to raise awareness about hearing loss — said tests showed it produced a dangerously loud sound, far out-blasting a chainsaw.

The tests, conducted late last month in a sound-proof studio, found the vuvuzela emitted 127 decibels, more than the air horn — 123.5 decibels — and the Brazil's samba drums.
After only four days, though, it's fast become so annoying to players, television networks, and viewers, that FIFA is considering a ban:
JOHANNESBURG — World Cup organising committee head Danny Jordaan on Sunday did not rule out banning vuvuzelas, the noisy plastic trumpets which have proved a hit with fans in South Africa but threaten to deafen players and viewers alike.

Criticism of the vuvuzelas has been almost as loud as the instruments themselves with broadcasting companies complaining the din is almost drowning out commentary.

"We've tried to get some order," said Jordaan.

"We have asked for no vuvuzelas during national anthems or during stadium announcements. I know it's a difficult question," he added, saying that "we're trying to manage the best we can.

"We heard from the broadcasters and individuals and it's something we are evaluating on an on-going base.

Jordaan told the BBC in an interview that he had to consider the option of banning the trumpets.

"If there are grounds to do so, yes," he said, asked if a ban was an option.

France captain Patrice Evra said the incessant noise was a factor in his side's poor display in their draw with Uruguay.

According to Evra: "We can't sleep at night because of the vuvuzelas. People start playing them from 6 a.m. We can't hear one another out on the pitch because of them," the Frenchman added.
From the brief amount of time that I watched the US v England match on Saturday, I can certainly attest that the sound is annoying, even coming over a television. I can only imagine what it sounds like down on the field.