Walker's Vist to Hugh Hewitt
An example of rationalization.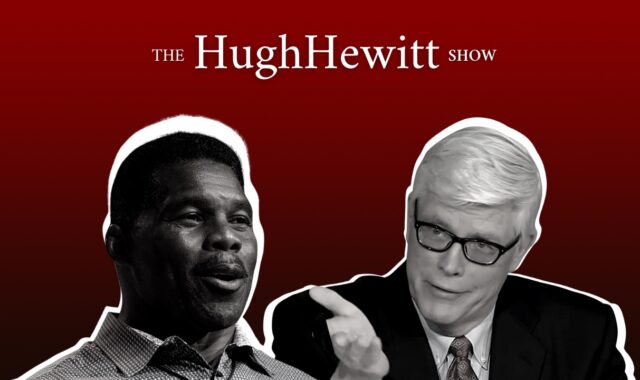 So, in writing my post the other day about the Walker story, I came across the transcript of his visit to the Hugh Hewitt show. At a minimum, it is a cavalcade of nonsensical answers from Walker about the various allegations against him. But it includes the following from Hewitt:
HH: So Herschel, let's close by talking about Pastor Warnock. I am amazed. I stayed away from the story about the domestic violence against his ex-wife or wife. I can't remember who he ran over. But I didn't do that when he ran in the runoff. It's just not what I do on this show. Are you getting hit by a double standard in the media where the Pastor gets a pass on his double salary and you get hammered on anonymous allegations like this? Is it a double standard, and do Georgians know that?
So, I have several thoughts about this passage.
First, the grossness of "I stayed away from the story" while talking about it just, well, choice and it is a classic example of a partisan commentator claiming to be above it all while very directly attacking an opponent.
Second, I will confess I was unaware of (or did not remember) the particulars, which end up being less sensational than Hewitt's innuendo suggested. Via the AJC (from 2020): Warnock's ex-wife calls him 'great actor' in police footage of dispute's aftermath.
Democratic Senate candidate Raphael Warnock's ex-wife told Atlanta police officers that her husband was a "great actor" after he denied her claims that he ran over her foot with his car, according to body cam footage of the March 2020 incident that aired late Tuesday on Fox News.

The Atlanta Journal-Constitution reported in March that Warnock wasn't charged with a crime and an officer said in a police report that medical officials didn't find visible signs of injury in the foot.

[…]

He told police that his wife refused to close the right rear passenger door of his car so that he could leave. He told authorities he began to "slowly" drive forward — and then heard his wife accuse him of driving over her foot.

The report said Ouleye Warnock was able to wiggle her toes and that Grady Hospital first-responders were "not able to locate any swelling, redness, or bruising or broken bones."
A good look for a candidate, especially a pastor? Probably not. "Domestic violence" as suggested by Hewitt? Not even close from an evidence-based POV.
Third, this connects directly with my previous post as it is an example of a Republican partisan (Hewitt) rationalizing that his party's opponent (Warnock) is just as bad, if not worse, than his party's candidate (Walker) because Warnock did bad things, too. It certainly gives Republicans in Georgia a possible out for voting for Walker over Warnock.
Moreover, I suspect that a lot of Georgia Republicans are willing to say things like, "of course a famous football player sewed some wild oats, but a pastor ought not be getting a divorce!"
Rationalization is a powerful thing.