Warren Persistent Despite Losing Again
She's continuing to swing at the candidates beating her at the polls.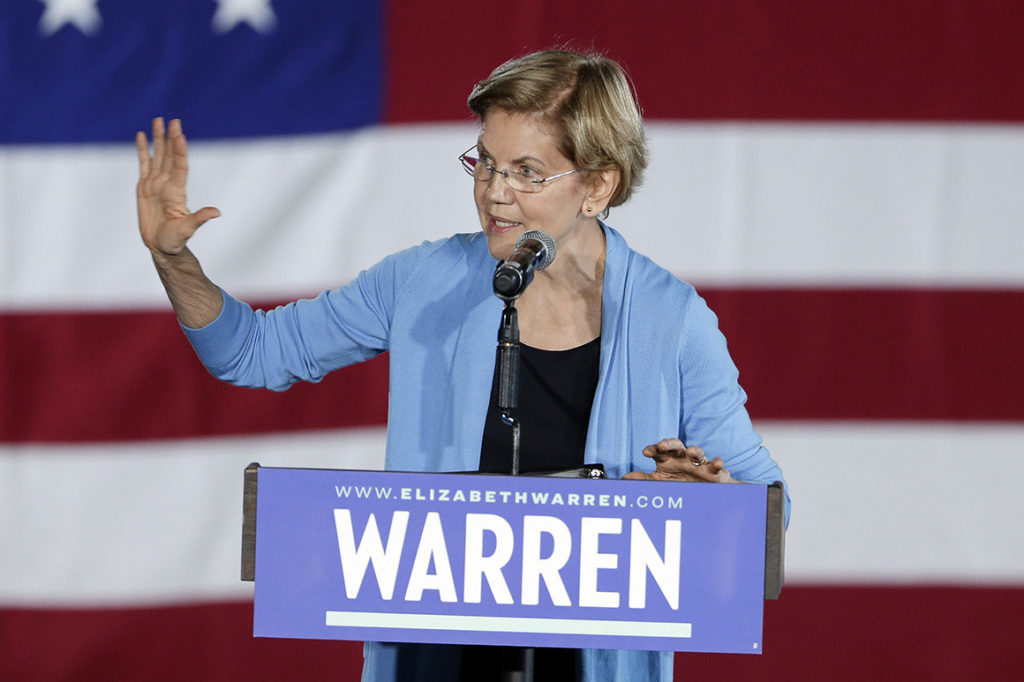 "Nevertheless, she persisted" has become something of a rallying cry for supporters of Massachusetts Senator Elizabeth Warren. They, rightly, see her willingness to continue fighting for things she believes in a virtue.
But there comes a point where fighting a lost cause is damaging. We have reached that point.
Warren finished a distant fifth in South Carolina yesterday and would have come in sixth had Michael Bloomberg been on the ballot. That follows a third-place finish in Iowa and failing to get a single delegate in either New Hampshire or Nevada. She may well fail to win her home state Tuesday.
Not only is she not doing what similar candidates have done and dropped out of the race but she's doubling down.
POLITICO ("Warren comes out swinging after South Carolina drubbing"):
Elizabeth Warren responded to her fourth straight loss Saturday night by taking direct aim at her rivals — including Bernie Sanders.

"This crisis demands more than a senator who has good ideas, but whose 30-year track record shows he consistently calls for things he fails to get done, and consistently opposes things he nevertheless fails to stop," Warren said in her toughest assessment of the Vermont senator during a speech in Houston Saturday night.

It wasn't just Sanders — whom Warren and her team had largely avoided criticizing during the campaign — she went after. She unloaded on her opponents and argued they were not up to tackling the country's big problems.

Warren's shift comes at a low point for her candidacy. She has not placed first or second in any of the four contests before next week's Super Tuesday.

"I'll be the first to say that the first four contests haven't gone exactly as I'd hoped," she said. "But Super Tuesday is three days away and we're looking forward to gaining as many delegates to the convention as we can — from California to right here in Texas."

Warren began her remarks by discussing the coronavirus and the potential of an outbreak causing the American economy to "crumble." She then presented herself as the candidate with the most competence and best ideas.

"We are picking a president — and we need someone whose core values can be trusted, who has a plan for how to govern, and who can actually get it done," she said. "I will be that president. I've been at the center of this kind of crisis before," she added, noting her experience during the 2008 financial crisis.

She then turned to her rivals.

"Let's be blunt," Warren said. "This crisis demands more than a former vice president so eager to cut deals with Mitch McConnell and the Republicans that he'll trade good ideas for bad ones," she said of Joe Biden without naming him.

"This crisis demands more than a billionaire mayor who believes that since he's rich enough to buy network airtime to pretend he's the president, that entitles him to be president — and whose track record as mayor shows he'll govern to protect himself and his rich friends over everyone else," she said of Michael Bloomberg, again not addressing him by name.

If there were any questions about whether she would drop out of the race, she dispensed with them. "My campaign is built for the long haul," she said.
There is simply no path for Warren getting to even a plurality of the pledged delegates at this point. She's fourth in the national polling averages. She's a distant fourth in the delegate count. She's not favored to win a single state on Super Tuesday—not even Massachusetts.
So, rather obviously, she's hoping to be the winner of a brokered convention. That's not entirely implausible. One could see a scenario where Sanders and Biden have far and away the most pledged delegates but neither has a majority. While Biden would seem the likeliest to be able to forge a coalition—getting the endorsement of Bloomberg, Buttigieg, and Klobuchar—Warren would be an intriguing compromise.
But, if that's the strategy, a positive campaign would seem the obvious way to go. Blasting Biden and Bloomberg at this stage just makes it harder to get their support.
If she's instead acting as a Sanders surrogate, then why attack his competence and temperament?