Joe Biden Makes it a Two-Man Race
The 78-year-old is the Comeback Kid. And the only chance of preventing a Bernie Sanders nomination.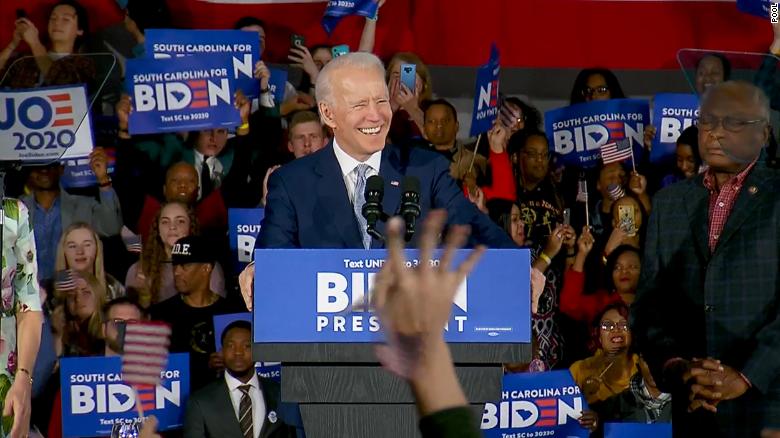 A 30-point win in the first primary state with a significant African-American constituency has revived Joe Biden's campaign and rendered all other candidates but frontrunner Bernie Sanders spoilers.

POLITICO ("Biden romps to victory in South Carolina"):
Joe Biden notched his first election win Saturday in this first-in-the-South state on the strength of widespread support from black voters — a triumph that he's hoping will propel him on Super Tuesday and then into a one-on-one race against Bernie Sanders.

Biden's win was announced as soon as polls closed at 7 p.m., based on preliminary results and exit polls showing him with a staggering lead. The victory puts the onetime frontrunner back into serious contention for the party's nomination against Sanders, who leads the crowded field and likely came in second.

The results from South Carolina also promise to alter the trajectory of the race by damaging the prospects of several other candidates who have failed to demonstrate that they can generate significant support from non-white voters.

The outcome also undercuts the case for the candidacy of billionaire Mike Bloomberg, who has spent $500 million since entering the race late in November on the theory that the former vice president would implode.
Jonathan Chait agrees that "Joe Biden Is Now the Only Democrat Who Can Stop Bernie Sanders."
Biden appears to have taken control of the Democrat Party's center-left voters so decisively none of his mainstream rivals will be able to sustain a rationale for their candidacy. Michael Bloomberg, Amy Klobuchar, Pete Buttigieg — all of whom have made Biden-esque pitches to the electorate — will face enormous pressure to leave the race after Super Tuesday, and possibly even before.

The mistake many of us made with regard to Biden was viewing his campaign through the prism of age. Biden looks and acts much older than Bloomberg, Sanders (who has looked exactly 85 years old since the 1980s), and even Trump, who also appears to be experiencing rapid cognitive decline. Biden campaigned unevenly and delivered uncomfortably meandering performances at the debates that often worsened as each debate dragged on. It seemed intuitive that the pattern of decline would also apply to Biden's campaign. His best day would be his first, and he would slowly exhaust the supply of pent-up goodwill that was his primary asset.

But whatever his limitations, Biden has not gotten worse. His last debate performance was his best. It was almost good.

The heart of Biden's claim to the mainstream Democratic mantle is his impressive performance with African-Americans, who had little representation in the previous three contests. They are not attracted to Biden out of mere nostalgia, gratitude, or familiarity. Black voters in the state — especially older ones, who have the closest personal experience with overt white supremacy — have thought carefully about the primacy of ousting Trump over every other goal, as well as their role in that process.

This conclusion is not me reading my views onto them. Pay attention to what voters there have told reporters like Astead Herndon, Eugene Robinson, and others. Robinson described the mood of voters he met as "urgent pragmatism" to end a presidency that is reversing decades of racial progress. "Black voters know white voters better than white voters know themselves," one voter told Herndon. "So yeah, we'll back Biden, because we know who white America will vote for in the general election in a way they may not tell a pollster or the media."
I like Biden more than Chait and still have serious doubts about his physical and mental fitness for the White House. But I have major concerns, albeit different ones, about all of the contenders for the Democratic nomination.
I've been arguing for a while that Amy Klobuchar, Tulsi Gabbard, and Tom Steyer should drop out. The latter two are vanity candidates who never had a serious shot at the nomination. Klobuchar's resume makes her worthy of consideration for the White House but, for whatever reason, she has never caught on or risen above the single digits in the national polls.
Steyer has dropped out before Super Tuesday, rightly bowing to the inevitable and refusing to continue acting as a spoiler.
Elizabeth Warren, alas, is doubling down in a way that may well help Donald Trump.
No word yet from Klobuchar or Buttigieg but one suspects they'll continue their efforts at least until Tuesday night. In doing so, they're effectively helping Sanders win the nomination.
Bloomberg is a special case, in that he's poured some $400 million into the race and appears on a ballot for the first time Tuesday. But the entire rationale for his candidacy was to be the backup plan in case Biden imploded. In an ideal world, he would now throw his support behind Biden. That's unlikely to happen.
I'll vote here in Virginia Tuesday after work. Buttigieg is my favorite candidate but he has no shot at the nomination. So I went into yesterday with the intention of voting for Biden if he won in South Carolina and Bloomberg otherwise. Biden was my second-favorite candidate, anyway, and the forecasts in Virginia have him and Sanders neck-and-neck.
So, Biden it is.