Nevada Democratic Debate Roundup
Most national pundits saw it differently than I did.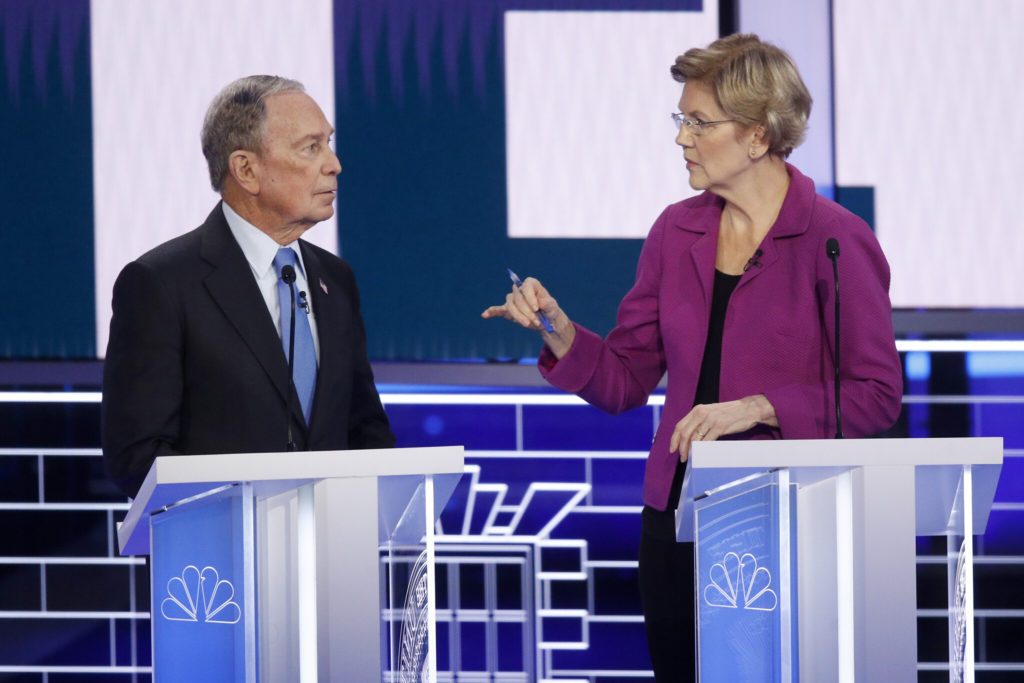 Early this morning, I gave my hasty reaction to last night's debate. It is, as several commenters pointed out, not in step with what most observers saw.
I'll round several of those up momentarily. But the bottom line is that I'm almost certainly 1) not the target audience and 2) looking for something different than most observers. First and foremost, I'm not a partisan Democrat. While I'll vote for the eventual nominee against Trump, I'm still relatively conservative politically and am unimpressed with much of the progressive agenda. Secondly, having paid rather close attention to the race—albeit mostly via reading rather than watching television—for going on eighteen months, I have pretty firm opinions on the candidates. So, my reaction to the debate had to do with whether anyone made me more or less likely to think they're Presidential material—not whether they're scoring points in a horse race.
Almost everyone seems to think that Bloomberg was badly hurt last night.
Neocon John Podhoretz pronounced that the "Nevada Democratic debate was the greatest debate in human history."
Mike Bloomberg's millions in campaign spending flew right out the window Wednesday night.

The billionaire's self-bankrolled presidential bid was torn to shreds in the opening minutes of Wednesday's Democratic debate as his opponents skewered him for his checkered past on sexual harassment and his record on stop-and-frisk.
NYT columnist Frank Bruni ("Despite His Billions, Bloomberg Busts"):
You can buy ads and saturate the airwaves with them. You can buy allies, especially with the right budget.

But you can't buy a debate performance, and that's why Mike Bloomberg's on Wednesday night mattered so much. This was the man talking, not the money.

And the man needed rescue — from his bloodthirsty rivals and even more so from himself.

Making his first appearance alongside other contenders for the Democratic presidential nomination, Bloomberg knew that he would be under furious attack and had clearly resolved not to show any negative emotion. But that meant that he often showed no emotion at all. Or he looked vaguely bemused, and that didn't communicate the coolness that he intended. It signaled an aloofness that he very much needed to avoid.
Bruni and I are in agreement here:
Ugly: That's the word for this ninth debate of the Democratic primary season. It had the fewest candidates — six — but the most nastiness, because those candidates clearly felt an urgency to diminish their competitors and elevate themselves before it was too late. A meager haul of votes in the Nevada caucuses this coming Saturday could effectively undo one or more of them; a poor showing on Super Tuesday less than two weeks from now would definitely be the end of the road.
His colleagues Shane Goldmacher and Reid J. Epstein offer "6 Takeaways From the Democratic Debate in Nevada." I'll let you click through and read the details but the toplines were:
Things got ugly in Vegas, and fast.
Bloomberg came close to going bust.
Warren had a very good night.
Sanders, the polling leader, is unscathed once again.
Biden seemed like an afterthought for his rivals.
Klobuchar and Buttigieg may take each other down.
Since their assessment of Warren was so different from mine, I"ll focus on parts of it:
After the New Hampshire debate early this month, Ms. Warren said she had her hand up a lot but didn't get called on much. This time, she not only spoke more than any of her rivals, but she also often set the terms of the debate.

It was the kind of aggressive performance that allies and even some of her campaign advisers had been hoping for, even if it marked a sharp shift from her recent strategy of appearing as an above-the-fray candidate who could unite Democrats.

She had one-liners. And twice she plowed through the weaknesses of so many of her opponents in a single answer that it left moderators struggling to even give everyone a chance to respond. Perhaps most notably, she forcefully addressed health care and her "Medicare for all" plan, which has been a liability for months.

She said that former Mayor Pete Buttigieg's health care plan was "not a plan, it's a PowerPoint" and that Senator Amy Klobuchar's was more "like a Post-it note." She said even advisers to Mr. Sanders admitted his package "probably won't happen anyway."

How the performance will play out among voters in the coming days and weeks remains to be seen. Ms. Warren had stagnated in recent weeks. But on Wednesday night she looked like a fighter determined to go the distance, and her campaign wasted no time boasting of a huge financial haul — $1 million raised during the debate itself, and $2.8 million raised throughout the day — as a potential sign of a revival.
I don't disagree with any of that and the fundraising haul is perhaps the most important point. The difference in my reaction is that I don't think 'It's not a plan, it's a PowerPoint" is that big of a burn. No plan is going to survive first contact with Congress, anyway, and voters are looking for a vision, not a wonk. (And I say that as something of a wonk.) More importantly, though, I think Bernie emerging as unscathed—their follow-on point—mitigates whatever advantage Warren got from taking shots at Bloomberg.
Axios' Mike Allen ("Bloomberg's rough debut"):
Mike Bloomberg was booed during his debut debate as a Democratic presidential candidate — indicative of a rusty outing where the former New York mayor looked unprepared to respond to obvious lines of attack.

Why it matters … The debate underscored the Bloomberg's campaign biggest fear: It's hard to hide to his prickly demeanor. Bloomberg had all the time, practice and forewarning money could buy — and still struggled mightily on the public stage.

But it'd be foolish to assume blanket ads can't undo the damage. Elizabeth Warren said on MSNBC: "I have no doubt that he is about to drop, tonight, another hundred million dollars on his campaign … in order to try to erase America's memory of what happened on that debate stage."
One contrarian view came from Josh Greenman of the NY Daily News ("With the exception of that one exchange, Bloomberg's debate performance was good enough"):
Too bad Mike Bloomberg doesn't have enough money to get everyone who saw an embarrassing exchange on sexual harassment claims at his company to sign a non-disclosure agreement. Or does he?

[…]

Other than that, Mrs. Lincoln, how was the play? Not bad for Bloomberg. Although he was probably the weakest on points of everyone on stage — they pretty much all delivered strong performances, with Warren and Pete Buttigieg and Biden especially vigorous, and Bernie Sanders his standard old self — he did fine.

He survived many quivers of slings and arrows without making big mistakes. Nobody expects raw, pulsing magnetism from Mike Bloomberg. He came across as calm and competent, more no-nonsense manager than persuasive politician, which is kind of the point.

When Biden said Bloomberg called Obamacare "a disgrace" (which is true — in a 2010 speech he said it was just "another program that's going to cost a lot more money"), Bloomberg correctly responded that he's "a fan of Obamacare" and referenced a Daily News op-ed he wrote in 2009 making the case for a public option.

His language in that piece was clear: "A public health insurance option would create a competitor to private insurers that could potentially drive down costs across the board."

He was strong on climate change and energy. He gave a fluid answer on his billions, saying simply that he now wanted to spend his money to defeat Trump, as a legacy to future generations. His now-canned response on stop-and-frisk worked well enough.
Greenman's take is more optimistic than mine but not that dissimilar. But, again, my take was about how it influenced my perception of Bloomberg. While Warren and Allen are likely right that lots of money in advertising can help reverse any damage here before Super Tuesday—the first time Bloomberg will actually appear on a ballot—this was a terrible rollout for a candidate most Americans—indeed, even most debate watchers—were meeting for the first time. (Then again, by Super Tuesday we may well have winnowed the field further.)
POLITICO's Elaina Schneider focused on a sideshow among the bottom-two candidates on the stage ("Loathing in Las Vegas: Amy and Pete's resentment boils over"):
The hostility building between the two Midwestern Democrats burst dramatically into the open in Nevada, as they clashed repeatedly on the debate stage and tried to slash the momentum out of each other's campaigns. Klobuchar and Buttigieg have fought before over their experience and their political records in past debates — but the feud took a deeply personal turn.

After the Minnesota senator defended her "momentary forgetfulness" when she failed to name the president of Mexico in a recent Telemundo interview, Buttigieg leaped in, surely thinking of the criticism he's taken from Klobuchar in recent debates.

"You're staking your candidacy on your Washington experience. You're on the committee that oversees border security. You're on the committee that does trade," Buttigieg said, turning to face Klobuchar just to his left on the stage. "You're literally in part of the committee that's overseeing these things and were not able to speak to literally the first thing about the politics of the country to our south."

"Are you trying to say that I'm dumb? Or are you mocking me here, Pete?" Klobuchar shot back.

It exploded again when Buttigieg blasted Klobuchar on her vote to confirm President Donald Trump's nominee for Customs and Border Patrol, who "was part of family separation policy," Buttigieg said.

"I wish everyone was as perfect as you, Pete," Klobuchar said. "But let me tell you what it's like to be in the arena."

It's clear that the fury is rooted in the personal as well as the political for the two Democratic campaigners.

Politically, Buttigieg and Klobuchar are both hawking middle-of-the-road, tell-it-like-it-is personas, which they argue Democrats need to carry the Midwest, the region they call home. They are both competing to emerge as the main moderate alternative to Bernie Sanders, the current polling frontrunner.

But the rivalry runs deeper than their political positioning. Klobuchar has regularly spoken about sexism on the campaign trail, explaining that she is willing to call out "double standards" for female candidates because "we have to grapple with the fact that some people think a woman can't win" against Trump, she told POLITICO in January. And this fall, Klobuchar said that a woman with the former mayor of South Bend's resume and qualifications would likely not be on the presidential debate stage or get treated as a serious national candidate.

Klobuchar's frustration with Buttigieg bubbles up most intensely when it comes to that experience.
While one understands Klobuchar's frustration on this, politics ain't beanbag and life ain't fair. Just look at the last four Presidents.
Bill Clinton was the least seasoned Democrat running in 1992 and he not only cruised to the nomination but bested George H.W. Bush, arguably the most qualified President in the modern era.
George W. Bush beat a more seasoned field in the Republican primaries and then beat a two-term Vice President and longtime Senator.
Barack Obama hadn't been in Washington to find a dry cleaner before throwing his hat in the ring against Hillary Clinton and other longtime hands. He not only won the nomination but turned around and walloped John McCain, who had been in his country's service since before Obama was born.
And then there's Donald J. Trump.