Warren Rises In The Polls, Threatening Sanders
Quietly, Elizabeth Warren has been campaigning and putting out policy proposals while also appearing to gain ground on her closest rival, Bernie Sanders.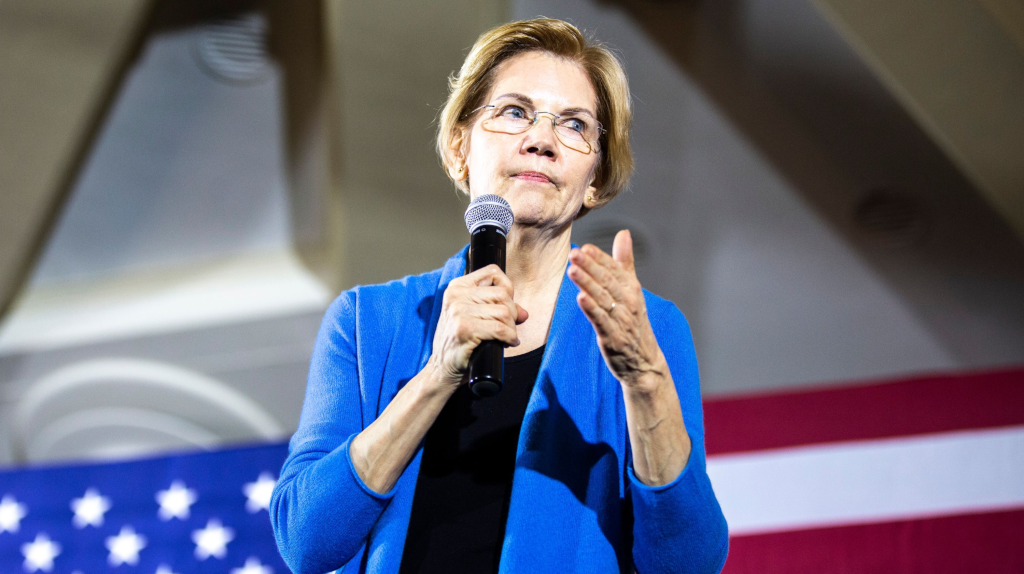 While most of the attention in the race for the Democratic nomination is being given to front runners Joe Biden and Bernie Sanders, The New York Times notes that Massachusetts Senator Elizabeth Warren seems to be slowly but seemingly surely moving forward in the race
NEWTON, Iowa — To the crowd of Iowans gathered in a school gym on Saturday night, Senator Elizabeth Warren made a request: They should pose a question to the other presidential candidates who come to Iowa seeking their vote.


"Ask them: Where do you get your money?" she said. "Are you getting it from a bunch of millionaires?"


For Ms. Warren, the question highlighted one of the sharpest contrasts she has drawn with most of her top rivals for the Democratic presidential nomination: She has sworn off holding private fund-raisers with wealthy donors. "The best president money can't buy," signs and T-shirts for her campaign say.


"I like that very much," Cheryl Scherr, 63, said afterward, "because that means that she's not beholden to anybody."

After five months as a presidential candidate, Ms. Warren is showing signs of success at distinguishing herself in a packed field. She has inched higher in national polls and, at events within the last month, consistently overshot the campaign's expected number of attendees.


She has been propelled in part by a number of disruptive choices, most notably the breakneck pace at which she introduces policy proposals. That has helped keep her in the news, put pressure on rivals and provided more opportunities to shore up her campaign's once-lackluster fund-raising.

Other decisions have helped her with her party's progressive flank. Ms. Warren was quick to call for the impeachment of President Trump, a view shared by many Democrats. She refused to participate in a town hall event on Fox News, a channel that is reviled on the left. She has also been the only major candidate to call for student debt cancellation, and about 250,000 people have used a tool on her website that allows visitors to calculate how much of their debt her plan would eliminate.


The website experienced a large surge in visitors after the billionaire Robert F. Smith made national headlines last week when he pledged to pay off all the debt for the graduating class at Morehouse College in Atlanta.

But Ms. Warren's recent strength also highlights the volatile nature of the campaign's early stages, and how much any candidate must do to overtake Joseph R. Biden Jr. — whose name recognition and status as a former vice president have placed him comfortably in the role of the front-runner.


Ms. Warren has become a favorite candidate among the activist left and is the subject of a viral tweet or video on a seemingly daily basis, but she still trails Mr. Biden by double digits in polls and does not seem to have broken through in New Hampshire, the critical primary state that neighbors her Massachusetts home.


Her ability to raise money over the long haul also remains a major question mark. In the first quarter of the year, before Mr. Biden entered the race, her fund-raising lagged that of four other candidates: Senator Bernie Sanders of Vermont, Senator Kamala Harris of California, former Representative Beto O'Rourke of Texas and Mayor Pete Buttigieg of South Bend, Ind.


Still, interviews with more than two dozen attendees at Ms. Warren's campaign events in Iowa over Memorial Day weekend suggested that her steady stream of policy proposals was getting voters' attention. Her "I have a plan for that" campaign slogan has become a rallying cry for supporters.


"That's going to be her big selling point," said Joel Williams, 20, a college student who went to see Ms. Warren in Oskaloosa on Sunday. "The specifics that really go to the heart of people's frustrations with the system as it is."

"She's got it all laid out," said Susan Conroy, 71, a retired lawyer. "She's got plans, and people are hungry for knowing, 'Well, what are you going to do about it?'"
Warren's focus on campaigning and on putting forward specific policy proposals does seem to be some impact. In the most recent polls listed at RealClearPolitics, for example, Warren is garnering somewhere between 8% and 13% in the polls, putting herself firmly in third place behind Joe Biden and Bernie Sanders and slightly ahead of candidates such as Kamala Harris, Beto O'Rourke, Pete Buttigieg, and Cory Booker. Her best performance right now is in the Quinnipiac poll, which shows Warren at 13%, just three points behind Bernie Sanders, who stands at 16% in that poll. In the polling average, she stands in third place at 9.8%, behind Biden at 34.8% and Sanders at 16.4%. Meanwhile, Warren has pulled ahead of the middle pack in the race, which Harris leads at 7.4% followed by Pete Buttigieg at 6.0%, Beto O'Rourke at 3.8%, and Cory Booker at 2.2%. All of the remaining candidates are below 2% and many are polling so low that they don't register at all. This is a fairly significant upward move for Warren that could put her closer to the top two candidates in the race if it holds up.
Obviously, it would be to Warren's advantage politically to get Bernie Sanders out of the way sooner rather than later. This is because she is competing for the support of the same segment of the Democratic Party that the Senator from Vermont is, although the same can be said about other candidates such as Harris, Buttigieg, and others. In the case of Warren, though, Sanders is clearly standing in her way between her current position and the point where she could credibly make the case she is the alternative to Biden rather than her colleague from Vermont.
The best chance for her to do that will likely come in the debates that begin at the end of June. If she does well in those debates then it could give her the momentum she needs to do that. Of course, it's also possible that those debates could give Sanders renewed life that would at least stop the slide in the polls he's been experiencing since former Vice-President Biden got in the race. So far, though, while she has been quiet about it Warren does seem to be doing something right. Whether it continues remains to be seen.