What Exactly Has Conservatism Accomplished Lately?
Judging by the record of the past decade and a half, movement conservatism has accomplished very little.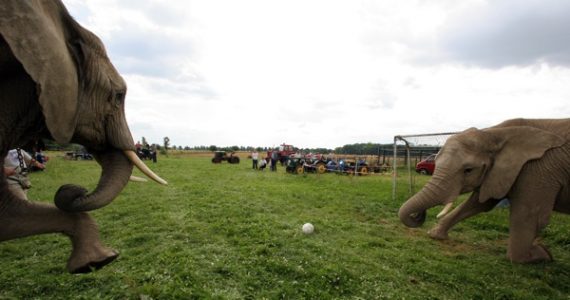 Conor Friedersdorf asks a question:
[W]hat has Fox News accomplished? What has the Tea Party accomplished? What has any movement institution accomplished in the last 15 years? Enough that the movement isn't a failure? Is a successful entertainment channel and a short-lived protest movement enough for conservatives? Is winning the 2010 midterms enough if it doesn't ultimately advance the agenda? If so, conservatives have chosen the right movement leaders. Think tank, talk radio and magazine pundits will keep getting paid and Fox profits will keep rolling in as Obama governs.

For them, the conservative movement is an end in itself.

When an ideological movement's leaders stay fat and happy regardless of ideological advances, will things ever improve?

I have my doubts.
It's a good question. Fifteen years back in time takes us to 1997 when the Republicans controlled Congress and Bill Clinton was in the Oval Office. By then, though, they'd pretty much accomplished most of the things that partnership was known for, such as welfare reform, balanced budgets that weren't really balanced, and, unfortunately, the Defense of Marriage Act. By this time in `97, Republicans in the House were already marching down the road toward Impeachment which, in the end and quite predictably, ended up being a public relations disaster not for President Clinton but for Congressional Republicans. The remainder of the Clinton years weren't marked by anything that I'd characterize as a conservative policy success either. For the most part, both parties just marked time until the 2000 election and the showdown between George W. Bush and Vice President Al Gore.
Moving on to the Bush Administration, we once again find ourselves with very little to point to that could be characterized as a conservative policy victory. Indeed, the two premier pieces of domestic legislation that marked the Bush Era, No Child Left Behind and Medicare Part D, are both massive expansions of Federal Government power that resulted in significant increases in Federal spending. Beyond that, I'm at a loss to point at a single thing that the Republican Congress accomplished that could fairly be called conservative during the time that it was in power up until the 2006 elections. The Bush Tax Cuts? Some would count those as a conservative, but what exactly is conservative about cutting taxes at the same time you're passing two pieces of legislation that massively increase spending and  engaging in two wars that ended up having an overall price tag of nearly $1 trillion? As someone who considers themselves a fiscal conservative, I'd have to say that there was absolutely nothing "conservative" about the spending record of Republicans during the Bush Era.
That brings us to the 112th Congress and the record of the House Republicans who won control of the House in 2010. To be fair in this evaluation, one must remember that controlling only one House of Congress while the White House is controlled by the opposing party makes it difficult for a majority to accomplish much of anything. However,  it's pretty unclear to me what they've done to advance conservative policy goals. Yes, they passed their bills to repeal Obamacare, thirty-three times actually, and they passed a number of bills that died in the Senate that they intended to be measures that would help stimulate job creation. However, because of the fact that the hardliners in the House GOP Caucus were utterly unwilling to compromise with the opposition, all of those bills died in the Senate rather than moving forward in a modified form. Instead of getting what might be a 70% victory, they ended up with a 100% loss. What that accomplished, especially in light of last week's election results, is entirely beyond me.
My friends on the right might argue that I am missing something by not focusing on things at the state level, and they would have a point. Not everything important happens in Washington, D.C. In fact, we'd probably be a lot better off if fewer important things happened at the Federal level to begin with. Looking at the state level, one can find examples of policy advances for conservatism that have had a positive benefit on the states involved. When Jon Huntsman was Governor of Utah, for example, he shepherded into existence a market based health insurance program designed to cover people without insurance that didn't rely on insurance mandates. There have been victories for school choice in many states around the country.  Governor's from Mitch Daniels to Scott Walker to Chris Christie have done their best to introduce a renewed commitment to fiscal responsibility that, if it continues, will inure to the benefit of their states in the years to come. On the the other side of the coin, one can point to recent "conservative" victories at the state level on issues such as abortion that are likely to harm the long term interests of the Republican Party as a whole. On balance, though, one can probably say that conservative legislators and Governors have been far more productive than their Federal counterparts.
Friedersdorf's overall argument is that the conservative pundit class seems largely uninterested in actually accomplishing anything policy related, and more interested in continuing the rhetorical fights, often for self-interested reasons such as fundraising or, in the case of Fox News and the talk radio cabal, for ratings. Listening to Fox News or Rush Limbaugh, et al one week after the election, one would hardly think that conservatism took the electoral drubbing that it actually did at the polls last week. They're both acting as if there's nothing to question about the strategy that they've been following for the past two decades or so, and the people who listen to them are likely eating it up as gospel. I'm sure the fundraising letters for all the appropriate groups have already been drafted and mailed and that, when received, they'll result in another flood of checks into bank accounts that fund organizations that seem devoted to little more than touting their own press clippings. Meanwhile, the right continues to talk to itself and live inside its own media bubble. What that accomplishes baffles me but, judging by the past decade and a half, it's been very little.