What is the Debt Ceiling?
A lot of people appear confused at to what the debt ceiling is and why it has to be raised.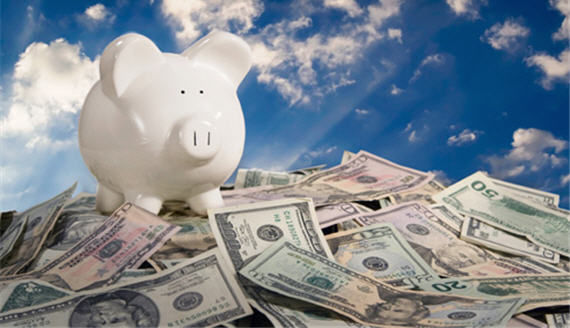 A lot of people appear confused at to what the debt ceiling is and why it has to be raised.
First, what is the debt ceiling? CNNMoney explains:
It's a cap set by Congress on the amount of debt the federal government can legally borrow. The cap applies to debt owed to the public (i.e., anyone who buys U.S. bonds) plus debt owed to federal government trust funds such as those for Social Security and Medicare.
This cap was created by a 1917 law and has been raised a rather large number of times over the past almost-century.  It is important to understand that the debt ceiling itself is an arbitrary number.
NPR's Planet Money further adds:
Every day, the federal government spends more money than it takes in. It makes up the difference by borrowing money. So every day, the government's debt increases. Some time next month, total federal debt will rise above $14.3 trillion.
Ok, you say, so what?  Well (again from NPR):
Some time very soon, the government either has to raise the debt ceiling or stop spending more than it takes in (in other words, balance the budget).
Ok, you say: so stop spending as soon as we hit the ceiling.  That'll show 'em, right?
Well, not so fast:
the government either has to raise the debt ceiling or stop spending more than it takes in (in other words, balance the budget).

Balancing the budget would mean cutting spending by about 40 percent, raising taxes by a comparable amount, or enacting some combination of massive spending cuts and huge tax increases.but (Context: Every penny of discretionary spending, including defense, amounts to about 40 percent of the budget.)

Balancing the budget immediately bears no resemblance to the budget and tax policies passed by Congress in the past few months. It would be a much bigger, much faster spending cut and/or tax hike than leaders of either party are proposing.
Here's the deal:  the spending has already been authorized—the bills are going to come due (bills like, for example, continuing military operations in Afghanistan, Iraq and Libya or keeping air traffic controllers in towers and stuff like that).  As such, we have to borrow to keep paying the bills.
If you didn't pay attention to the above paragraph, please go read it again.
In other words:  raising the debt ceiling does not authorize mores spending–we have already done that.  Borrowing simply allows us to pay for the obligations that have already been made.  Voting on the debt ceiling is not voting on the budget.
This is a fact.  It may well be an ugly fact, but it remains a fact nonetheless.  Not raising the debt ceiling doesn't make it go away.
Back to CNNMoney on not raising the debt ceiling:
Treasury would not have authority to borrow any more money. And that can be a problem since the government borrows to make up the difference between what it spends and what it takes in. It uses that borrowed money to help fund operations and pay creditors.

In short, if lawmakers fail to raise the ceiling this year, they will have two choices, both awful.

They could either cut spending or raise taxes by as much as $738 billion just to cover the period from April 1 through Sept. 30, which is the end of the fiscal year. Or they could acknowledge that the country would be unable to pay what it owes in full and the United States could effectively default on some of its obligations.
In short:  our fiscal issues are complicated and the result of long-term policy decisions.  They cannot be fixed by stomping one's foot and saying that the debt ceiling cannot be raised.
BTW, TAP has some comparative info:
Only Denmark has a fixed debt limit comparable to that of the U.S. There, the debt limit is raised through legislation in a separate action from the annual budget process. In Denmark, however, the debt limit is set at a level so high that the ability of debt managers to issue payments is not inhibited.

The congresses of other countries such as Canada and Sweden approve borrowing authority, but it is in connection with the approval of annual budget decisions.

The United Kingdom, New Zealand, and other countries delegate even broader authority to their treasury departments to borrow in the public interest. But because these countries have parliamentary systems of government, issues such as borrowing money to fund the government usually require significantly less deliberation.
Look, I understand that we have a problem with deficit spending and, therefore, with debt.  However, the place to fix those problems is in a combination of the budget process itself and serious reforms to various policy areas.  It is not by refusing to hike the debt ceiling.
See also:
Bloomberg Businessweek:  Washington Plays Chicken With the Debt (see the great graphic while you are there).
WaPo:  What's the debt ceiling, and why is everyone in Washington talking about it?