What the French Election Tells Us About Our Own: Not Much
The New Yorker's John Cassidy sees "Good and Bad News for Obama" in Nicolas Sarkozy's defeat.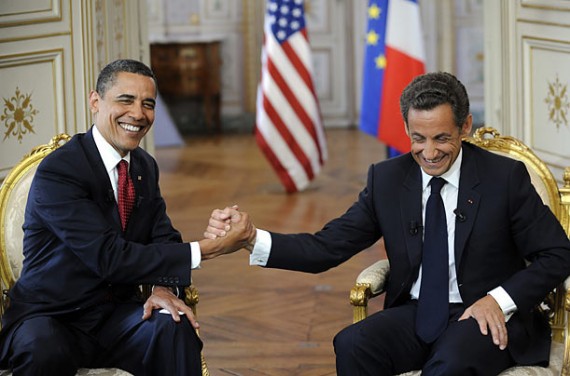 The New Yorker's John Cassidy sees "Good and Bad News for Obama" in Nicolas Sarkozy's defeat in yesterday's vote.
For President Obama, the sight of Nicolas Sarkozy, a fellow member of the Presidential class of 2007-2008, being sent packing by French voters will bring mixed feelings. Coming three days after British voters repudiated David Cameron's Conservative-Liberal coalition in local elections, and on the same day that the Greeks delivered big losses to both major parties in parliamentary elections, the French result was another setback for conservatives and proponents of fiscal austerity. But it also confirms that these are perilous days for incumbents seeking reëlection. Sarkozy is the first French President to be turfed out of the Élysée Palace after one term since Valéry Giscard d'Estaing, in 1981.

Over a dozen incumbent governments have been sent home in Europe since the recession got underway. In a way, that already happened here in 2008, when the Republicans were soundly defeated. But that really doesn't tell us anything new: Mitt Romney has been running against the Obama economy the whole campaign and voter dissatisfaction with unemployment and uncertainty are already factored into the polls. Further, the liberal-conservative divide in Europe, certainly in France, tells us next to nothing about out own politics; Barack Obama may be labeled "socialist" by his Republican opponents but he's unelectably conservative by Western European standards.

As I pointed out on Friday, European defenders of austerity economics are on the defensive. Here in the United Kingdom, where I've been staying for the past few days, Thursday's elections, which saw the Labour Party make sweeping gains in local councils, were widely interpreted as a referendum on the budget-deficit fixation of Cameron and his finance minister, George Osborne. Now, the French have given their verdict on the hair-shirt polices that have tipped both continental Europe and the U.K. into double-dip recessions.
"Austerity no longer needs to be our fate," François Hollande, the victorious Socialist Party candidate, told a cheering crowd in his hometown of Tulle on Sunday night, and he pledged to bring this message to France's partners, "first and foremost to Germany." We'll have to wait to see whether the new French President will be able to deliver on his promise to provide a "new start for Europe," but the days when Berlin could automatically count on Paris to back its hard line appear to be over.

When the campaign turns to questions of economics, what is happening in Europe should provide Obama with plenty of arguments with which to flay his opponents. Republicans say they want to slash government spending and focus on the deficit regardless of the immediate economic situation. The Europeans have carried out that experiment, and, to say the least, it hasn't turned out very well. From this side of the Atlantic, the American economic recovery seems pretty impressive. After more than three years of economic stagnation, most Europeans would gladly take G.D.P. growth of two-to-three per cent and an unemployment rate of eight per cent.
But that's on a completely different structural basis. Romney will rightly point out that the European economy is crippled by a vast welfare state, which gives governments much less room to maneuver.
Further, it should be noted that Sarkozy came close to pulling off a win despite it all: it was a 52-48 race. Sarkozy would likely have won if National Front leader Marine Le Pen had thrown her support his way; instead, she declined to endorse either candidate and let it be known that she thought Sarkozy's staying in office would be a disaster. Not to mention that Sarkozy is a flaming jerk who makes Chris Christie look lovable by comparison.
The dynamics of the races are almost completely different. The Eurozone crisis is front and center in France; it should be here, but it's an afterthought in the minds of the voters. Sarkozy was in office when the global financial collapse hit; Obama was merely running for office–and the opposition party was there when the crisis started. Obama can claim several foreign policy successes, whereas Sarkozy's leadership in the Eurozone situation hasn't paid off–and was saddled with the Afghanistan mess. And Obama is well liked whereas, as noted, Sarkozy irritates even his supporters.
The similarity between the two is that both would have easily won re-election in a good economy. As it is, Obama remains heavily favored to win in November; it wouldn't even be interesting if unemployment were at 6 percent. But the bad economy is already baked into the polls, so we don't need yesterday's results to tell us that it's Obama's chief vulnerability.