White House Tells Mubarak: Transition Must Begin Immediately
Today, Egypt seethed with rage, and the United States lost patience with its ally in Cairo.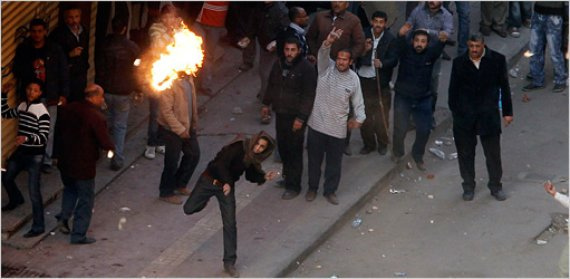 Whatever patience the United States might have had for Hosni Mubarak is pretty much at an end after today's violence:
In today's press briefing, the White House underscored President Obama's call for Egypt's President Hosni Mubarak to immediately begin his transition out of power.

Last night, Obama issued a brief public statement that included just one line about a prospective deadline for Mubarak's exit from power: "My belief is that an orderly transition must be meaningful, must be peaceful and it must begin now," Obama said.

But White House press secretary Robert Gibbs was more explicit Wednesday.

"'Now' means 'yesterday,'" Gibbs explained. "When we said 'now,' we meant 'yesterday'… that's what the people of Egypt want to see," Gibbs said, adding that a process that begins one week, one month, or many months from now won't suffice.
In the meantime, Egypt's new Vice-President, and former spy chief, says that there will be no negotiations until the protests end:
Egypt's newly appointed vice-president has said that anti-government protests must stop before dialogue can begin with opposition groups.

Omar Suleiman made the comments on Wednesday, amid violent clashes in central Cairo between pro-and anti-government demonstrators that have left at least one dead and hundreds injured.

Suleiman, the former head of intelligence named vice-president on Saturday by President Hosni Mubarak, urged demonstrators to respect an earlier call from the Egyptian army and return to their homes, state media said.

Suleiman called on "all citizens to respond to our armed forces's call to return to your homes and respect the curfew, to support the state's efforts to restore calm and stability.

"Those taking part in these protests have delivered their message," he said.

"Dialogue with the political [opposition] forces… requires that the demonstrations end and the Egyptian street returns to normal," he said.
This, of course, creates a bit of an impasse since the opposition has already said that they won't negotiate until Mubarak steps down from power. So, the question now is what happens next. There's a tense standoff in Tahrir Square in Cairo, as well as reports of violence in other parts of the country. As midnight approaches, it looks for all the world like we're headed for another day of what could be bloody protests.