Whither the Fiscal Conservative?
Deficits continue to rise.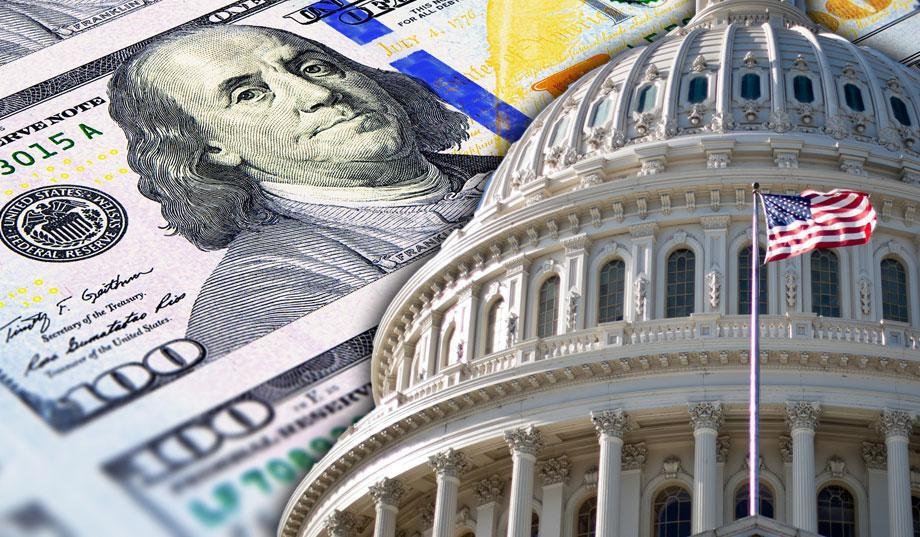 Via the NYT: How the Trump Tax Cut Is Helping to Push the Federal Deficit to $1 Trillion.
The amount of corporate taxes collected by the federal government has plunged to historically low levels in the first six months of the year, pushing up the federal budget deficit much faster than economists had predicted.

The reason is President Trump's tax cuts. The law introduced a standard corporate rate of 21 percent, down from a high of 35 percent, and allowed companies to immediately deduct many new investments. As companies operate with lower taxes and a greater ability to reduce what they owe, the federal government is receiving far less than it would have before the overhaul.

The Trump administration had said that the tax cuts would pay for themselves by generating increased revenue from faster economic growth, but the White House has acknowledged in recent weeks that the deficit is growing faster than it had expected. The Office of Management and Budget said this month that it had revised its forecasts from earlier this year to account for nearly $1 trillion of additional debt over the next decade — on average, almost $100 billion more a year in deficits.
Emphasis mine.  And while the administration and its supports may have expected a different outcome, it took magical thinking to do so.
The whole article, which has quite a bit of information, is worth a read in full.
One can have whatever philosophical debate one wishes about whether or not corporations should pay lower taxes on the principle that those who produce should get to keep what they earn (just as one can have arguments about the fact that without the broader support of society, which requires collective expenditure, corporations couldn't make anything and therefore taxes are necessary).  What one cannot argue, however, is that the US government is having to borrow to pay for these tax cuts.  Hence, an increase in the deficit and therefore a long-term increase in the national debt.
I am not a deficit hawk, insofar as I do not think that a balanced budget (on a regular basis) is an appropriate policy goal.  But, since debt service is a significant portion of the budget there needs to be responsibly in the acquisition of additional debt.  Moreover, there is a major political party that has long argued that the annual deficit and long-term debt are of major importance, especially when discussing the cost of social welfare programs. If we are going to rend our garments over the burden we are leaving our grandchildren, etc., then let's try to be a bit more consistent about theses matters.
Given that we are currently in a good economy, we should be seeing the deficit shrink since the need for stimulative spending by the federal government does not currently exist.  And yet, the opposite is happening–the tax cuts are a kind of stimulus.  If we start from a baseline of trillion-dollar deficits under healthy economic circumstances, what are they going to look like if the economy takes a downturn? A downturn means less tax revenue and more demands on federal services.
A side-note:  Trump has promised 4% GDP growth on an annual basis, which has not yet materialized (and is unlikely to do so).  If a good economy with tax cuts can't generate such growth it calls into question (even more) the wisdom/reality of such goals.
Again:  deficits are, in general, a reality.  Some level of borrowing, especially at current interest rates, makes a certain amount of sense.  Indeed, I think that during the Obama administration should have borrowed more to apply to infrastructure improvements.  Having said that, such borrowing needs to be responsible and balanced by the prevailing economic moment.
Further, there is an interesting disjuncture between the parties at the moment.  If we assume that neither takes a hawkish view on deficits and the debt, we are at a moment in which one party is willing to explode the deficit for the purpose of corporate income tax cuts, while the other is willing to do so for social welfare spending, especially health care. Even if we take the assumption that both are inadequately responsible about debt growth, the focus of the policy certainly shapes the debate. Put another way:  despite the rhetoric, we do not have a debate between a fiscally conservative party and a fiscally liberal party–the debate is over policy goals.
I realize that the rhetorical focus of tax cuts is letting people get more income and that corporations will invest more in the economy and that wages will rise, thus taking care of social needs.  The question is:  to what degree is this the case? (And to what degree does this predominantly result in profit-taking?).  And I do realize that outcomes are not purely dichotomous (e.g., some bonuses paid after the tax cuts were passed).  The question becomes the long-term trends.
Meanwhile, speaking of fiscally conservative public policy:
Via the NYT:  To Ease Pain of Trump's Trade War: $12 Billion in Aid for Farmers.
Via Fortune:  Trump's Military Parade Will Cost Taxpayers About $12 Million, Report Says (but, at least we saved the money on the Korean military training exercises).