Who Suffers the Most from Government Shutdowns?
My latest for The National Interest has posted.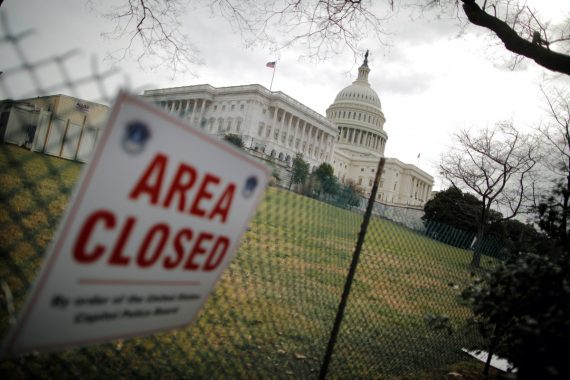 My latest for The National Interest has posted.
The setup:
The federal government shutdown of 2018—or, at least, the first one—ended with only one workday missed. To the extent ordinary citizens noticed at all, they likely think it was no big deal. This is especially true with regards to the impact on the U.S. military, who they've been steadily assured went right on working, without so much as having to endure the hardship of missing the weekend's NFL playoff games. In fact, however, millions of man-hours of productivity have been lost from this continuing crisis, with a real impact on readiness.
A bit from the body:
As I noted in this space after the October 2013 shutdown, the best estimates are that it costs between $2 billion and $4 billion to prepare for a government shutdown and the same amount to get back up and running. And, while this was the first actual shutdown since then, there have been more than a dozen near-shutdowns in the interim, as we continue to fund the government by continuing resolutions, often mere weeks at a time, and play a constant game of chicken with the debt ceiling.

Beyond the financial cost, of course, there is the impact on morale. DoD civilians constantly worry about being furloughed and whether the next paycheck is coming—including right before Christmas this past year. Then-Secretary Chuck Hagel declared "we can't continue to do this to our people, having them live under this cloud of uncertainty." If anything, it's gotten worse, given the frequency of the brinkmanship.
The close:
This is a great cost to the nation and its armed forces for no obvious gain. Historically, Congress has always authorized and the president always signed off on back pay for employees furloughed during a shutdown, so we're actually paying people not to work. Like the debt ceiling, wherein Congress periodically has to authorize borrowing the money it has already voted to spend or else put the nation in peril, it's an absurdity that needs to end.

In the meantime, we're scheduled to go through this farce again on February 8.
Quite a bit more at the link.