Why We're Getting Worse At Construction
Affluence comes with a cost.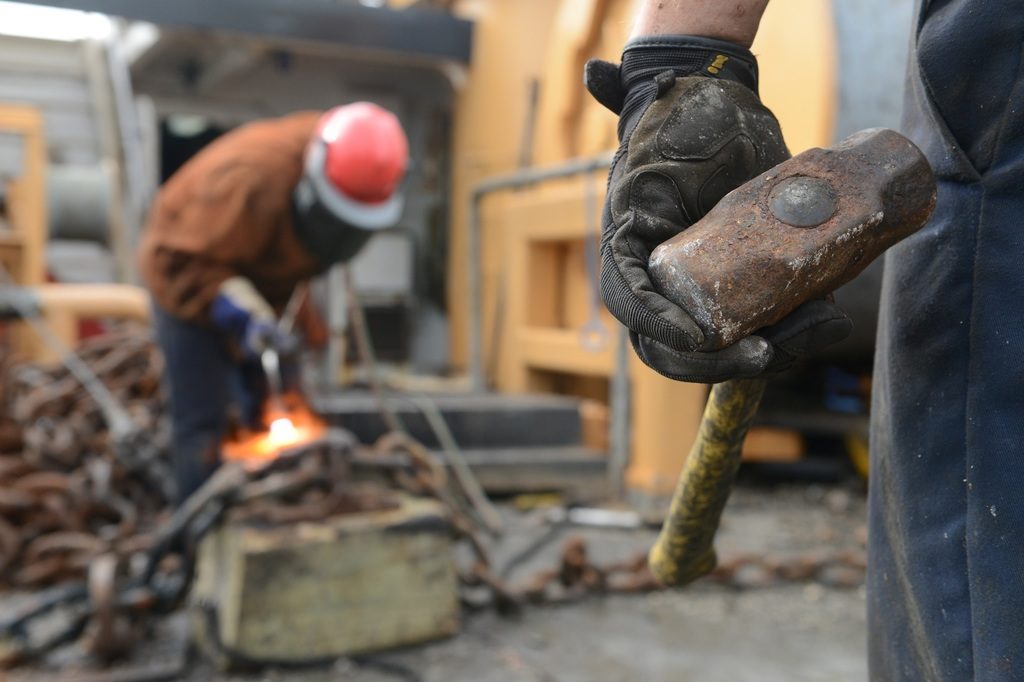 In yesterday's NYT, Ezra Klein explores "The Great Construction Mystery." To whit:
We're getting worse at construction. Think of the technology we have today that we didn't in the 1970s. The new generations of power tools and computer modeling and teleconferencing and advanced machinery and prefab materials and global shipping. You'd think we could build much more, much faster, for less money, than in the past. But we can't. Or, at least, we don't.

Throughout the 1950s and 1960s, productivity in the construction sector — how much more could be done given the same number of workers and machines and land — grew faster than productivity in the rest of the economy. Then, around 1970, it began to fall, even as economywide productivity kept rising. Today, the divergence is truly wild. A construction worker in 2020 produced less than a construction worker in 1970, at least according to the official statistics. Contrast that with the economy overall, where labor productivity rose by 290 percent between 1950 and 2020, or to the manufacturing sector, which saw a stunning ninefold increase in productivity.
In typical Klein fashion, he looks at a cutting-edge economics paper and a half-century-old classic for clues. The entire piece is worth reading for nuance but much of the takeaway is here:
"When I first started back in the '70s, you did one estimate on a project," [Ed Zarenskit, who runs the market analysis firm Construction Analytics] told me. "You put it in, you got your bid, and if you won, you began construction. By the time I left in 2014, you did three estimates for every job before you even put the bid in. That becomes part of the cost of the job."

Or take the job site, he said. "The safety features on jobs when I started in the industry were not even noticeable. Safety on a job today is incredibly different. You don't walk across a beam, you walk around on a pathway marked for you to stay safe so you don't fall off the side of the building. By the time I retired, one thing that took place every day, on every job site, was a mandatory 15 minutes of calisthenics before you start your workday. That's totally nonproductive, but it led to fewer work site injuries during the day."

And behind all that is paperwork, and paperwork, and more paperwork. "The work we do today takes hundreds more people in the office to track and bring to completion," he told me. "The level of reporting that you have to send to the government, to the insurance companies, to the owner, to show you're meeting all the requirements on the job site, all of that has increased. And so the number of people you need to produce that has increased."
Aha! This is what conservatives have been saying for decades! It's those daggum gumint bureaucrats with all their anti-business regulations.
Zarenski's point isn't that any of this is bad. If 15 minutes of daily calisthenics helps prevent a lifetime of back problems, it's well worth it. The problem is that there's more work at every level of the process, from the analyses done in the back office to the rules followed on-site.
So, yes, the regulations absolutely come at a high price. But, yeah, it's hard to argue it's not worth 15 minutes—even if multiplied by 5 workdays a week, 50 work-weeks a year, per worker—of unproductivity to prevent long-term damage to workers. Hell, it might even be more efficient in the long run if those workers stay healthy and productive longer. But these things add up.
I don't have the expertise in construction work to know whether the marking system for high-beam work is going overboard. But I'm generally in favor of people not needlessly falling to their death in order to collect a paycheck.
This leads to a longish discourse into the late Mancur Olson's classic work into collective action problems, the upshot of which, in Klein's estimation, is this:
Olson almost completely missed the post-materialist turn in the politics of affluent countries. Some groups organize to get more of the pie, but many others organize to protect the environment, or to increase safety standards, or to preserve the feel of their communities, or to express their values. And much of this is good. It's a gift of affluence, not a disease of affluence.

But Olson, who died in 1998, is right when he tells us that this gift comes with costs. And those costs concentrate in the areas of the economy in which the number of groups that have to be consulted mount. From this perspective, the productivity woes in the construction industry don't seem so puzzling. It's relatively easy to build things that exist only in computer code. It's harder, but manageable, to manipulate matter within the four walls of a factory. When you construct a new building or subway tunnel or highway, you have to navigate neighbors and communities and existing roads and emergency access vehicles and politicians and beloved views of the park and the possibility of earthquakes and on and on. Construction may well be the industry with the most exposure to Olson's thesis. And since Olson's thesis is about affluent countries generally, it fits the international data, too.
Again, none of these insights is novel. The poor can't worry about the long term; they have to survive today. Being able to defer gratification is a luxury of affluence.
For my entire lifetime—which roughly coincides with the decline in construction efficiency—we have had the luxury to worry about thing like clean air, clean water, and the health of workers. Or the extinction of the snail darter! To be sure, Democrats tended to place a higher priority on those things and Republicans a higher priority on economic efficiency but Nixon signed the Clean Air Act and founded the EPA and Bob Dole championed and George H.W. Bush signed the Americans with Disabilities Act.
And NIMBYism certainly isn't a partisan issue. The preservation of historic sites, green spaces, sightlines, and all the rest are perfectly understandable priorities that nonetheless conflict with other priorities. Everyone wants better infrastructure but nobody wants the inconvenience that comes with it.
The age-old solution—foisting the ill effects on the poorest and most underrepresented demographics—is also met with more skepticism these days. Still . . .
I ran this argument by Zarenski. As I finished, he told me that I couldn't see it over the phone, but he was nodding his head up and down enthusiastically. "There are so many people who want to have some say over a project," he said. "You have to meet so many parking spaces, per unit. It needs to be this far back from the sight lines. You have to use this much reclaimed water. You didn't have 30 people sitting in an hearing room for the approval of a permit 40 years ago."

Some of this is expressed through regulation. Anyone who has tracked housing construction in high-income and low-income areas knows that power operates informally, too. There's a reason so much recent construction in Washington, D.C., has happened in the city's Southwest, rather than in Georgetown. When richer residents want something stopped, they know how to organize — and they often already have the organizations, to say nothing of the lobbyists and access, needed to stop it.
There's no doubt that's true. It's also the case, though, that Georgetown residents are simply less amenable to new construction. It's already gentrified, so immune to gentrification. Southwest is relatively run-down and ripe for teardown.
This, Syverson said, was closest to his view on the construction slowdown, though he didn't know how to test it against the data. "There are a million veto points," he said. "There are a lot of mouths at the trough that need to be fed to get anything started or done. So many people can gum up the works."

This also helps explain the curious finding that ends Syverson and Goolsbee's paper. After looking at the states with the highest construction productivity, they note that the more productive states don't seem to gain market share in the construction industry. That doesn't make much sense if you assume that the difficulties of construction are primarily the organization of manpower and materials. It makes more sense if you assume that the frictions are in navigating local regulations, community considerations, neighbors' qualms and politicians' interests.

In the cities where I've covered politics closely, developers are fixtures in the local political scene. They have to be.

"My feeling is the guys that know the system have a much easier time getting through the system," Zarenski said. "They know ahead of time what they have to come into the party with and how to speak to those people and how to satisfy them, and so it goes a lot smoother for them." But a thorough knowledge of one city or state, and establishing relationships with its key stakeholders and decision makers, won't necessarily translate to success in another.
I'm reminded of the Rodney Dangerfield character in "Back to School" and the need to grease the skids.
How do we get construction productivity rising again? I have no idea. Construction should become safer, more respectful of community concerns, and more environmentally sustainable as countries become richer and less desperate for growth. 
To reprise an old saw yet again: Environmentally sustainable. Respectful of community concerns. Efficient. Pick two.
But it's also true that many of the problems America faces — from decarbonization to affordable housing — would be a lot easier to solve if we were getting better at building, rather than worse.
For sure. But, again, it's that we've gotten bad at building but that we have insisted on encumbering it with regulations that make it slower and more expensive. I suspect that Klein and I could find some of those regulations we'd be willing to relax—although I also suspect that we'd mostly chose different ones.