Will Congressional Republicans Listen To Their Base, Or To The American Public?
Post-election polling shows that the majority of Americans want the new GOP majority in Congress to work together with the President. Republican voters have a very different view.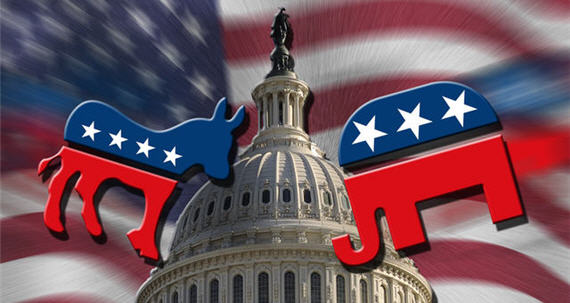 If you listen to the rhetoric coming from the Republican leaders in the House and the Senate, and even many of the newly elected Republican Senate, you'll hear a lot of appeals to bipartisanship and of both sides of the aisle working together to get things done in Washington. When the Senate reconvened this afternoon, much of that rhetoric was repeated in speeches by outgoing Senators on both sides of the aisle such as Harry Reid, Mitch McConnell, John Cornyn, Lamar Alexander, and others, including Senators who weren't even up for re-election this year. The American people, they've told us, sent a signal last Tuesday that they are tired of more of the same gridlock that we've seen in Washington for much of the past five years, if not longer, and the want both Republicans and Democrats to work together to "do the work the American people sent us here to do," to use a phrase that seems a mandatory part of all these speeches. Republicans in particular seem to want to make it clear that they don't want to return to the days of showdowns and threats of shutdown that have marked most of the Obama Administration. To a large degree, of course, this is the standard rhetoric one hears after every election, but even if people like Mitch McConnell mean what they are saying, there's one very important constituency that doesn't want to see the newly Republican Congress cooperate at all, and that would be Republicans themselves:
In the wake of the last Tuesday's election, President Obama, incoming Senate Majority Leader Mitch McConnell and Speaker John Boehner all offered rhetorical bows to bipartisanship. But, a new post-election poll conducted by the Pew Research Center shows that two-thirds of Republicans have little interest in their top elected leaders trying to find common ground with the president.

Sixty six percent of Republicans said the they would prefer party leaders "stand up" to Obama "even if less gets done in Washington" while just 32 percent preferred GOP top brass "work with Obama, even if disappoints some GOP supporters."  That view stands in direct opposition to the view of the broader electorate on that question; 57 percent of all Americans prefer that Republicans work together with Obama while 40 percent favor GOP leaders standing up to the president. Among Democrats, a majority (52 percent) say that Obama should work with Republicans "even if it disappoints some Democratic supporters" while 43 percent would prefer they "stand up" to Republicans even if it means getting less done.

(…)

[T]he same Pew poll shows that almost six in ten (57 percent) of Republicans want their leaders to move in a "more conservative direction" while 39 percent want their leaders to move in a more moderate one. Some of that division is the result of the increasingly pejorative sense in which "moderate" is viewed among Republicans (it's becoming like "liberal" for Democrats) but the split also reflects the desire of the rank and file to confront a president for whom they — and this is not too strong a word — hate.
You can read the details of the poll, which also goes into the level of public support for the Presidents agenda versus that of the Republican Congress at this link, but the long and the short of it is that there is good news and bad news for both sides in the numbers. On some issues, there's broader public support for the President's position, on others the advantage lies with Congress. However, for the time being at least, the poll says that a majority of the public seems to prefer the Congressional approach, but that may be because the public seems to have concluded that the President will be able to get little, if anything, done in his final two years in office. That he is, in other words, a lame duck.
The biggest takeaway from the poll, though, is what's highlighted above, and the dilemma it creates for both Republicans in the House and Senate and Republicans as a whole. If you judge things by what the base of the Republican Party is saying, and what is presently being said on conservative talk radio, Fox News Channel, and in the conservative blogosphere, then the election was a clear mandate for a conservative agenda and not for some spirit of national cooperation. Rather than trying to find ways to make deals with the President and with the Democrats in the House and Senate, the argument this group is making goes, Republicans on Capitol Hill need to spend the next two years confronting the President and his fellow Democrats by pushing through bills that advance conservative ideas, even it if means Presidential veto after Presidential veto. Such a record of vetoes, the logic seems to go, will establish President Obama as the obstructionist, not the Republicans, and if Democrats in the Senate used the filibuster to block legislation that they are convinced is popular then it will only come back to bite them them in 2016. In some sense, it's an expanded version of the game plan the House GOP followed for the last four years when it sent bills to the Senate that were ignored while engaging in no-compromises negotiations with the President on everything from taxes to the debt ceiling to a budget negotiation that turned into a foolish and ultimately doomed effort to "defund" Obamacare that led to one of the longest government shutdowns in American history. All of this taken together, they claim, will lay out the differences between the GOP and the Democrats starkly heading into 2016, allowing the Republicans to benefit electorally from Democratic intransigence.
On the other side there's the rest of the American people who, according to this poll, the exit polling from Tuesday, and numerous pre-election polls has a very different idea of what they want from Washington. While it's not always possible to say exactly what the public wants on specific policy issues — on Obamacare for example, a majority continues to say that they don't like the bill but that majority is basically equally divided on whether Congress should fix the bill or trash it completely and start over — it seems overwhelmingly clear that what they don't want is a repeat of the gridlock, confrontation, and hyperpartisanship that we've seen from Congress in the past. To a large degree, the public really does seem to want to see Congress "work together" to get things done as the flowery rhetoric puts it. If nothing else, they certainly don't want to see more of the same from Congress and the President, a fact reflected in the declining public approval numbers for both bodies.
This presents an obvious challenge for Republican leaders and for the men and women who would be potential candidates for President in 2016. If they are going to navigate the rough waters of their own political party, they have to show a level of political orthodoxy and resistance to compromise that makes governing in an era of divided government next to impossible. However, if the GOP is going to succeed nationally it has to do more than just appeal to its narrow base. There are ways to thread that needle, but it's not going to be an easy task and it's going to present a problem for Republicans as long as it continues to be a parry with a powerful base that believes that  purity is more important than accomplishing anything or winning elections.