Wisconsin Supreme Court Upholds Collective Bargaining Law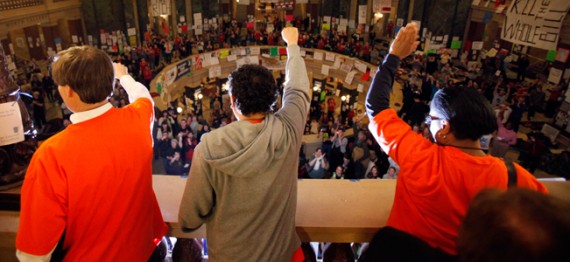 Putting an end to at least the legal aspects of a battle that started in the late winter, the Wisconsin Supreme Court today rejected the legal challenge that had been filed against the state's public employee collective bargaining law:
Acting with unusual speed, the state Supreme Court on Tuesday reinstated Gov. Scott Walker's plan to all but end collective bargaining for tens of thousands of public workers.

The court found a committee of lawmakers was not subject to the state's open meetings law, and so did not violate that law when they hastily approved the measure and made it possible for the Senate to take it up. In doing so, the Supreme Court overruled a Dane County judge who had struck down the legislation, ending one challenge to the law even as new challenges are likely to emerge.

The majority opinion was by Justices Michael Gableman, David Prosser, Patience Roggensack and Annette Ziegler. The other three justices – Chief Justice Shirley Abrahamson and Justices Ann Walsh Bradley and N. Patrick Crooks – concurred in part and dissented in part.

The opinion voided all orders in the case from the lower court. It came just before 5 p.m., sparing Republicans who control the Legislature from taking up the contentious issue of collective bargaining again.

Legislative leaders had said they would have inserted the limits on collective bargaining into the state budget late Tuesday if the court hadn't acted by then. But the high court ruled just before that budget debate was to begin.

(…)
The court ruled that Dane County Circuit Judge Maryann Sumi's ruling, which had held up implementation of the collective bargaining law, was void ab initio, or invalid from the outset.

In its decision, the state's high court concluded that "choices about what laws represent wise public policy for the state of Wisconsin are not within the constitutional purview of the courts."

The court added that its role is limited to determining whether the Legislature employed a "constitutionally violative process in the enactment of the act. We conclude that the Legislature did not violate the Wisconsin Constitution by the process it used."
Ironically, since the decision was handed down before July 31st, the much-contested election between Justice Prosser and Joann Kloppenberg had no real effect on the outcome of the case. Even if Prosser had lost, he still would have sat on the Court until July 31, 2011 when his term ended and he still would have been able to vote on this case. What the political impact this will have on the recall elections next month remains to be seen.
Here's the opinion: