Wisconsin Teachers Not Being Honest About What They Earn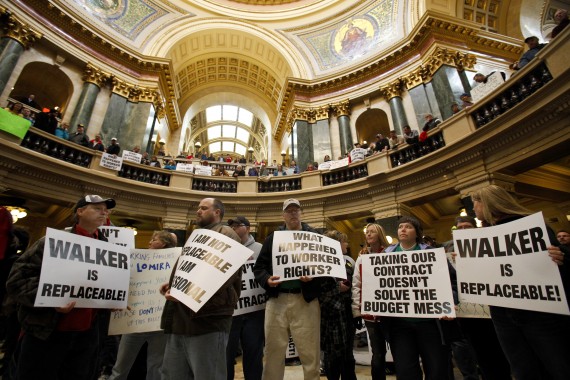 It turns out that many of the Wisconsin teachers who've been appearing on television this past week to talk about the budget battle with Governor Walker aren't being entirely honest about what they earn:
Wisconsin's 2010 Teacher of the Year, Leah Lechleiter-Luke of Mauston High School, told CNN the budget changes would force her to look for additional part-time work.

"When people say that public sector employees live high off the hog, I'd like to share that for 13 of my 19-year teaching career I have held a part-time job either in the summer or teaching night class at the local technical college," Lechleiter-Luke told CNN. "In addition to tightening the belt even more and crossing our fingers that nothing breaks, I will need to find part-time work again."

Lechleiter-Luke makes $54,928 in base salary and $32,213 in "fringe benefits," which include health insurance, life insurance and retirement pay.

Brad Lutes and his wife, Heather Lutes, told MSNBC's Ed Schultz that Walker's budget would hit them twice as hard.

"Having to explain to an 8- and 10-year old that the governor of your state basically wants to take money away from dad and mom? It's just really, really frustrating," Brad Lutes told Schultz.

He makes $49,412 in base salary with $27,987 in fringe benefits and his wife makes $50,240 with $9,413 in benefits. That's $137,052 annually between the two of them.

(…)

Julene Flanagan, a fourth-grade teacher at Story Elementary School in Milwaukee, said the reason she attended the protests in Madison was because she cares "about the children deeply" and about the "future of public education in Wisconsin." Flanagan makes $48,406 in base salary and $37,600 in benefits.

Chris Fons, a social studies teacher at Milwaukee's Riverside High School, said the union protests in Madison are a "bottom-up" movement, and that the "people have been acting and the leaders are following." Fons earns $58,976 in annual salary with an additional $25,646 in benefits.
All of this in a state where the average personal income in 2009 was just over $ 37,000 per year.
Facts are stubborn things.