Woke Street Journal?
An internal review is calling for America's business paper to diversify its appeal.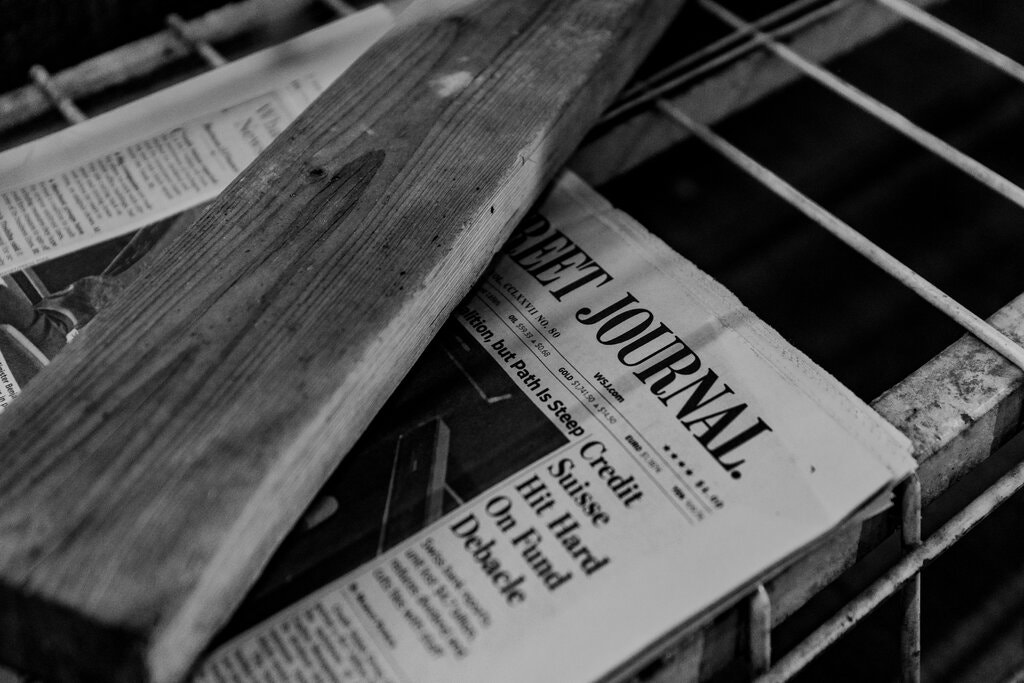 An internal study conducted by the Wall Street Journal, far and away the most successful newspaper in the United States, recommends that it become more like those with a fraction of its circulation. Oddly, its ownership is skeptical of that advice.
The New York Times has at least two feature stories on the issue in today's paper, both under Edmund Lee's byline. The first, "Inside the Fight for the Future of The Wall Street Journal," sets the scene:
The Wall Street Journal is a rarity in 21st-century media: a newspaper that makes money. A lot of money. But at a time when the U.S. population is growing more racially diverse, older white men still make up the largest chunk of its readership, with retirees a close second.

"The No. 1 reason we lose subscribers is they die," goes a joke shared by some Journal editors.

Now a special innovation team and a group of nearly 300 newsroom employees are pushing for drastic changes at the paper, which has been part of Rupert Murdoch's media empire since 2007. They say The Journal, often Mr. Murdoch's first read of the day, must move away from subjects of interest to established business leaders and widen its scope if it wants to succeed in the years to come. The Journal of the future, they say, must pay more attention to social media trends and cover racial disparities in health care, for example, as aggressively as it pursues corporate mergers.

That argument has yet to convince executives in the top ranks of the company.

The Journal got digital publishing right before anyone else. It was one of the few news organizations to charge readers for online access starting in 1996, during the days of dial-up internet. At the time, most other publications, including The New York Times, bought into the mantra that "information wants to be free" and ended up paying dearly for what turned out to be a misguided business strategy.

As thousands of papers across the country folded, The Journal, with its nearly 1,300-person news staff, made money, thanks to its prescient digital strategy. While that inoculated The Journal against the ravages wrought by an array of unlikely newcomers, from Craigslist to Facebook, it also kept the paper from innovating further.
Now, I think this is actually too kind to the WSJ. It's a great newspaper, if less essential to me than the NYT or WaPo. But, aside from being smarter about digital from the outset, it must be acknowledged that it's offering a different kind of product. In addition to having great reporting on US and world news, it is first and foremost a business publication that publishes essential information that will cost people money if they don't have right away. Because I don't need that information, I've never been a subscriber and am willing to live with the occasional annoyance of not being able to read a story that I'd otherwise like to read. But, while I subscribe to both NYT and WaPo, I could do without either or both of them if they charged too much; they're closer to commodity publishers than WSJ.
So, because it's both a great paper and essential reading for the financial sector, it's doing quite well. A PressGazette story showing how COVID has hit the top papers shows WSJ doing pretty well: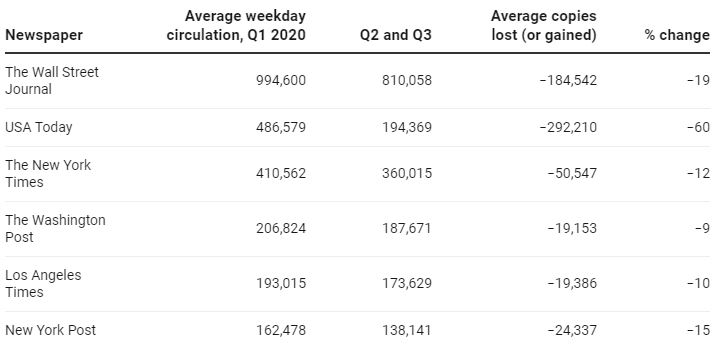 The reason WSJ and, especially, USA Today got hit so hard is that hotels are among their biggest subscribers and that industry was crushed by the pandemic. Even so, it outsold USA Today, NYT, and WaPo combined in the last two quarters and traditionally outsells NYT, WaPo, and LAT combined. (USA Today is really a different category—a not very good paper that is mostly a free giveaway to hotel guests.)
Regardless, the young reporting staff and an internal review team are suggesting radical change is needed.
Soon after the killing of George Floyd, staff members created a private Slack channel called "Newsroomies," where they discussed how The Journal, in their view, was behind on major stories of the day, including the social justice movement growing in the aftermath of Mr. Floyd's death. Participants also complained that The Journal's digital presence was not robust enough, and that its conservative opinion department had published essays that did not meet standards applied to the reporting staff. The tensions and challenges are similar to what leaders of other news organizations, including The Times, have heard from their staffs.

In July, Mr. Murray received a draft from Ms. Story's team, a 209-page blueprint on how The Journal should remake itself called The Content Review. It noted that "in the past five years, we have had six quarters where we lost more subscribers than we gained," and said addressing its slow-growing audience called for significant changes in everything from the paper's social media strategy to the subjects it deemed newsworthy.

The report argued that the paper should attract new readers — specifically, women, people of color and younger professionals — by focusing more on topics such as climate change and income inequality. Among its suggestions: "We also strongly recommend putting muscle behind efforts to feature more women and people of color in all of our stories."
Having 6 quarters out of 20 where one loses more subscribers than one gains is only a bad thing if it's not offset by gains in the other 14 quarters. And even remaining static is rather remarkable in an industry that's been dying for two decades, where even major city papers are going under or rely on the kindness of billionaires to survive.
Still, it's certainly plausible that under-coverage of social justice issues is a big red flag. If older, white readers are not eventually replaced by younger, more diverse readers as the country's demography changes, it may well be an issue.
The second of the two pieces, "The Wall Street Journal's Internal Audit," takes us inside the Content Review.
The Journal, it said, needs to rethink how it gathers news, what kinds of topics it covers and who its audience is. The report was intended to serve as a blueprint for how the paper should remake itself for the digital age and insure its future.

[…]

The paper needs to overcome its anxiety and become "an audience-focused newsroom," the report said, a step that many other papers and digital publishers have already taken.

[…]

The Journal needs to find better ways to connect with its audiences instead of relying on what the report calls its "heavy readers," the hard-nosed executives, intense Wall Street traders and retirees who make up a bulk of its audience.

Subsisting on this group alone has created a traffic ceiling. The paper can't seem to break the barrier of 50 million readers a month when it needs twice that amount.

The Journal needs new readers — specifically, women, people of color and younger professionals.

But reaching those people will be tough given "the lack of focus on diversity within our coverage," according to the study.

The report found that over a three-month period, of the 108 lead stories it published "only one had race as the main topic." It added: "None had gender as the main topic, and none had L.G.B.T.Q.-specific issues as the main topic of the story. As far as the protagonist of a story — many of our stories do not have human protagonists. But when they did, we found that 13 percent were people of color."

A lack of digital expertise is an underlying problem, the report said. "We need editors to more actively take into account Google Trends and Google Suggestions in story assigning and encourage people to do so within their beats and columns," it offered as an example.

The bulk of this section also outlined specific recommendations, such as improving "wellness coverage," while discouraging "earnings" stories, a category that often "underperforms on page views."
Certainly, one understands the reluctance of the Murdock family to go in this direction, for both ideological and business reasons. Nor is it obvious to me—who, again, subscribes to both NYT and WaPo and not WSJ—that becoming more like NYT and WaPo makes much sense. There is an inexhaustible supply of stories on race, gender, and LGBTQ issues out there already.
The problem is that, while the Journal itself is doing tremendously well parent company Dow Jones is losing money at a rapid clip and seeks to double Journal subscriptions to become profitable. That may simply be a chimera. Even if they could attract more young folks, women, and people of color by more inclusive coverage, they may well alienate the "heavy readers" the Review poo-poos in the doing. Being all things to all people is seldom a successful business strategy.