Would Senate Republicans Really Block Any Supreme Court Nomination Hillary Clinton Makes?
Two Republican Senators are exchanging barbs over the idea that the GOP should block any attempt by Hillary Clinton to nominate anyone to the Supreme Court if she becomes President.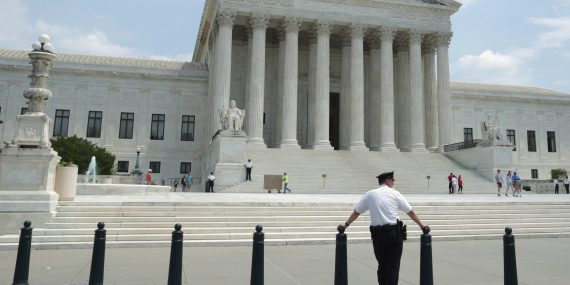 With polls continuing to show that Hillary Clinton is headed toward a likely victory on November 8th, Senate Republicans are debating how to handle future Supreme Court nominations, with some suggesting that the party may try to block any Clinton nomination to the high Court even if it means letting membership on the Court shrink ever further:
Senate Republicans are choosing sides ahead of a brutal conflict over how to handle the lingering Supreme Court vacancy, with Jeff Flake firing back Thursday at a suggestion by Ted Cruz that the party could indefinitely block any nominee from Hillary Clinton.

The internal GOP battle over what to do about Merrick Garland — President Barack Obama's choice for the court — and any future Clinton nominee will dominate the lame duck session of Congress after the election. Senate Majority Leader Mitch McConnell (R-Ky.) is holding the seat vacant for the next president — but Cruz has suggested that Republicans could continue to block Democrats from appointing a new nominee for much longer.

That's a strategy that doesn't sit well with Flake, a fiscal conservative from Arizona who's shown deal-making tendencies since joining the Senate in 2013.

"You won't be surprised, I do not agree. There's a difference between what might be constitutional and what you could do politically and what you should do. And I think leaving a vacancy for up to four years is not why we're here," said Flake, who now believes Clinton is sure to defeat Donald Trump in 12 days. "It may be what becomes a litmus test if you're a true conservative … Just to go on record, I won't be part of that."

Asked what level of support Cruz's approach has in the 54-member Republican conference, Flake replied: "I think there are enough people here who do not see it as the Senate's proper role to hold somebody indefinitely."

Cruz has a long history of leading the charge for conservative causes, including a failed effort to gut Obamacare that instead produced a government shutdown in 2013. The Texas Republican made a move to reprise the same strategy to defund Planned Parenthood in 2015, and he tried to prevent the international takeover of an Internet domain registry last month, although both efforts came up short.

On Wednesday, speaking to reporters in Colorado, Cruz offered perhaps his boldest gambit yet by suggesting it's in line with historical precedent for Republicans to keep the Supreme Court vacancy unfilled under a new president, despite the GOP's vow that it would block a nominee only until after Obama leaves office.

"There is long historical precedent for a Supreme Court with fewer justices. Just recently Justice Breyer observed that the vacancy is not impacting the ability of the court to do its job," Cruz said while campaigning for underdog Senate candidate Darryl Glenn, according to a transcript provided by his office. "For those of us who care passionately about the Constitution and Bill of Rights, who care about free speech and religious liberty and the Second Amendment, the best way to protect those rights is to win on Election Day so that we see strong conservatives nominated to the court, and maintain a Republican majority in the Senate to confirm those strong conservatives."
Cruz's position hasn't been adopted by any other member of the Senate so far, so it's unclear how much support he'd actually have if he led an effort that would effectively mean that she would be unable to get any Supreme Court nominee confirmed during the entire time she was President whether that lasted until 2021 or 2025. On some level, it seems just as absurd as the position he was taking in the summer of 2013 when he called for the government to be shut down unless the President agreed to "defund" the Affordable Care Act, a battle that he ultimately lost and which significantly harmed his reputation with his fellow Senate Republicans. It's also worth noting that Cruz is still working to repair his relationship with many of the hard-right elements of the GOP base, which was damaged severely by his campaign against Donald Trump and his initial refusal to endorse Trump's Presidential bid. Taking the position that he would block any nominee from a Clinton White House would certainly go a long way toward doing that even at this late date, and it would be something he can point to as a reason to re-elect him in the face of what many expect could be a strong primary challenge in 2018. In other words, a promise like this is in the self-interest of one Ted Cruz regardless of whether or not anyone else in the GOP Caucus goes along with him. As was the case with the government shut down, it may well turn out that several of Cruz's fellow Republicans are unwilling to go along with his judicial anarchism.
At the same time, it's worth noting that Cruz isn't the only one speculating like this. John McCain, who is hardly as conservative a Senator has Cruz appeared to say exactly the same thing just a week ago before walking the comment back several steps to a more moderate position, and Ilya Shapiro, writing at the conservative blog The Federalist, endorsed the idea just a few days ago, arguing that it would be "it would be completely decent, honorable, and in keeping with the Senate's constitutional duty to vote against essentially every judicial nominee she [Hillary Clinton] names."
Shapiro doesn't go into detail examining exactly what the implications of such a strategy would be, but it's not hard to figure out. In the face of the prospect that the sitting President would be unable to name a successor, the current members of the Court are likely to decide that, at least for the short term, it would be better for the Court for them to stay in office rather than retiring. Of course, with two Justices in their early 80s (Kennedy and Ginsburg) and one in his late 70s (Breyer), that can't last forever and it seems inevitable that at least one or more seats would open up during the next four to eight years regardless of whether it was voluntary or not. At that point, assuming Republicans still have control of the Senate, they would be faced with the prospect of either allowing the membership of the Court to shrink even further or confirming an appropriate, qualified nominee from the President regardless of the fact that she is a member of the opposing party. In past times, this would be a fairly innocuous idea. In today's age of polarized politics, it seems as though it's business as usual for people like Cruz.
As I said when Senator McCain hinted at this possibility, regardless of whether or not this is legal it strikes me as highly irresponsible. It's one thing for the Senate to reject a particular nominee for any position for one reason or another. Among those reasons could be anything ranging from something in the nominee's past that questions their fitness for the position to their ideology and the question of whether they would bring a proper perspective to the position they are nominated for. In some cases, such as Cabinet positions, I've long believed that the Senate should be deferential to a President in that they should be permitted to have whatever advisers they believe are qualified to carry out Administration policy. As long as the person nominated for such a position appears qualified and doesn't have questionable items in their record, then holding up the nomination for no good reason seems improper. When the nomination deals with the Federal Judiciary, however, I don't necessarily see the problem with the Senate taking the nominees ideology into account in deciding whether or not they should be confirmed. The Senate should not be a rubber stamp in such situations, but it also shouldn't be a permanent block either. The fact that a Democratic President nominates someone who leans to the left to a judicial position, or that a Republican nominates someone who leans to the right, therefore should not be a block to their confirmation. Each nominee should be judged based on his or her own qualifications and positions, though, and the idea that no nominee that a President makes can be considered acceptable and that the Supreme Court should simply be allowed to function with fewer Justices than the law appears to mandate is an entirely irresponsible suggestion regardless of the fact that it is most likely entirely within the Senate's discretion to act in such as an obstructionist manner.