John McCain Says Republicans Will Refuse To Confirm Any Clinton SCOTUS Nominee
John McCain said that Senate Republicans will unite to block any Supreme Court appointment by a President Hillary Clinton.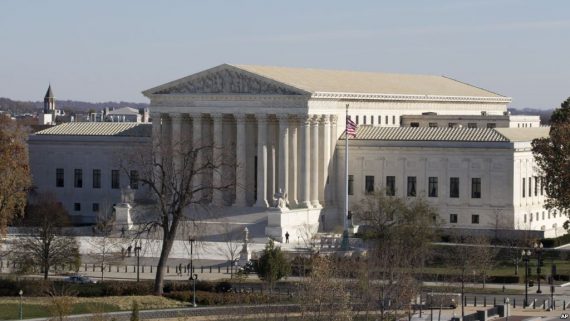 Republican Senator John McCain suggested that Republicans could block every Supreme Court appointment that Hillary Clinton makes should she become President:
WASHINGTON — Sen. John McCain pledged Monday that Republicans will unite against any Supreme Court nominee that Hillary Clinton puts forward if she becomes president, forecasting obstruction that could tie Capitol Hill in knots.

However an aide later clarified that McCain, R-Ariz., will examine the record of anyone nominated for the high court and vote for or against that person based on their qualifications.

McCain's initial comments came in an interview with Philadelphia talk radio host Dom Giordano to promote the candidacy of Sen. Pat Toomey, R-Pa.

"I promise you that we will be united against any Supreme Court nominee that Hillary Clinton, if she were president, would put up," McCain said. "I promise you. This is where we need the majority and Pat Toomey is probably as articulate and effective on the floor of the Senate as anyone I have encountered."

"This is the strongest argument I can make to return Pat Toomey, so we can make sure there are not three places on the United States Supreme Court that will change this country for decades," McCain said.

There is already one vacancy on the court after the death of Antonin Scalia. Republicans have refused to fill the opening for months, arguing it should be left up to the next president. Given the ages of some of the eight remaining justices, additional vacancies are expected.

Republicans' refusal to allow a President Clinton to get her Supreme Court picks confirmed would certainly result in a major conflagration in the Senate and between Congress and the White House. Democrats are already suggesting that one outcome, known as the "nuclear option," might be to eliminate the filibuster for Supreme Court nominees. That would be a possibility only if Democrats retake Senate control.

Asked to clarify McCain's comment, spokeswoman Rachael Dean said: "Sen. McCain believes you can only judge people by their record, and Hillary Clinton has a clear record of supporting liberal judicial nominees. That being said, Sen. McCain will, of course, thoroughly examine the record of any Supreme Court nominee put before the Senate and vote for or against that individual based on their qualifications, as he has done throughout his career."
McCain's position is, of course, fundamentally absurd and one that seems be the kind of remark that will come back to haunt McCain, and Senate Republicans, no matter how the election turns out. If Republicans retain control of the Senate, which currently seems well within the realm of possibility even if Hillary Clinton wins the White House, then we'll end up with a Constitutional showdown between the Senate and the White House in which Republican Senators, assuming they unite around the kind of promise that McCain make, could effectively attempt to blackmail a President Clinton into appointing a Supreme Court Justice far less to the left than she otherwise might want to appoint. If Democrats gain control, then we'll see Republicans attempt to use the filibuster to stop any of Clinton's nominees. As noted above, though, the difference in this case is that Senate Democrats could thwart that plan by voting to remove the filibuster power for Supreme Court appointments just as they did when they eliminated the filibuster for Cabinet level and other appointments. Even in that case, though, there would still be other procedural maneuvers that Republicans could utilize to block a vote on a Clinton appointment or at least delay a vote for a considerable period of time. If they're dealing with a Democratic Senate majority, though, then they would only be delaying a confirmation that would otherwise inevitable.
So far at least, no other Republican Senator has commented on McCain's remarks and, to be honest, it's somewhat surprising that it would be a Senator like John McCain that would be making a "promise" like this. Notwithstanding the fact that he moved considerably to the right prior to winning his GOP Senate Primary, McCain has never really been this kind of a conservative before. Indeed, this is something I'd expect from someone like Ted Cruz, Tom Cotton, or Mike Lee long before I'd expect from John McCain. In more ways than one, this is a step above the position that the Senate GOP is taking at the moment with regard to the Merrick Garland nomination, which essentially says that the American people should have the opportunity to vote on the next President before the Senate votes on whether to confirm or oppose a Supreme Court appointment that would represent a significant change in the ideological balance on the Court given the fact that Judge Garland, or whomever a President Clinton might nominate if he is not confirmed, is clearly a different type of Judge from Antonin Scalia.. What McCain is saying is that Republicans could essentially say that there is no acceptable nominee that Clinton could possibly name, meaning that more than one seat would go unfilled for an unknown period of time. Presumably, this would lead several Justices to decline to retire when they otherwise might do so, but it would nonetheless have a serious impact on the effective administration of the nation's highest court. There's really no excuse for this position, of course, and it reminds one of past confirmation fights when Republicans argued that the President deserved to have his nominees properly considered. They were right then, and McCain is wrong now. One would hope that other Republican Senators don't go down this irresponsible road.
Update: Since McCain made these remarks, his office has seemingly attempted to walk them back:
McCain's office issued a statement Monday afternoon backing off his pledge of blanket opposition.

"Senator McCain believes you can only judge people by their record and Hillary Clinton has a clear record of supporting liberal judicial nominees," spokeswoman Rachel Dean said. "That being said, Senator McCain will, of course, thoroughly examine the record of any Supreme Court nominee put before the Senate and vote for or against that individual based on their qualifications as he has done throughout his career."

Later in the day, during a campaign stop in Chandler, Arizona, McCain avoided the more strident position when responding to a question from local business officials about the court.

But the 30-year incumbent, facing his most difficult election since his first race in 1986, made clear that he hopes the issue of defending the court from a Democratic Senate majority and president is something that should galvanize conservatives.

"There's estimates as many as three vacancies could be coming over the next three years," he said. "That can affect us for decades. So it's my passionate argument for keeping the United States Senate in Republican hands, as a check and balance to whoever the president of the United States is."

After a second stop Monday, with the leaders of the Arizona Farm Bureau, McCain said in an interview that a Republican Senate would temper the types of justices Clinton could get confirmed as president — not that it would prevent the confirmation of any Clinton nominee.

"Hillary Clinton has supported all the liberal nominees that have come before the Senate when she was in the Senate," he said.
This is slightly different from McCain's original position, but not by very much. In essence, McCain is suggesting that Senate Republicans will attempt to blackmail Clinton into appointing the kind of nominee they would approve of rather than one that they find acceptable. This is, of course, a very different position from the one they took during confirmation hearings for nominees ranging from William Rehnquist, Robert Bork, and Clarence Thomas to John Roberts and Samuel Alito. Hypocrisy? Well, as they say, I report, you decide.