Wyoming Senator Trying To Revive The Dollar Coin Yet Again
Senator Mike Enzi wants to replace the Dollar Bill with a coin. As with past efforts, it's a great idea that is unlikely to succeed.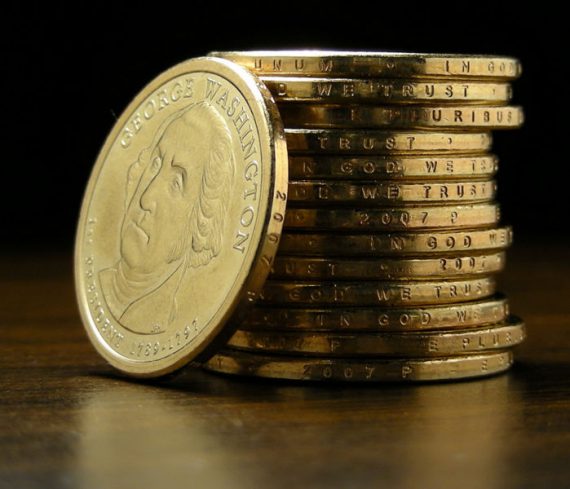 Over at his own place, Dave Schuler takes note of a new bill introduced by Wyoming Senator Mike Enzi that once again tries to bring back the dollar coin, an idea that Congress and the Mint have tried to make succeed three times in the last 30 years:
CASPER, Wyo. — Sorry, George, can you spare the dollar?

U.S. Sen. Mike Enzi is co-sponsoring legislation introduced Tuesday that would phase out the $1 paper bill and replace it with a $1 coin. The move, the Wyoming Republican said, could save taxpayers billions and reduce the federal deficit.

That's because coins last far longer than paper currency. Coins circulate for about 25 years, on average, while each $1 bill has an average lifespan of 4.7 years.

The switch would save about $5.6 billion over 30 years, according to a Government Accountability Office report issued last year.

Enzi also noted in a media release that most major western countries have already switched to higher-denomination coins. When Canada moved to the $1 "Loonie" coin 25 years ago, the release noted, the country saved at a rate 10 times initial government projections.

Proposals to scrap U.S. dollar bills for coins have been around since the mid-1980s, introduced by lawmakers primarily to benefit mining interests. But with the federal debt level approaching $15.3 trillion, the idea has received renewed attention in recent months.

But it's unclear how receptive the American public would be to replacing the greenback with a dollar coin.
If past history is any guide, it's not going to be easy to get Americans to accept this change. The Eisenhower Dollar had some minor success in that regard in the 1970s, mostly as Dave notes in his piece because it ended up being widely used in casinos in Nevada and elsewhere, but its large size made it impractical for every day use and the program ended shortly after the Bicentennial. The Susan B. Anthony Dollar was introduced to replace the Ike Dollar to much fanfare but quickly fizzled out, in no small degree due to the fact that it too closely resembled a quarter, causing confusion for retailers, vending machine operators, and the blind. Outside of numismatic releases, there were no other efforts to introduce a Dollar Coin until the Sacajawea Dollar in the early 2000s. Despite it's difference color and size, though, that effort too failed miserable. Finally, and most recently, the U.S. Mint ended the Presidential Dollar Series for anything other than numismatic release due to lack of interest on the part of the public.
The one difference between these programs and the efforts in nations like Canada and the United Kingdom to replace their lowest denomination paper note with a coin is that none of them involved simultaneously phasing out the Dollar Bill. Without that change, there was no incentive for retailers or vendors to adjust their equipment to accommodate the new coin, and no incentive for consumers to use it. Enzi's bill apparently tries to solve that problem by phasing out the Dollar Bill, but that may be what dooms it politically. Just as Enzi's push for a Dollar Coin is motivated in no small part by the mining interests in Wyoming and other Western states, so too does the Dollar Bill have it's protectors in Congress. The paper used by the mint to print currency is made by only one company, Crane & Co. of Massachusetts. When efforts were made in past years to tie the creation of a Dollar Coin to the elimination of the Dollar Bill, it has been strongly opposed, and ultimately blocked by the state's Congressional delegation, including Senator John Kerry who last year introduced a bill to eliminate the Dollar Coin completely. So, despite the fact that it could save the country billions of dollars, don't look for it to ever actually happen.