Yes, Blaming one Group of Muslims for the Actions of Others is, by Definition, Scapegoating
Yes, when you blame one group of people for the actions of other, especially irrationally so, that qualifies as scapegoating.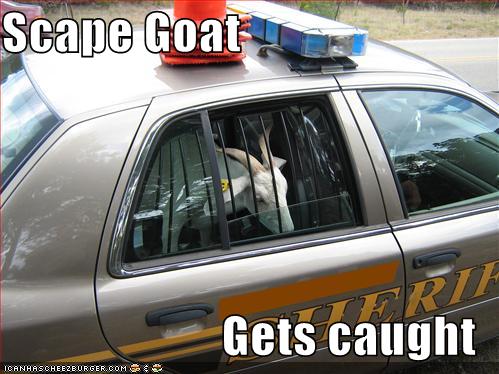 The other day, Stacy McCain* took issue with my characterization of several examples of anti-Islamism as "scapegoating" (although he focused solely on the Park51/Cordoba House issue).  He charged me with being "mislead[ing]" and took issue with the usage of the word scapegoating, inclucing the non sequitur "Nobody is blaming Muslims for the recession."**
Indeed.
However, some people certainly appear to be blaming Islam for 9/11 and think that, therefore, all Muslims deserve at least a little bit of said blame.
As such, I would counter The Other McCain and say that the word scapegoating is precisely the right one to use.
From Merriam-Webster's we have the following
Main Entry: 1scape·goat

Pronunciation: ˈskāp-ˌgōt

Function: noun

Etymology: 1scape; intended as translation of Hebrew ʽazāzēl (probably name of a demon), as if ʽēz 'ōzēlgoat that departs—Lev 16:8(Authorized Version)

Date: 1530

1 : a goat upon whose head are symbolically placed the sins of the people after which he is sent into the wilderness in the biblical ceremony for Yom Kippur
2 a : one that bears the blame for others b : one that is the object of irrational hostility.
It strikes me that definitions 2a and 2b both perfectly fit what is happening with Cordoba House and in protests against other proposed mosques (amongst other issues) around the country.
First, the whole notion that Muslims in general, and therefore the Cordoba House people and other American Muslims in specific, are tainted by the actions of the 9/11 hijackers is asking the former to bear at least some of the blame of the latter.  And make no mistake, the only reason that some people think that Park51 would be offensive or taint hallowed ground is because it would contain a mosque, i.e., a place where Muslims could pray.  As such, this fits definition 2a.  Even if they are not being asked to bear all of the responsibility for 9/11, they are clearly being asked to bear some on a strained version of guilt by association.
Second, the reason for all of this is, in my view, irrational, as it is born not of reason, but of emotion.  This fits definition 2b.
As such, the term "scapegoating" fits perfectly.
McCain also goes on to say
Many of those who have scoffed at opponents of Cordoba House are doing so based on a certain error of logic: "If Fox News is covering it, and Republican politicians are talking about it, the story must therefore be illegitimate."

If you think Newt Gingrich is demagoging the Ground Zero Mosque story, or that Fox News is exploiting it, then by all means denounce the demagoguery and exploitation. But do not make the mistake of assuming that an issue is illegitimate, simply because it is being promoted by people you don't like.
First, he may not be referring to me (but the paragraphs in question come after the portion in which he quotes me), so at least stylistically it appears aimed at me, so I figured I would answer.
Second, I don't know if I have even mentioned Fox News in any of my posts on this subject (of which there have been several).  However, I will note that that my position has nothing to do with who is talking about it, let another because Fox News has been talking a lot about it.
Third, I will gladly denounce Gingrich's demagoguery, because he is, in fact, demagoguing the issue.  See, for example, here.
---
*Update:  I unintentionally left the link back to The Other McCain out of the original post.  That has now been corrected.
**His full treatment of the subject:
No, this isn't scapegoating. It would be scapegoating if Muslims were being blamed for widespread social or economic woes, the way Hitler made Jews the convenient explanation for all of Germany's ills after World War I.
While that is perhaps one of the more famous examples of scapegoating that one might can conjure (even if his treatment is a bit simplistic), it is not the only way that scapegoating can exist.  Again, I would refer the reader to the provided definition.