Yes, It Looks Like Sarah Palin Is Going To Run For President
Yet more signs that Sarah Palin is quietly positioning herself for the opening moves of a White House run after the mid-term elections are over.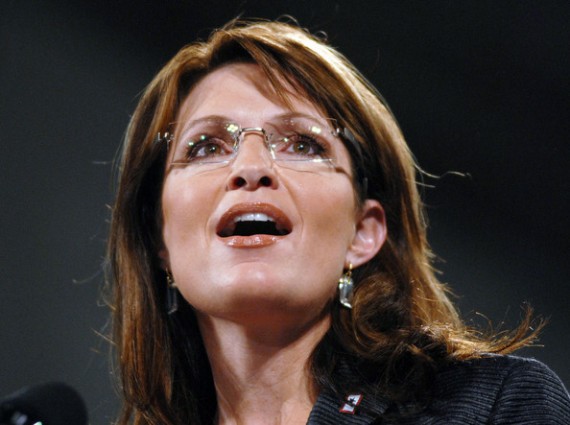 Just a few days after saying she'd be willing to give a Presidential run in 2012 "a shot," and speaking at the Iowa GOP's Reagan Dinner, Sarah Palin is letting it be known once again that she has a run for the White House on her mind:
Former Alaska GOP Gov. Sarah Palin gave her strongest indication yet that she may run for president Wednesday night, saying she would jump into the race if "nobody else were to step up" with the proposals she wants to see.

Palin's recent trip to Iowa has increased speculation that she may run for the Republican nomination in 2012, and she has seemed more open to the possibility in recent interviews.

Asked by Fox News's Greta Van Susteren what "would be a reason to run" during an interview Wednesday night, Palin laid out her criteria:

"A reason to run is if nobody else were to step up with the solutions that are needed to get the economy back on the right track and to be so committed to our national security that they are going to do all that they can, including fighting those on the extreme left who seem to want to dismantle some of our national security tools that we have in place," Palin said.

"If nobody else wanted to step up, Greta, I would offer myself up in the name of service to the public," Palin added. "But I also know that anybody — anybody — can make a huge difference in this country without a title, without an office, just being out there as an advocate for solutions that can work to get the country on the right track. And that's where I am now."
There it is, the classic political statement that says, I'm not thinking of running but if my country needs me, I'll do it. It's really quite masterful rhetoric, even if the truth of the matter is that it isn't any more true when Palin says it than it is when any other politician who has their eye on the brass ring of American politics says it. It doesn't mean she's definitively decided she's running, but it does mean she's thought about it and she's laying the groundwork for it.
You can see it now, really:
If the Republicans run the table in November, they'll still have to deal with the reality of a Democrat in the White House who has the veto power. Palin comes forward sometime in 2011 and says that she's heard the call from her supporters that America needs a President who will work with a Republican Congress to rollback Obamanomics.
If the Republicans fall short, then Palin and her supporters will see that as a call not for more compromise, but to become even more insistent on Republican adherence to conservative orthodoxy. And, they'll argue, she's just the person to lead the party, and the nation.
Will it work ? Well, I still say she has an immensely high hill to climb when it comes to winning a General Election, but anyone who discounts Sarah Palin's ability to win the Republican nomination two years from now is a fool.
She will, as this new video from SarahPAC already makes clear, take up the mantle as the Tea Party leader whether it's given to her or not:
As Allahpundit points out, a video that is supposed to be about the Tea Party movement really turns out to be the Palin brand:
She's pushing this as a call to arms to elect tea-party candidates in the midterms but by the end of the clip it's an out-and-out campaign ad, replete with beatific slow-motion shots staring up at the podium. The goal, very obviously, is to put her signature (literally, per the closing shot) on tea-party fee-vah after all the buzz this week from O'Donnell's big upset.
Will it work ? It's hard to say. Like her or not, there's no denying the enthusiasm and loyalty that Palin generates among her supporters. It's an almost fanatical rock-star like enthusiasm that, strangely enough, has even tranferred itself to her family to the point where Bristol Palin appearing on Dancing With The Stars is suddenly a political issue for some people. It's easy to see how she could win the GOP nomination.
At the same time, though, there are few politicians as polarizing as Sarah Palin. Even a majority of her own supporters don't necessarily think she should be President. If she does walk out of the Republican National Convention in Tampa on the night of August 30, 2012 with the GOP nomination, she's going to have tremendous odds against her unless the economic situation has deteriorated to such an extent that President Obama couldn't win a race against ham sandwich.
Whatever happens, though, it's bound to be entertaining.