On Many Issues, The Tea Party Is Out Of Step With The American Public
The people with the biggest voices in the GOP seem to be leading it to positions that most Americans disagree with.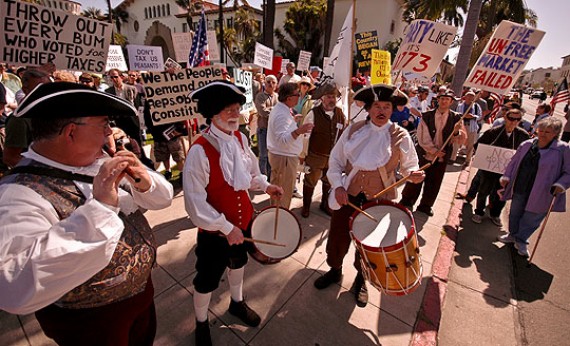 Looking at the results of the recently released NBC News/Wall Street Journal poll, NBC News's First Read team notes that, in many significant ways, people who identify themselves as being part of, or supportive of, the Tea Party are out of step with the American public as a whole:
As House Republicans pick new leaders in the wake of Eric Cantor's stunning primary defeat last week, our new NBC/WSJ poll finds that the Tea Party is in a VERY different place on key issues — than both non-Tea Party Republicans and the general population. It's a stunning contrast. Take the supposedly politically charged issue of Common Core education standards (Louisiana Gov. Bobby Jindal is seeking to end his state's involvement with these standards). Tea Party Republicans oppose them by 53%-38% in our poll. By contrast, the country at large supports them by a pretty non-controversial 59%-31% margin, and non-Tea Party Republicans narrowly favor them, 49%-42%. On immigration, the poll shows that 68% of Tea Party Republicans believe immigration hurts the United States, versus just 47% of non-Tea Party Republicans and 42% of all Americans who say that. And on the environment, Tea Party Republicans disapprove — by a 74%-23% margin — of a proposal that would require companies to reduce greenhouse gases, even if it means higher energy costs for consumers. By contrast, 57% of Americans and 50% of non-Tea Party Republicans APPROVE of the proposal. What's more, 39% of Tea Party Republicans think that concern about global warming is unwarranted, while just 13% of all Americans and 7% of non-Tea Party Republicans believe that.

So what does this all mean? For starters, it's just more evidence of the challenge that House Speaker John Boehner and the winners of today's contests for majority leader and majority whip have in managing their party. The GOP is nearly 100% unified in opposition to President Obama. But after that, there are real fissures inside the party — on the issues above, as well as on others (think foreign policy and national security). It's also a 2016 challenge for the GOP. Our NBC/WSJ poll shows that Republican respondents are divided evenly between the Tea Party and non-Tea Party. But the more committed Republicans — i.e., your potential primary voters — lean Tea Party. So if you're a Jeb Bush who supports Common Core and immigration reform, are you more likely or less likely to win over these voters? Additionally, if the winner of the 2016 primaries is someone from the Tea Party or who shares its views, how will that person fare with general-election voters when it comes to education, immigration, and the environment
When you drill down to specific issues, the difference could not be any more apparent:
Does immigration help or hurt the United States?

Republican Tea Party supporters: 68% hurt, 19% help

Non-Tea Republicans: 47% hurt, 40% help

Country at large: 47% help, 42% hurt

Support or oppose Common Core?

Republican Tea Party supporters: 53% oppose, 38% support

Non-Tea Republicans: 49% support, 42% oppose

Country at large: 59% support, 31% oppose

Approve or disapprove of proposal to reduce greenhouse gases?

Republican Tea Party supporters: Disapprove 74%, approve 23%

Non-Tea Republicans: 50% approve, 47% disapprove

Country at large: 57% approve, 39% disapprove

What to do about climate change?

Republican Tea Party supporters: 39% global warming is unwarranted, 38% don't know enough, 16% some action should be taken, 6% serious/needs immediate action

Non-Tea Republicans: 43% some action, 31% don't know enough, 17% serious/immediate action, 7% unwarranted

Country at large: 31% serious/needs immediate action, 30% some action, 24% don't know enough, 13% unwarranted
On some level, of course, this poll doesn't really come as a surprise. We've seen other polling over the past four years that the Tea Party has been an identifiable political movement that many of the issues that the movement stands for are out of step with public opinion as expressed both in polling and in election results. On the Tea Party's supposed core issues of spending and taxation, for example, the public generally supports things like Social Security and Medicare and opposes their privatization, while supporting the idea that people who earn more should pay more in taxes. Even on an issue like the Affordable Care Act, which remains generally unpopular according to the polls, it is by no means clear that the public as a whole supports the Tea Party idea that the entire bill, which would include such thing as it bars on denial of coverage for pre-existing conditions and the availability of coverage for dependents up to the age of 26, should be repealed. More broadly, the Republican Party clearly suffered in the polls when it followed the strategy demanded by its Tea Party wing when it came to thing such as the 2011 Debt Ceiling showdown or last year's utter failure of a government shutdown. On top of all that, of course, there's the fact of election results, such as President Obama's re-election in 2012 and Terry McAuliffe's victory last year over Tea Party darling Ken Cuccinelli in Virginia law years, that seem to indicate quite clearly that the voting public isn't exactly in line with the agenda of the Tea Party.
I'd submit that this poll, as well as the others we've seen, hold a lesson for the Republican Party that they'd do well to learn. Rather than pandering to a group that represents, at most, a fraction of the base of their own party, the only way they are going to win elections at the national level is if they appeal to the American public as a whole. That doesn't necessarily mean abandoning conservative/libertarian principles on issues like economics and the size of government, but it does mean that there probably ought to be a change in what issues they emphasize and the rhetoric that they use. For example, making the argument that taxes are too high in an era when, even for the richest Americans, tax rates remain at historically low levels across the board doesn't make much sense. Similarly, one can make arguments about cutting government spending without making it sound like you want to privatize Social Security and Medicare, neither of which is a realistic goal from a political point of view.
On some issues, of course, it's quite apparent that the Tea Party, and by extension the Republican Party, is quite simply out of step with the American public. These include everything from marriage equality and immigration to climate change. The choice the Republican Party will have to make is whether it is more important to listen to their base, or to the American people.