Yes, We Would Benefit From A More Diverse Supreme Court
Justice Sotomayor argued last week that we ought to look somewhere other than just the Courts of Appeal, the Ivy League, and the Northeast for Supreme Court Justices. She's right.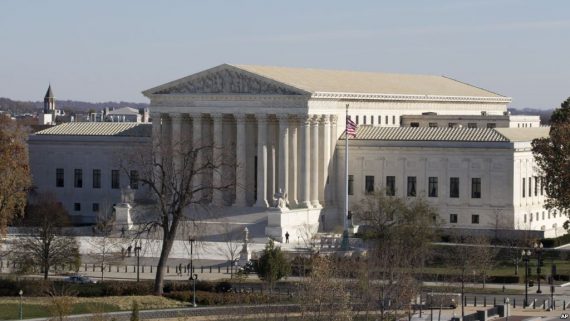 Supreme Court Justice Sonya Sotomayor argued in a recent speech in favor of a more diverse Supreme Court:
U.S. Supreme Court Justice Sonia Sotomayor said Friday that greater diversity on the high court is important, in comments made shortly after President Barack Obama once again urged a vote on his Supreme Court nominee Merrick Garland.

"I, for one, do think there is a disadvantage from having (five) Catholics, three Jews, everyone from an Ivy League school," Sotomayor said during a talk at Brooklyn Law School, adding that several of the justices are from New York City and none of them have a background in criminal defense law outside of white-collar crime, the Associated Press reported.

Sotomayor said varied backgrounds help justices to consider and understand issues differently, based on their experience.

"A different perspective can permit you to more fully understand the arguments that are before you and help you articulate your position in a way that everyone will understand," she said.

Sotomayor did not mention Garland, a white man of Jewish faith who graduated from Harvard College and Harvard Law School, but some have criticized the nominee's selection as insufficiently diverse. Obama has defended his appointment of Garland, highlighting his experience and talent.
Justice Sotomayor's criticisms are, at least in some sense, well put and mirror statements that other Justices have made over the years about a selection process that seems to keep going back to the same sources for Justices time after time. Indeed, one need only look at a few statistics to see what Justice Sotomayor is talking about. While Justice Scalia was on the Court, there was a member of the Court who had grown up in each of New York City's five boroughs with the exception of Staten Island. Until Justice Elana Kagan was appointed after having served as Solicitor General, every member of the Court for several years had served on one of the Circuit Courts of Appeal prior to being appointed, with four of the Justices all having come from the Circuit Court of Appeal for the District of Columbia prior to being named to the Court. Perhaps most starkly, though, is the fact that, after the departure of Justice John Paul Stevens in 2010, all of the Justices on the Supreme Court had graduated from either Harvard, Yale, Princeton or Columbia for at least law school and, in several cases, at the undergraduate as well. Judge Merrick Garland, who graduated from both Harvard University and Harvard Law School, would continue that trend. On a more superficial level, there are no veterans on the Court for the first time in a long time, although that is largely a function of the end of the draft, and every member of the Court is either Roman Catholic or Jewish.
The nation's Court wasn't always this way, of course, and it wasn't very long ago that we had Justices whose experiences and background weren't quite so limited. Many Justices throughout history had only a limited amount of experience on the bench before coming to the high court, and some came from the political world instead. Earl Warren had served as Governor of California, for example, before President Eisenhower appointed him to the Supreme Court. Sandra Day O'Connor had a background both in the Arizona legislature and as a Judge in that state prior to being picked by President Reagan. Thurgood Marshall was primarily known for being a litigator and civil rights activist before making it to the Supreme Court, although he did also serve time on the Second Circuit Court of Appeals and as Solicitor General under Lyndon Johnson. Other Justices had careers as law professors or practicing attorneys prior to their appointment. In other words, it used to be the case that Supreme Court Justices were chosen from a much wider field of candidates than Presidents seem to be looking at today, and it's arguably the case that the Court suffers to some degree from the fact that its membership is being drawn from such a limited pool.
Jazz Shaw isn't convinced by Sotomayor's argument:
Those are lovely sentiments she shared during her speech, but they speak more to the tapestry of American culture. What they are supposed to have nothing to do with is justice and the rule of law. Justice is blind for a reason. Human beings, including those wearing robes and handing down decisions, are the flawed vessels who must interpret the laws, but the laws themselves must apply to everyone equally. They have to be blind to color, religion, gender, economic background and all the other factors. The rich and the poor, the powerful and the weak, are all supposed to stand before the bar at the same height. And that goes for those who must interpret those laws as well as those who face a trial.

But now we clearly live in an era where checking off the boxes for various demographic pigeonholes carries more weight than boring old ideas such as qualifications or experience. It's not what the law says or intends, so much as how you feel about it and how it impacted your personal experience growing up. It's a sad statement.
While I understand the concern that Justice Sotomayor's comments that Jazz reflects, I don't think that this is what she really meant, and it's worth noting that the sentiments she expressed here have been echoed by other Justices in the past. On several occasions in the past, for example, Justice Scalia noted the fact that he and his fellow Justices all had very much in common, most significantly their Ivy League educations, and that the Court benefits when their are a variety of viewpoints being shared among the Justices, not the least because it forces the other Justices to address flaws in their own arguments and perhaps see the error of their ways. It strikes me that this is largely true. There are, for example, a host of fine law schools in the United States that have in all likelihood turned out plenty of highly qualified graduates that would make fine member of the Judiciary. Additionally, the Court itself would arguably benefit from the presence of someone who had practiced criminal defense law at some point in their career, especially when dealing with issues that arise under the Fourth, Fifth, Sixth, or Seventh Amendments. Picking a Justice from somewhere  other than the Northeast or West Coast would also seem like something that might be beneficial, as would picking someone from somewhere other than the Federal Judiciary. As I noted above, there was a time when it was quite common for Supreme Court Justices to have much more diverse backgrounds than they do today, perhaps it's time we gave that a try again.