Young Voters Feel Abandoned By Obama
The younger voters that flocked to Barack Obama two years ago feel let down. They need to grow up.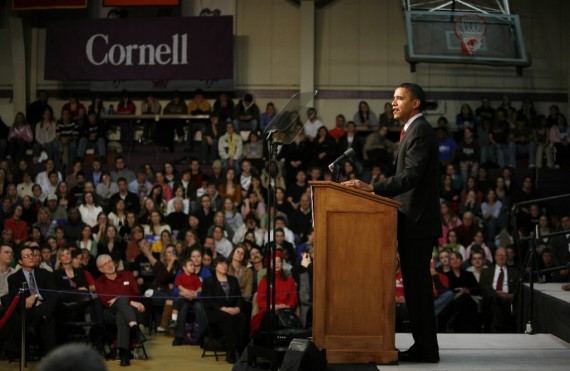 In 2008, Barack Obama's candidacy was widely touted for inspiring younger voters to get involved in politics and, more importantly, to show up at the polls on Election Day. Twenty-one months later, though, that same voting group is saying that they feel abandoned by the President, and they appear unlikely to make it to the polls in large numbers this time around:
MIAMI — Two years ago, the University of Miami could not get enough Barack Obama. The campaign rally he held here felt like a rock concert, his face appeared on T-shirts all over campus, and pro-Obama volunteers registered 2,000 new voters.

Meetings of the College Democrats that attracted 200 people in 2008 now pull in a dozen. New voter registration is way down, too, and free posters of President Obama — once "the Michael Jordan" of politics, as one freshman put it — are now refused by students.

"It's not the fad anymore," said Jessica Kirsner, 21, a junior from Houston and vice president of the College Democrats. "It's not the fad to be politically knowledgeable and active."
Is this really what Obama-mania was to the under-30 set, a fad comparable to owning an iPod or watching Family Guy ? If that's the case, it's no wonder that the bloom has come off the rose so quickly:
This was not what Generation O expected Mr. Obama won two years ago with 66 percent of the 18- to 29-year-old vote, a historic proportion. Americans under 30 also worked on campaigns at a greater rate than the general population did for the first time since 1952, or possibly even earlier, according to the National Election Studies.

Now, however, former Obama volunteers nationwide say that they and their former colleagues are less involved and more ambivalent. Experts say the usual midterm effect, in which young voters are especially likely to disengage, has combined with an unexpected distance that has arisen between Mr. Obama and many young constituents. While most of them still view him more favorably than their parents or grandparents do, various polls show that the youthful passion that led to action has not been sustained.

"They were emotionally invested," said Peter Levine, director of the Center for Information and Research on Civic Learning and Engagement at Tufts University. "Somehow that should have been turned into, for Democrats, a revival of progressive policy, and in a neutral way, a revival of democracy starting with young people."

"So far, it hasn't happened," he added.

Many young Obama supporters and volunteers said they had hoped to play a bigger role with the Obama agenda. The campaign had given them structures, for taking off a semester to train and then work in a campaign office, for example. In nondescript towns all over the country, they were the public face of the campaign, as they helped turn undecided voters into sure things.

They also played a prominent role in independent movements that sprouted online, like the Great Schlep, which pushed young people to talk about Obama with senior citizens. And Facebook helped pull the threads together.
And, now, the college crowd seems to be complaining because the Administration didn't do enough to keep the sense of community that had developed during the campaign alive, and apparently because the President didn't appear on the right television shows:
Others, though, said the administration or Organizing for America, the group that grew from the Obama campaign, could have done more. Why didn't Mr. Obama, who appeared on "The Daily Show" this week for the first time since taking office, go there more often, they asked?

(…)

Mik Moore, 36, a creator of the Great Schlep, said that he too had found less energy and less creative communication among Obama supporters who were active two years ago. He described a recent meeting in Los Angeles with about a dozen young professionals who were trying to come up with messages or approaches that resonated and got people talking about progressive policies or the administration.

Only one emerged: when Stephen Colbert made a mock appearance before Congress to talk about immigration.
Is this what it takes to get young voters interested, appearances on fake news shows? Apparently, the answer is yes, and that says more about Generation O than it does about the Obama Administration. It looks for all the world like we're dealing with a generation of voters who need to be coddled to and entertained in order to start paying attention to the world around them. Then, even when they win, they seem to think that unless they're pandered to at every turn, then they can just take their marbles and go back to the coffee shop.
The reality of politics, of course, is that you have to get involved in order for your voice to be heard. Instead of just fading away after the election, and after the realities of day-to-day politics revealed themselves, Generation O should have stayed involved like everyone else did. The fact that they didn't simply reinforces the conclusion that political professionals reached about younger voters not long after the 26th Amendment was ratified. Namely, that you simply cannot trust them to show up at the polls on a regular, consistent basis.
Of course, the other problem with the younger voters that rallied behind Obama is that they simply had unrealistic expectations of what he could do, even with majorities in both Houses of Congress and notwithstanding the fact that there was a severe economic downturn that pretty much put the rest of the campaign agenda on the back burner. The idea that Barack Obama was going to "remake Washington," which was one of the common themes that seemed to motivate younger voters two years ago, was simply naive in the extreme, and anyone who's been following politics long enough knew from the start that it was a promise he could never keep.
So Generation O will largely stay home tomorrow, apparently. That's their choice, and I'm hardly one who believes that voting is a "civic duty." However, when they wake up on November 3rd and realize that "their side" has lost, perhaps they'll realize that politics isn't a schoolyard game for children.