10 Drinks a Day is a Lot of Drinks!
The Ezra Klein-less Wonkblog makes us feel good about our drinking habits.
The Ezra Klein-less Wonkblog makes us feel good about our drinking habits.  A posting titled, "Think you drink a lot? This chart will tell you" has, as you might expect, a chart. This chart: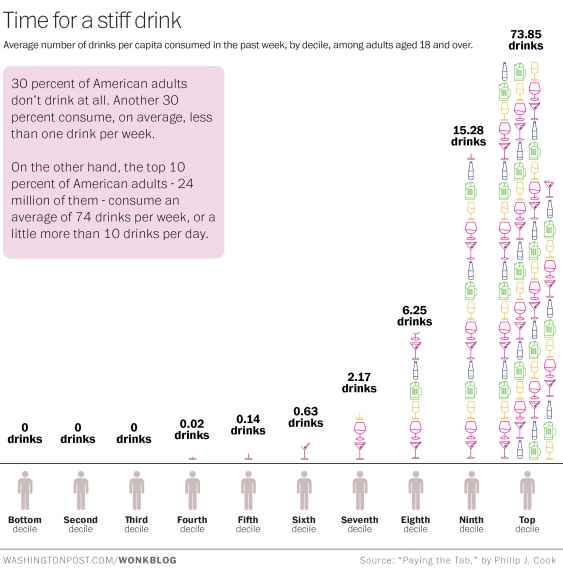 Even though I've cut back of late, almost entirely as part of limiting my intake of carbohydrates to get my weight back to acceptable levels, I'm pretty high up on this chart. Like, ninth decile high.  But, holy crap, even at my all-inclusive island resort vacation worst, I've never had 74 drinks in a week! I'm not even sure how it's possible to have 10 drinks in a day and remain upright, let alone sustain that pace for seven consecutive days.
Yet, it's apparently real. The post explains:
These figures come from Philip J. Cook's "Paying the Tab," an economically-minded examination of the costs and benefits of alcohol control in the U.S. Specifically, they're calculations made using the National Epidemiologic Survey on Alcohol and Related Conditions (NESARC) data.

I double-checked these figures with Cook, just to make sure I wasn't reading them wrong. "I agree that it's hard to imagine consuming 10 drinks a day," he told me. But, "there are a remarkable number of people who drink a couple of six packs a day, or a pint of whiskey."

As Cook notes in his book, the top 10 percent of drinkers account for well over half of the alcohol consumed in any given year. On the other hand, people in the bottom three deciles don't drink at all, and even the median consumption among those who do drink is just three beverages per week.

The shape of this usage curve isn't exactly unique. The Pareto Law states that "the top 20 percent of buyers for most any consumer product account for fully 80 percent of sales," according to Cook. The rule can be applied to everything from hair care products to X-Boxes.
Granting that the medical definition of a "drink" is different from the lay definition—most of us likely pour more wine or booze into our glasses than an official unit—there is some world class drinking going on in the tenth decile.