113th Congress Set To Be Least Productive In History, But Is That A Bad Thing?
The current Congress is on pace to pass fewer laws and bills than any since the end of World War II. That's not necessarily a bad thing.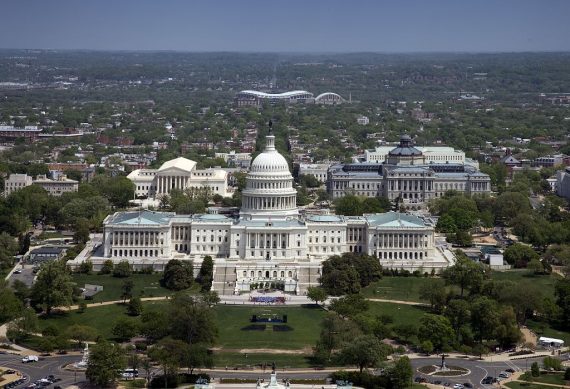 The 113th Congress is on pace to become the least productive in history according to The Fix, assuming you think productivity is measured by how many laws are passed:
Here's President Obama at a fundraiser Wednesday night for the Democratic Congressional Campaign Committee in Houston, Texas: "This has become the least productive Congress in modern history, recent memory.  And that's by objective measures, just basic activity."

So, is he right? And, if he is, so what?

We've written extensively on the productivity debate in this space.  So, let's start with the facts first.  And the facts are these: In terms of actual laws or bills passed, the 113th Congress is headed toward historic levels of unproductivity.
In support of the position, there's this chart, which shows that, so far, Congress has only passed 23 bills that have become laws: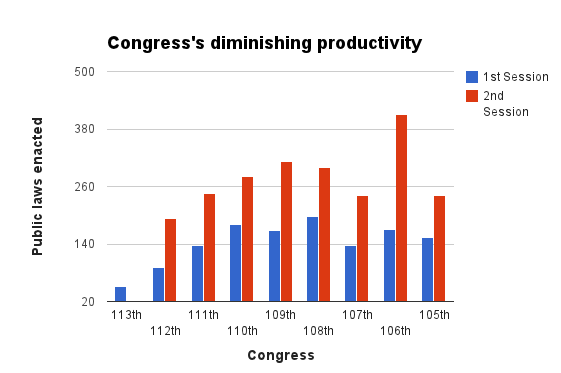 Or, to make the measure a little more broad, there's this chart, which shows that the number of bills passed by Congress is on a pace to be the lowest since the Congress elected in the 1946 elections: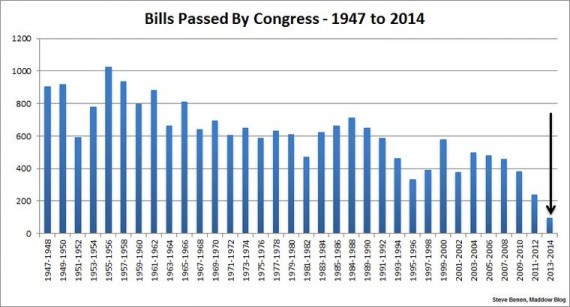 When you look at the raw numbers then, there seems to be some support for the Presidents assertion about Congress's lack of productively. At the same time, though, it's pretty clear that the entire idea of Congressional "productivity" is a loaded term. President Obama, for example, can claim that the Republican House has been unproductive since it has failed to enact his agenda on issues ranging from "job creation" via more government spending, immigration, or the minimum wage. Conversely, House Republicans would claim that the very act of blocking an agenda that they believe is bad for the country and the economy is, in some sense of the word, productive and that it is the Democratic controlled Senate that is being "unproductive" by failing to act at all on countless numbers of bills that have passed the House of Representatives only to languish in the Senate due to inaction by the Democratic majority.
Last year, Shawn Ryan, Press Secretary to Ohio Congressman Jim Renacci wrote a very good push back against the idea that productivity should be measured by the number of bills or laws passed:
However, I also think it's important to note that "productive" is a relative term. A small government conservative or a libertarian might argue that the Congress that legislates least, governs best. In other words, just because we aren't passing legislation doesn't mean we aren't being productive.

For example, the Administration has had [to] go around Congress in an attempt to put its environmental agenda in place (admittedly, that is something it probably would have had to do even with Democratic majorities in both chambers, but they have more political cover going around a Republican controlled House). That puts those policies on much rockier legal standing, assuming they can be implemented solely through the regulatory side at all. That's a good thing if you disagree with those environmental policies and that outcome is the direct result of Congressional inaction.
It makes sense, of course, that a Republican Hill Staffer would defend a Republican House, but I think Ryan's point has a great deal of merit. Using a metric like the number of laws or bills passed by Congress as the metric to determine whether or not that Congress has been "productive" is, in the end, ideologically biased because it assumes without question that passing bills and laws is an inherently good thing. As Ryan notes, there are plenty of people who would take issue with that idea. So, in some sense, it isn't surprising that a Congress where Republicans have significant control over the agenda is one that would see fewer laws passed. Whether the lack of Congressional action, in and of itself, is a good thing or a bad thing depends entirely on the ideological biases of the person using the term. Much harder, indeed impossible, to measure objectively is whether or not the bills that Congress is actually passing will be positive for the nation and the economy. So, yes, President Obama is right that Congress is being "unproductive," but that's only true if you accept his definition of the term.