Blues Legend B.B. King Dead At 89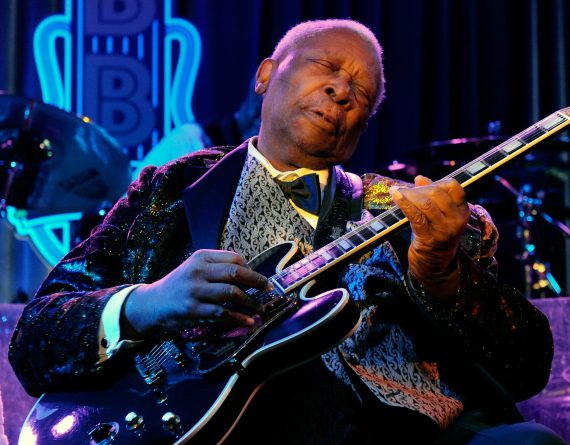 Blues legend B.B. King, creator of one of the most unique sounds in American music, passed away overnight at the age of 89:
B. B. King, whose world-weary voice and wailing guitar lifted him from the cotton fields of Mississippi to a global stage and the apex of American blues, died Thursday in Las Vegas, The Associated Press reported. He was 89.

His death was reported to The A.P. by his attorney, Brent Bryson.

Mr. King married country blues to big-city rhythms and created a sound instantly recognizable to millions: a stinging guitar with a shimmering vibrato, notes that coiled and leapt like an animal, and a voice that groaned and bent with the weight of lust, longing and lost love.

"I wanted to connect my guitar to human emotions," Mr. King said in his autobiography, "Blues All Around Me" (1996), written with David Ritz.

In performances, his singing and his solos flowed into each other as he wrung notes from the neck of his guitar, vibrating his hand as if it were wounded, his face a mask of suffering. Many of the songs he sang — like his biggest hit, "The Thrill Is Gone" ("I'll still live on/But so lonely I'll be") — were poems of pain and perseverance.

The music historian Peter Guralnick once noted that Mr. King helped expand the audience for the blues through "the urbanity of his playing, the absorption of a multiplicity of influences, not simply from the blues, along with a graciousness of manner and willingness to adapt to new audiences and give them something they were able to respond to."

B. B. stood for Blues Boy, a name he took with his first taste of fame in the 1940s. His peers were bluesmen like Muddy Waters and Howlin' Wolf, whose nicknames fit their hard-bitten lives. But he was born a King, albeit in a sharecropper's shack surrounded by dirt-poor laborers and wealthy landowners.

Mr. King went out on the road and never came back after one of his first recordings reached the top of the rhythm-and-blues charts in 1951. He began in juke joints, country dance halls and ghetto nightclubs, playing 342 one-night stands in 1956 and 200 to 300 shows a year for a half-century thereafter, rising to concert halls, casino main stages and international acclaim.

He was embraced by rock 'n' roll fans of the 1960s and '70s, who remained loyal as they grew older together. His playing influenced many of the most successful rock guitarists of the era, including Eric Clapton and Jimi Hendrix.

Mr. King considered a 1968 performance at the Fillmore West, the San Francisco rock palace, to have been the moment of his commercial breakthrough, he told a public-television interviewer in 2003. A few years earlier, he recalled, an M.C. in an elegant Chicago club had introduced him thus: "O.K., folks, time to pull out your chitlins and your collard greens, your pigs' feet and your watermelons, because here is B. B. King." It had infuriated him.

When he saw "long-haired white people" lining up outside the Fillmore, he said, he told his road manager, "I think they booked us in the wrong place." Then the promoter Bill Graham introduced him to the sold-out crowd: "Ladies and gentlemen, I bring you the chairman of the board, B. B. King."

"Everybody stood up, and I cried," Mr. King said. "That was the beginning of it."

(…)

hrough it all he remained with the great love of his life, his guitar. He told the tale a thousand times: He was playing a dance hall in Twist, Ark., in the early 1950s when two men got into a fight and knocked over a kerosene stove. Mr. King fled the blaze — and then remembered his $30 guitar. He ran into the burning building to rescue it.

He learned thereafter that the fight had been about a woman named Lucille. For the rest of his life, Mr. King addressed his guitars — big Gibsons, curved like a woman's hips — as Lucille.

He married twice, unsuccessfully, and was legally single from 1966 onward; by his own account he fathered 15 children with 15 women. But a Lucille was always at his side.

Riley B. King (the middle initial apparently did not stand for anything) was born on Sept. 16, 1925, to Albert and Nora Ella King, both sharecroppers, in Berclair, a Mississippi hamlet outside the small town of Itta Bena. His memories of the Depression included the sound of sanctified gospel music, the scratch of 78-r.p.m. blues records, the sweat of dawn-to-dusk work and the sight of a black man lynched by a white mob.

By early 1940 Mr. King's mother was dead and his father was gone. He was 14 and on his own, "sharecropping an acre of cotton, living on a borrowed allowance of $2.50 a month," wrote Dick Waterman, a blues scholar. "When the crop was harvested, Riley ended his first year of independence owing his landlord $7.54."

In November 1941 came a revelation: "King Biscuit Time" went on the air, broadcasting on KFFA, a radio station in Helena, Ark. It was the first radio show to feature the Mississippi Delta blues, and young Riley King heard it on his lunch break at the plantation. A largely self-taught guitarist, he now knew what he wanted to be when he grew up: a musician on the air.

The King Biscuit show featured Rice Miller, a primeval bluesman and one of two performers who worked under the name Sonny Boy Williamson. After serving in the Army and marrying his first wife, Martha Denton, Mr. King, then 22, went to seek him out in Memphis, looking for work. Memphis and its musical hub, Beale Street, lay 130 miles north of his birthplace, and it looked like a world capital to him.

Mr. Miller had two performances booked that night, one in Memphis and one in Mississippi. He handed the lower-paying nightclub job to Mr. King. It paid $12.50.

Mr. King was making about $5 a day on the plantation. He never returned to his tractor.
King had been suffering from diabetes since he was in his 60s, but it didn't slow down his touring very much until recent years when his health problems became more serious. More recently, there were several reports that he had entered hospice in Las Vegas, so it's not at all surprising that he passed away. Nonetheless, another legend belongs to the ages, but the music will always be there.