2012 Voter Turnout Likely To Be Lowest In Eight Years
If the results of a new Gallup poll are correct, voter turnout on Tuesday isn't likely to be as high as it was four years ago, or eight years ago for that matter:
PRINCETON, NJ — Key Gallup indicators of voter turnout, collected prior to superstorm Sandy, suggest voter turnout will fall short of what it was in 2004 and 2008. U.S. registered voters report giving less thought to the election, and are less likely to rate their chance of voting as a "10" on a 10-point scale, than in 2004 and 2008, two higher-turnout elections. However, the 2012 figures are higher than in 1996 and 2000, two lower-turnout elections.

The questions are two of the seven that factor into Gallup's likely voter model. The model assesses individual respondents' likelihood of voting by asking about current voting intentions and past voting behavior. "Election thought" and the 10-point "likelihood of voting scale" are the two questions that focus on current voting intentions and show the most variation from election to election.
Here's the chart: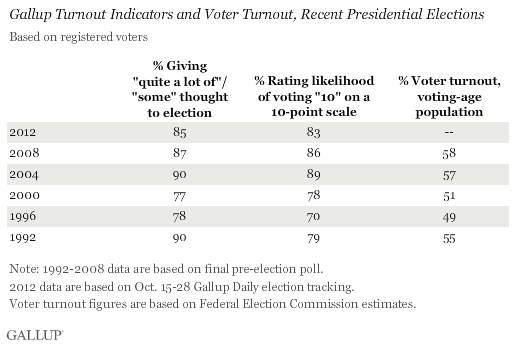 Gallup explains:
As the above chart indicates, in years like 1992, 2004, and 2008 when turnout was greater, more registered voters have tended to say they are giving at least some thought to the election, and to rate their likelihood of voting as high as possible. The percentages on these questions were lower in both 1996 and 2000, when proportionately fewer Americans voted.

Thus, the current data suggest turnout could fall in between the lower levels of 1996 and 2000 and the higher levels of 2004 and 2008.
It's hard to say what impact this could have on the election. Lower turnout in solid blue or red states doesn't mean much of anything, although it could contribute to the possibility of a Popular Vote/Electoral Vote split. Lower turnout in swing states, though, would clearly impact the election which is why you're going to see a lot of "Get Out The Vote" efforts over the next six days.