2016 Republican Field Is Wide Open
The Republican field for 2016 is more wide open than any we've seen in a long time.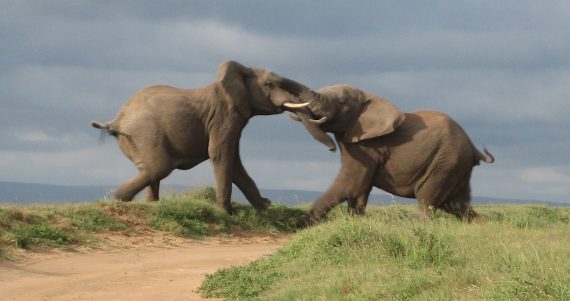 For the moment, the 2016 Republican Presidential Nomination is wide open according to a new Public Policy Polling poll:
Rand Paul's well publicized filibuster last month has vaulted him up the list of Republican contenders in PPP's newest look ahead to the 2016 Presidential contest.

Marco Rubio continues to lead nationally, as he has on all four of our 2016 polls so far. He's at 21% this month, basically the same as 22% the month before the State of the Union address. Rubio's favorability of 62/10 is slightly better than 59/12 in early February. The whole water drinking episode hasn't had any effect on his standing- nor has his stance on immigration reform.

The big move though has come from Paul. In early February he was in 6th place among Republican contenders at just 10%. Now he's vaulted all the way up to 2nd place at 17%. Chris Christie is 3rd at 15% and Paul Ryan and Jeb Bush are tied for 4th at 12%. Rounding out the folks we polled are Rick Santorum at 5%, Bobby Jindal at 4%, Rick Perry at 2%, and Susana Martinez at 1%.

There is a lot of skepticism about Christie from conservative voters. Among those identifying as 'very conservative' 35% see him positively to 36% with a negative opinion. Christie's overall net favorability of +12 at 41/29 ranks him 8th most popular out of the 9 Republicans we looked at, leading only Susana Martinez who is not yet well known on a national level.

Rubio leads the Republicans among conservatives, while Christie has the advantage with moderates. The problem for Christie is that only 19% of primary voters are moderates while 74% are conservatives.
The numbers are fairly similar in a newly released Quinnipiac poll:
There is no front-runner now for the 2016 Republican presidential nomination, leaving a five- way horse race with no candidate above 19 percent among Republican voters, according to a Quinnipiac University national poll released today.

New Jersey Gov. Christopher Christie, who ran better than other Republicans against top Democrats in a March 7 survey of all American voters by the independent Quinnipiac (KWIN- uh-pe-ack) University, gets only 14 percent of Republican voters today.

Florida U.S. Sen. Marco Rubio gets 19 percent of Republican voters, with 17 percent for U.S. Rep. Paul Ryan of Wisconsin, 15 percent for U.S. Sen. Rand Paul of Kentucky and 10 percent for former Florida Gov. Jeb Bush. Other contenders are at 3 percent or less.
This isn't entirely surprising, of course. Unlike with the Democratic Party, where Hillary Clinton leaves all other potential contenders in the dust, there really is no star on the sidelines of the GOP right now waiting to take up the banner of the party. Indeed, unlike in 2012 and 2008, when it seemed like Romney and McCain were the "next in line" for the nomination, a position that usually is a pretty good indication of who the nominee may be, there is nobody who qualifies as the GOP heir apparent for the 2016 race. Of the candidates that lasted through the primary season last year, only Rick Santorum seems likely to even consider making another run for the White House, and his appeal inside the party is limited to evangelicals and social conservatives. Indeed, it's notable that, even at this early stage, the person who has actually ran for President is trailing people like Marco Rubio, Rand Paul, Paul Ryan, and Jeb Bush. If the guy who has already run for President is trailing all the newcomers, that's a signal that the entire race is going to be much more wide open than a Republican race has been in quite some time.
Ed Morrissey makes an observation about the Quinnipiac poll:
That's a remarkable change in a pattern that goes back at least to 1980, when Republican runners-up in the previous open cycle ended up as the frontrunners in the next. Ronald Reagan got the nomination in 1980 after barely losing to Gerald Ford in the 1976 race; his running mate, George H. W. Bush, won the nomination in 1988. Bob Dole had nearly derailed Bush in 1988-s primary with wins in Iowa, South Dakota, and Minnesota, and in 1996 got his chance to face incumbent Bill Clinton and spoiler Ross Perot. George W. Bush broke the pattern in 2000, but the runner-up in that contest, John McCain, ended up winning the 2008 nomination. And Romney was the runner-up to McCain, and was a clear front-runner for most of the 2012 primary cycle before winning the nomination.

This time around, none of the 2012 contenders made the cut for the Q-poll, and it doesn't appear they were missed. Only 1% of respondents selected "someone else" as a choice, although 18% said they either didn't know or didn't care. Except for Jeb Bush, who got 10% to finish fifth, everyone on the list is a recent national figure — even the three who finished in the also-ran category, Bobby Jindal (3%), Scott Walker (2%), and Bob McDonnell (1%).

Ironically, only two governors were among the five to make double digits (Bush and Christie) and they came in fourth and fifth, even though GOP respondents overwhelmingly prefer governors as presidential candidates, 59/23. This reflects the problems of polling so early, before anyone has made serious moves to campaign for the position. The results sound more like a name-recognition survey than a serious reflection on preferred presidential candidates.
That's largely correct, of course. Which is why it's not entirely a good idea to put too much stock into these early polls. At the same time, though, at the moment it appears that the 2016 Republican field could end up being the most wide-open in recent memory. Things will change, of course. Front runners will rise and fall. Candidates we aren't even considering right now will emerge and draw attention. And, of course, the outside world and what happens over the next two years or so will shape how the race unfolds. At the moment, though, the GOP looks to be on a course to have perhaps the most interesting nomination fight that I can recall.