The 2016 Democratic Nomination Is Hillary's If She Wants It
For the moment, Hillary Clinton looks unbeatable if she chooses to run in 2016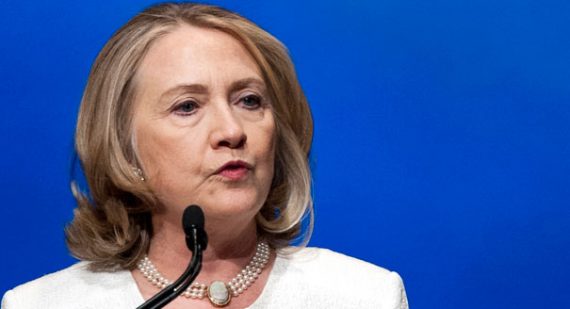 We are still several years away from even the beginning of the 2016 election cycle but, according to a new Public Policy Polling poll, Hillary Clinton is the prohibitive favorite for the Democratic Nomination:
On the Democratic side support for Hillary Clinton to be the party nominee has hit its highest level of support in our national polling since the election last year. 64% of the party's voters want her to be the candidate to 18% for Joe Biden, 5% for Elizabeth Warren, and 3% for Andrew Cuomo with no one else polling above 2%. Clinton has majority support from liberals and moderates, men and women, African Americans, Latinos, and white voters, and voters within every age group that we track.

If Clinton doesn't run 49% of Democrats say they would support Biden to 11% for Warren, 10% for Cuomo, and 7% for Kirsten Gillibrand with no one else above 3%. And if neither Clinton nor Biden runs Democrats have no clue who they want- 22% go for Cuomo and 18% for Warren but the big winner is someone else or undecided at 36%.
Clinton also fares well against potential Republican candidates:
When it comes to general election match ups Hillary Clinton leads the Republicans we tested against her by margins ranging from 4 to 7 points. Chris Christie comes the closest at 46/42, followed by Rand Paul at 49/43 and then Marco Rubio at 49/42 and Paul Ryan at 50/43. We've consistently found that Christie would be the strongest Republican candidate but the problem for him is that Obama voters (42/24) like him better than Romney voters (36/31), which could making securing the nomination a problem.
The usual caveats apply. This is a very early poll. With the exception of Vice-President Biden, none of the other potential Democratic nominees has significant national name recognition, and none of them have close to the notoriety of the former Secretary of State. Additionally, it's worth noting that polls taken this early in the 2008 and 2012 cycles were not really a good guide or how the nomination fights actually ended up turning out. Indeed, Hillary was leading the 2008 polling for a long, long time until a guy name Barack Obama. At this point, we don't even know if Mrs. Clinton is going to run in 2016, or Vice-President Biden for that matter. The 2016 Democratic field could end up being one of the most wide-open fields we've seen in some time, perhaps as wide-open as the Democratic fields in 1988 and 1992. So, to tome extent all of this speculation this far in advance isn't entirely worthwhile.
One exception to that is an argument that David Frum raised last week when he argued that Democrats should hope that Hillary Clinton doesn't run in 2016:
Hillary Clinton is 14 years older than Barack Obama. A party has never nominated a leader that much older than his immediate predecessor. (The previous record-holder was James Buchanan, 13 years older than Franklin Pierce when the Democrats chose him in 1856. Runner-up: Dwight Eisenhower, 12 years older than his predecessor, Thomas Dewey.)

Parties have good reasons to avoid reaching back to politicians of prior generations. When they do, they bring forward not only the ideas of the past, but also the personalities and the quarrels of the past.

One particular quarrel that a Hillary Clinton nomination would bring forward is the quarrel over the ethical standards of the Clinton White House — and, maybe even more, of the Clintons' post-White House careers. Relying on Hillary Clinton's annual financial disclosure reports, CNN reported last year that former President Bill Clinton had earned $89 million in speaking fees since leaving the White House in 2001. Many of these earnings came from foreign sources. In 2011 alone, the former president earned $6.1 million from 16 speeches in 11 foreign countries.
At his blog today Frum expands on this argument by listing the areas that the Democratic Party would leave unresolved if Clinton were the nominee:
The next Democratic nominee, if successful, will serve into the 2020s at least. That's a long time to spend on "consolidation" – extra long for a party that puts so much emphasis on policy innovation. A Democratic party that wins a third consecutive mandate in 2016 will want to do things. But what things? Here are some important pieces of unfinished business from the Obama years that a re-elected in 2016 Democratic party must resolve:

* Were President Obama's counter-terrorism policies effective and necessary? Or did they over-reach and violate important liberties?

* Is Obamacare a charter for regulated competition among private health insurers? Or is it a deeply flawed half-way step on the way to Medicare for all?

* Should government continue to finance and support industries and firms, as the Obama administration has done? Or should government pull back to a more New Democratic approach of letting the market lead?

* How much should the interests of the native-born working class matter on issues like energy and immigration, vs how much for the party's new constituencies among upper-income professionals and recent migrants?

If these issues don't get discussed in the course of a presidential primary, when do they get discussed?
It's worth noting that a party holding on to the White House for more than two Presidential terms is relatively rare historically. Eisenhower was followed by Kennedy, Kennedy/Johnson were followed  by Nixon, Nixon/Ford were followed by Carter, and Clinton was followed by George W. Bush.The only time a party has held onto the Presidency after two full terms since the passage of the 22nd Amendment was when Reagan's two terms were followed by George H.W. Bush, and he was only able to hold onto office for a single term. Depending on what the state of the economy, and the world, actually is in 2016, it may be next to impossible for any Democrat to win the White House. In that kind of a situation, Democrats would be more likely to want to back a candidate who seems to have a good shot at winning rather than engaging in some long-winded debate about the future of the party.
More importantly, though, I'm not sure why Frum thinks that a Hillary Clinton candidacy would preclude the Democratic Party from engaging in the kind of debate that he seems to think is so important. After all, even with her current overwhelming popularity, it's absurd to think that Clinton will be the only Democrat running in 2016. There will be other candidates, many of them eager for the opportunity to take a shot at the frontrunner, and the press will be right there to cover it. Many of the questions that Frum asks are the very ones such a candidate would likely raise, so the voters will get at least some opportunity to hear debate about the future of their party. Additionally, I disagree with Frum that a Clinton candidacy would necessarily lead to a rehashing of all the Bill Clinton era questions. By the time 2016 rolls around, President Clinton will have been out of office 16 years, and there will be an entire generation of voters for whom his Presidency is a vague memory at best. The Clinton they'll be most aware of will be the one running for the nomination, not her husband, and so far it appears that they'll have a pretty positive opinion of her.
Finally, we must all remember that even with these numbers, it's still possible that Clinton would not win the nomination if she chose to run. As I noted above, she was in a similar position eight years ago and ended up being bested by an upshot Senator from Illinois. That could happen all over again. Or Clinton could stumble during the race as she did a few times in 2008. So, there's nothing guaranteed here. At the moment, though, it appears that if Hillary wants to run she's going to be in a very strong position.