What's Wrong With Our Government
When the old rules don't apply anymore, the system breaks down.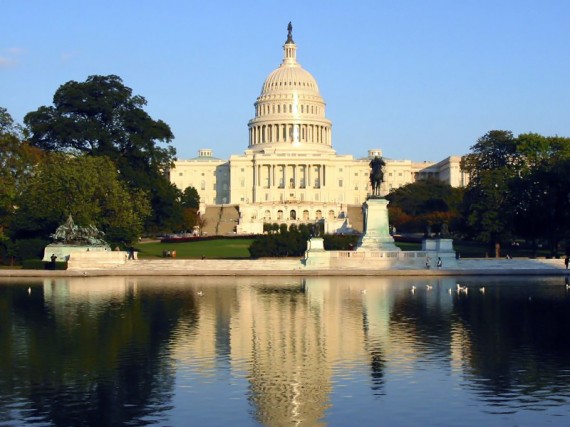 As James Joyner noted this morning, a new Gallup poll finds that a record number of Americans are dissatisfied with the manner in which the nation is being governed. Inevitably, this is likely to lead to a number of deeply concerned thought pieces about why this happened and what it means. Even before this poll came out, both Politico and National Journal had published another version of the "What's Wrong With Congress?" article, each coming to their own conclusions. Coincidentally, CNN is out with just such a piece this morning by David Frum, who argues that one of the chief problems in politics today is the manner in which it has come to resemble a Parliamentary system:
What's happening before our eyes is that the US congressional system is adopting the attitudes of a Westminster-style parliamentary system.

In a parliamentary system, "the duty of an opposition is to oppose" (in the famous words of Benjamin Disraeli). The opposition uses every trick and technique to thwart and defeat the government; the government uses all the powers of a parliamentary majority to overwhelm the opposition. (To quote Disraeli again: "a majority is always better than the best repartee.")

Then, at regular intervals, the two sides switch roles.

In the American system, there is no "government" and no "opposition." Who would lead such a "government"? President Obama? Or the man in command of the majority in the lower House — Prime Minister John Boehner?

In a system built around an administration and a bicameral Congress, everybody is part of the government — and the government only functions if there exists a certain baseline spirit of cooperation between the mutually indispensable parts.

That spirit of cooperation has tended to vanish in recent years. Back in 1986, Democratic leaders quashed those in their party who wished to try impeach Ronald Reagan over Iran-Contra. But as the Cold War ended, the party struggle intensified. The shock of the economic crisis since 2008 has made things worse still: desperate times lead to desperate politics.
As a contrast to the way we have become accustomed to working today, Frum offers the contrast of the 1981 Reagan Tax cuts. A centerpiece of Reagan's campaign, these cuts were deeply opposed by the Democratic leadership at the time and yet they became law largely intact. Not only, Frum notes, did Tip O'Neill let the tax cuts come to a vote in the House of Representatives, 48 Democrats who broke ranks on the key procedural vote on the bill and voted with the GOP suffered no real political consequences from their party. Had that happened under the rules in effect in Washington now, the House Democrats would have refused to schedule a vote on the President's tax bill, developed their own alternative, and jammed it through on a party line vote. In the Senate, the 46 members of the Democratic caucus would have used the filibuster to block the Senate from acting on the bill at all. And we would have been at a logjam. Yes, the Economic Recovery Act of 1981 passed in large part due to Ronald Reagan's ability to communicate his message and prompt action by the public, but if he had been forced to operate under the same rules as those that exist today even he would have been hamstrung in getting his agenda through.
As Frum notes, though, Reagan and O'Neill, and to a large extent the people who led Congress up until fairly recently, operated under a different set of rules:
Under the old rules, there were certain things that political parties did not do — even though theoretically they could. If one party controlled the Senate and another party controlled the presidency, the Senate party did not reject all the president's nominees. The party that controlled the House did not refuse to schedule votes on the president's budgets. Individual senators did not use secret holds to sway national policy. The filibuster was reserved for rare circumstances — not as a routine 60-vote requirement on every Senate vote.
Someone who suggested operating under such rules today would be called a "RINO" by Republicans, and accused of capitulating to Republicans by Democrats. Things have changed since the days of Reagan and O"Neill, though. As Frum notes, Members of Congress have less in common with each other than they used (military service was, for a long time, a common bond among legislators that crossed party lines, uniting Senators like Bob Dole and Daniel Inouye, for example). There were fewer sources of news and information so Americans tended to hear the same things, even if they disagreed with each other what they meant. And, perhaps, most importantly, the nation was not nearly as polarized politically:
Americans intermingled more with people of different points of view. Bill Bishop points out in his important book, "The Big Sort," in the very close presidential election of 1976, only 26% of Americans lived in a county that went for Gerald Ford or Jimmy Carter by a margin of 20 points or more. In the also close presidential election of 2004, almost 50% of Americans lived in a county that voted by more than 20 points for either George W. Bush or John Kerry.

Perhaps above all: the long prosperity of the postwar years lubricated the system with enough resources that just about everybody could get some of what they wanted: more spending, moderate taxes, reasonable borrowing, strong national defense.

Now instead we have a country that is spatially polarized, that gets its information from highly partisan media, and that confronts the worst recession and the darkest financial outlook since the 1930s.
The result is pretty easy to figure out. The plethora of news and information sources means that Americans can pick and choose where they get their news from. Conservatives tend to gravitate toward Fox News, talk radio, and conservative sites on the Internet, while liberals can be found watching MSNBC and reading the Op-Ed page of The New York Times. Instead of talking to each other, Americans are talking at each other and repeating the talking points they hear all day. Someone on the left believes the Tea Party is racist because that's what Ed Schultz and Rachel Maddow have told them. Someone on the right believes Barack Obama wants to turn America into a bastion of European socialism because that's what Rush Limbaugh and Sean Hannity have told them. The result is that both sides tend to end up electing people who adhere to the extremes of their parties and, as Frum said, seem to look at themselves as the Parliamentary opposition even though we have a government that is ill-suited to such a role.
Say what one might about Frum, but this strikes me as pretty plausible explanation of what's happened to our system, and it indicates that fixing it is going to involve more than just kicking out one set of bums and voting in a new set. In the end, the people that sit in Congress are a reflection of the people who put them there and if Congress has become more polarized, it's because the American public has become more polarized. It's not longer enough to just disagree with someone, in today's hyper-partisan atmosphere you have to question their sanity, their intelligence, their loyalty, or their motives. Is it any surprise that an environment like that create the kind of full-throated opposition we see in Congress today?
In a Parliamentary system, full throated opposition works out just fine, because all the power of the government is in the hands of the majority party. As long as the Conservative/Liberal Democrat coalition stays together in Great Britain, for example, there's very little that Labour can do to block Parliament from acting. The main purpose of the opposition is to stand as an alternative to the government and to be prepared to take over should they become the majority. This kind of opposition doesn't work so well in our system of government, though, which presumes some level of cooperation between the branches even if they are controlled by opposing power. That doesn't mean that Republicans should roll over and give the President whatever he wants, or vice versa. It does mean, however, that something like the rules that were in existence at the time of the Reagan years should be what governs the relationship. Otherwise, we end up with a situation like the one  we have today where even simple things like passing a budget or Continuing Resolution, or raising the debt ceiling, become impossible.