43 Republican Senators Say They'll Vote No On Reid Bill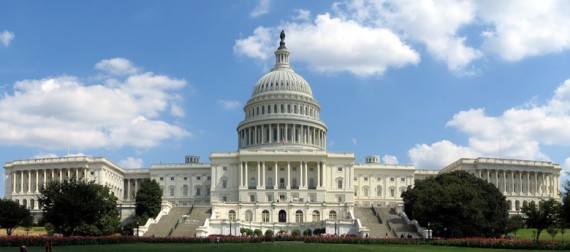 The prospects for Harry Reid's debt ceiling plan just got a lot more difficult with the release of a letter from Mitch McConnell signed by enough Republican Senators to stop any effort to invoke cloture:
Forty-three GOP senators on Saturday signed a letter addressed to Senate Majority Leader Harry Reid (D-Nev.) expressing opposition to his debt-ceiling legislation currently being considered in the upper chamber.

Their unified opposition to the bill leaves Democrats at least three votes short of the 60 needed to a clear cloture and virtually assures its defeat when it comes up for a vote tonight or tomorrow morning.

Only moderate Republican Sens. Susan Collins (Maine), Olympia Snowe (Maine), Scott Brown (Mass.) and Lisa Murkowski (Alaska) did not sign on to the letter.

"We are writing to let you know that we will not vote for your $2.4 trillion debt limit amendment which, if enacted, would result in the single largest debt ceiling increase in the history of the United States," reads the letter.

Senate Minority Leader Mitch McConnell (R-Ky.) took to the floor moments after the letter was delivered to assure Reid, who was also on the floor, that the proposal had no chance of clearing the chamber.

"It's not going anywhere," said McConnell. "It will not pass the Senate. It will not pass House."

McConnell also accused Reid of "delaying the inevitable" defeat of the bill and called for an immediate vote. The first procedural vote is currently expected at around 1 a.m. on Sunday.
Reid's bill will die in the 1:00am vote unless he's able to make changes that peel away at least three of those 43 Republicans, something that seems quite unlikely at this point. Odds are that we will wake up in the morning with every proposed debt ceiling plan essentially dead in the water. And we're running out of time.