A Donald Trump Pivot? Don't Count On It
One speech isn't going to make up for what we've seen so far.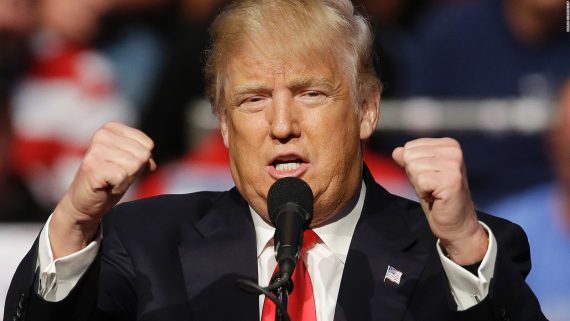 Political talk shows this morning are full of coverage of what some are calling an apparent change in rhetoric from Donald Trump, at least for one speech, but it's not clear how much of a change this actually represents:
CHARLOTTE, N.C. — Donald J. Trump on Thursday expressed regret for making statements that have "caused personal pain," a rare display of contrition that followed the shake-up of his campaign's leadership this week.

"Sometimes, in the heat of debate and speaking on a multitude of issues, you don't choose the right words or you say the wrong thing," Mr. Trump said. "I have done that. And believe it or not, I regret it."

The crowd gathered at a convention center here responded by chanting Mr. Trump's name, and he gave them a thumbs-up.

"And I do regret it, particularly where it may have caused personal pain," Mr. Trump added. "Too much is at stake for us to be consumed with these issues."

Mr. Trump's statement of regret, in a prepared speech in which he spoke of a "New American Future," seemed to be a step toward trying to recover from a number of public quarrels and other episodes that have damaged his campaign, including a dispute with the family of an American Muslim soldier who was killed in Iraq.

But in his speech, which he read off a teleprompter, he did not specify what he regretted, offer specific apologies or linger on the subject. In his campaign, Mr. Trump has at times sounded restrained and on-message, only to quickly revert to his more pugilistic nature.

(…)

Mr. Trump installed Stephen K. Bannon, the executive chairman of the website Breitbart News, as the chief executive of his campaign. He also elevated a pollster and strategist who was already advising him, Kellyanne Conway, to serve as campaign manager. The moves were seen as signals that with less than three months left before Election Day, Mr. Trump does not intend to change his contentious approach.

The personnel moves come as polls show Mrs. Clinton leading in critical swing states, including in North Carolina. An NBC News/Wall Street Journal/Marist poll conducted this month found that Mrs. Clinton held a nine-point lead in the state.

In his speech on Thursday, Mr. Trump said that in his administration "every American will be treated equally, protected equally, and honored equally," echoing a pledge he made on Tuesday outside Milwaukee.

During that speech in Wisconsin, he made a direct appeal to African-Americans. He did so again on Thursday, targeting a demographic that makes up about one-third of the population in Charlotte.

"If African-American voters give Donald Trump a chance by giving me their vote, the result for them will be amazing," he said.
It seems fairly clear that the change in rhetoric represented in his speech is perhaps the most visible representation so far of the impact of the change in leadership in the campaign announced earlier this week, specifically most likely the influence of Kellyanne Conway, a longtime GOP pollster and political adviser who has long been associated more with the party establishment than the hard-right wing that has been Trump's base since he entered the race. At the same time that Trump brought Trump on board, though, it's worth remembering that he also brought on Breitbart CEO Steven Bannon who has long been a cheerleader for the kind of confrontational, controversial rhetoric that Trump has specialized in so far. The contrast between the approaches of these two advisers could not be more apparent, and one wonders just how long it will be before the advice the two give to Trump begins to conflict so much that he'll have to choose which direction to take his campaign. Trump being Trump, one suspects that he won't find this new Trump very comfortable for very long and that we'll see the return of the old Donald Trump in campaign speeches or on Twitter rather quickly, particularly in the wake of the mounting attacks from Hillary Clinton and her supporters that Trump has shown he cannot seem to find a way to not lash out in response to. Last night's speech was just one speech, given time one suspects that the real Donald Trump will return before long, indeed probably sooner rather than later, and that this "regrets, I've had a few…." moment will be gone and forgotten.
The other question, of course, is whether any effort to try to rebrand Donald Trump can possibly succeed in the roughly eighty days before Election Day, and even less time before early and absentee voting begins in a large number of states across the nation, including swing states such as Florida, North Carolina, and Ohio. The Donald Trump we have come to know, on the other hand, has developed his reputation not just over the past fourteen months that he's been a candidate for President, but over the thirty-odd years that he has been a presence in the national media. Not only is it hard to believe that a few days with new advisers is going to change who Donald Trump is, it's hard to believe that any kind of reboot is going to do very much to change public perceptions of who Trump is as a person as a candidate. This is especially true given the fact that the Clinton campaign and its supporters have spent the better part of the summer on an ad campaign designed to define Donald Trump in the eyes of voters. When Barack  Obama's campaign did this to Mitt Romney in 2012, it created an image that Romney was unable to fully escape no matter how hard he tried. In addition to the fact that he is likely to slip back to his old ways sooner rather than later, the extent to which Trump has already been defined by his own actions is likely to have a bigger influence on the campaign than a single speech.