A New Era for Conservatives?
The events of the past two weeks could allow the Republican Party to move forward.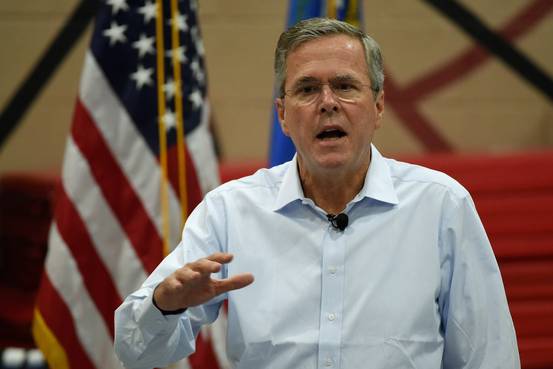 In the wake of the Supreme Court striking down the last challenge to Obamacare and declaring a Constitutional right to same-sex marriage, author and regular OTB commenter Michael Reynolds declared that "The Tea Party hard right wing of the GOP now lies in complete ruin." At the same time, he observed, Jeb Bush "just got a gift tied up with a bow. He won't have to talk about gays. And Obamacare is now one of those increasingly dusty, irrelevant issues. Which should leave him with a better shot at focusing on economic issues where he'll be much more comfortable."
One of our other longtime commenters has been fixated for years on the notion that demographic changes to the country will make America a one-party state because there's no way to have a conservative party in a pluralistic society. I've pushed back on this, arguing that it's absolutely possible to have a conservatism that's different from the model offered by the Tea Party. Indeed, I'd argue that the Tea Party isn't even conservative in a meaningful sense so much as reactionary and retrogressive.
Lance Mannion points out that American conservatism was much more positive within recent memory.
"Once upon a time, back when I was your age, there used to be conservatives who were actually conservative.

"I mean there were people who thought it was more important to take care of the present as opposed to making the future brighter, which is basically what they thought liberals were up to. They were wrong about that. That wasn't and isn't all liberals are up to. The idea is to make the future brighter by taking care—as in fixing and improving—things in them present. But the point is that conservatives believed things were just fine as they were or if they weren't, it was nothing a little tinkering couldn't fix. And the upshot was that conservatives were great on tinkering. They could admit there were problems and set out to fix them just not with the zeal and alacrity liberals would bring to the project or with the budgets liberals thought necessary. They were too cautious, too prudent, too skeptical, too cheap, often enough, but they were still realistic which didn't always mean seeing what couldn't be done. It sometimes meant seeing what could. That allowed them to be problem solvers.

"And being problem solvers allowed them to be something else. Unafraid of social change.

"They didn't always like it. They were usually doubtful of anything much good coming from it. And they often didn't see the need. But sometimes they did. And they understood that it might cost them something in money or privilege or or comfort or peace of mind.

"Because they were something else. Two something elses, I should say.

"Open-minded and open-hearted.

"So, back then, when I was your age, it was possible to be a conservative, to be a Republican, and still be for Civil Rights and women's freedom of choice. It was possible to be a conservative and a Republican without thinking all government spending was evil or even wasteful. It was possible to be a conservative and a Republican and still want to do things to make life better for the poor and unfortunate and that the government had at least some responsibility and the competence to do that. It was possible to be a conservative and a Republican without thinking the answer to every threat to national security was war and more war. It was possible to be a conservative and a Republican without having to be homophobic, racist, xenophobic, misogynistic, paranoid, reactionary, and otherwise generally angry, hateful, and afraid.

"And finally, because they weren't always angry and afraid and weren't wedded to the idea that all social change was bad and that the government wasn't in one way or another using talk about fixing problems and making the future brighter to take things away from them to give to you know who and what color you know who are, it wasn't necessary for conservatives and Republicans to deny reality, reject facts, refuse to look at any evidence they were wrong or had made a mistake, hate and fear education, close their minds and shut down their imaginations."

I plan to tell them this not as a political lesson but as a preface. I won't get into when and why all that began to change. I'm not even going to mention that now nearly extinct animal, the liberal Republican. What I'm going to be leading up to is this:

"When I was your age it wasn't necessary for conservatives and Republicans to be anti-science.

"Not only weren't Republicans and conservatives anti-science, they loved science. And scientists.

"So much so that it wasn't possible to guess a scientist's politics by the fact that he or (a lot more rarely then) she was a scientist."

"Not so much that way anymore."
Richard Nixon's "Southern strategy" is said by many to be the start down the current path and Ronald Reagan took us further down it by making alliance with the Moral Majority and other Christian conservative groups. Both simultaneously broadened the Republican base in the short term but turned it into an ideological party, vice a catch-all party, that appealed mostly to Southern and rural whites in the longer term. Still, both Nixon and Reagan were ultimately quite pragmatic as presidents, championing policies that would make them outcasts in today's GOP.
George H.W. Bush, he of the "thousand points of light," was the last of the small-C conservative presidents but he was never really trusted by the big-C conservatives in the party. Bob Dole, the 1996 nominee, was also in that camp.
George W. Bush is an odd case, in that he ran as a "compassionate conservative" and a "humble foreign policy"—I think honestly—and wound up governing quite differently. The Iraq War will likely forever tarnish his legacy as a conservative on the international affairs front but but he did live up to the "compassionate" label on all manner of domestic policies, notably extending Medicare to cover prescription drugs, a very inclusive stance towards Hispanics, and a sane approach to the role of government in the face of the 2008 global economic crisis. (Indeed, even on the foreign policy front, PEPFAR, his massive increase in aid to Africa for fighting disease, will save an amazing number of lives and very much exemplifies the brand of conservatism for which Mannion pines.)
John McCain, the 2008 nominee, was every Democrat's favorite Republican until the wheels started coming off. His choice of the unqualified ignoramus Sarah Palin as his running mate soured many of us on him and he's gone off the deep end on foreign policy, in particular, since losing to Obama. Still, he was a small-c conservative on most matters of domestic policy, most notably on immigration policy. I continue to believe that Mitt Romney, the most recent nominee, was as well despite his tortured flip-flops on policy in a vain attempt to please the base by pretending to be someone he wasn't.
Now we're faced with the prospect of a third President Bush, although this time one not named "George." I thought he was the likely nominee even before recent events and tend to agree with Reynolds that they enhance his prospects. Left out of Reynolds' list is the shocking turn against the Confederate battle flag in the wake of the Charleston church massacre.
Despite some stumbles in his short campaign, he's on the right side of these issues. A recent Reuters piece notes that he's struck exactly the right tone in the wake of Charleston:
Jeb Bush, a Republican contender for president, will sit down with pastors on a visit on Monday to Charleston, South Carolina, where nine African-Americans were shot to death at a historic black church, his campaign said on Friday.

Bush, the former Florida governor who leads many polls of Republican voters in the race for the party's 2016 presidential nomination, had canceled a planned campaign stop in Charleston a week ago when the shootings took place.

Instead of a campaign event, Bush will hold a private session with pastors from the Charleston community. In an attempt to keep the session low key, the news media will not be allowed in.

Bush has vowed to campaign in places where Republicans have not always gone in recent years, such as black churches and impoverished neighborhoods.
Nor is this a newfound position. As Ed O'Keefe noted in WaPo last week,
In early February 2001, Jeb Bush quietly ordered the removal from State Capitol grounds of "The Stainless Banner," a mostly white flag that featured the Confederate battle flag design in the top left corner.

The flag flew outside the west entrance of the Capitol in Tallahassee with three other flags memorializing the history of the Sunshine State. Bush had decided to remove the flags in December 2000 — in the wake of a bitterly contested presidential campaign that featured both a primary season debate about the Confederate flag, and the protracted recount that resulted in his brother's election as president. Two months later, they were gone.

Before his decision, Bush had already telegraphed his opinions on the flag. In Jan. 2000, as national organizations began pressuring Southern states to remove the Confederate flag from public spaces and public property, a resident named Suzi Harper e-mailed: "What is your thoughts on this confederate flag issue?"

Bush responded: "I am happy that we don't have a confederate flag."

The flags came down quietly on a Saturday morning, and the decision went unnoticed for another eight days, until news reports spread the word. Within hours, Bush — an avid e-mailer who urged Florida residents to write to him directly — started receiving often-heated criticism in his inbox.

"You are not from the South," wrote Carole Shelton. "You have no right to impose your northern prejudices and misconceptions on the people of Florida and to snub your nose at its history. I demand that the flags be returned to their original place, around the fountain or in front of the old capitol."

"Carole," Bush wrote, "soon you will be able to see the flags in the Florida History musuem [sic]. They will be respectfully displayed."

He added: "PS I am a Floridian born and raised in Texas."

Jim Jenkins of Madison, Fla. angrily wrote to tell Bush: "You are a YANKEE trying to run a Southern State, you just don't get it do you??"

"Sir, I voted for you, but NEVER again," he added. "I know you will never read my e-mail as you"ll have one of your flunkies respond."

Bush replied: "Mr. Jenkins, I am reading your email and I don't have flunkies around me. You will be able to see the flags that flew over Florida in the Museum of Florida History proudly displayed."

Records suggest Jenkins never replied to Bush.

In a separate message, Wesley H. Frank told the governor: "I am disappointed in your feelings toward this state, your only here to get elected to the next higher political job, you only are worried about your image not Florida, her people, nor her proud history."

"I agree with you that the flags should be displayed as history," Bush wrote back. "That is why since there is a fountain project commencing where the flagpoles once were, they will be respectfully displayed in the Museum of Florida History."

Bush's decision to remove the flag came more than a year after he declined to issue a proclamation recognizing Confederate History Month — an honor many of his predecessors had issued with regularity, because the month was used as a time to teach schoolchildren about the state's history.

Recognizing that the month had been advocated for educational purposes, Bush initially proposed signing a proclamation declaring "Civil War history." But the proposal was rejected by Confederate heritage groups, so he backed off and never signed a heritage declaration over his eight years as governor.

For years, his inbox was flooded with messages blasting his decision.

"I understand that it is a tourist state," wrote Jane Knowell. "But that doesn't alter [sic] the fact that it is still a southern state. I feel that in denying to designate April as confederate history month, you are telling the people of Florida that the only ones who matter to you are the ones who have moved here from up north."

Bush replied: "People of all origins matter to me. I have a great respect for our Southern Heritage and the heritage of those who came from other places as well."

An Orlando man named Mark Hopper also wrote to Bush, asking "I appeal to you to recognize this day. Many a brave man died doing not what he wanted, but what he was told to do by his state for the cause."

"I was prepared to recognize the day but using language that was not offensive and was respectful of the organization," Bush told him. "That effort was rejected. Rest assured that I am appreciative of your contribution to our state."

In another message, Bush wrote that "We would be denying history if we failed to recognize that Floridians today are in fact descendants of soldiers from both sides of the war. That's why I offered to issue a broader 'Civil War Heritage' proclamation — one that would promote the discussion of the causes and effects of the Civil War from all perspectives."

Bush copied several aides on that response, one of whom noted that the Union Army had organized two regiments of cavalry from Florida.

"So even though the majority of Floridians sided with the south, Florida residents fought on both sides of the war," wrote Bush aide Cory Tilley. "And as you can see there were actually Florida veterans who fought for the union."

"Long live the union," Bush wrote in reply. "Abe Lincoln would be proud and he was probably our greatest presidente [italics added]."

Rarely, Bush received e-mails complimenting him for his decision to remove the flag and to stop recognizing Confederate Heritage Month.

An NAACP chapter wrote Bush in Sept. 2002 to thank him for his decision on the flag, but noted that some counties still flew it outside courthouses.

"I can only change policies directly as it relates to state government," he wrote back. "You are correct that I lead on this issue by removing the flags, other than the American flag and the beloved Florida flag on the state capitol premises.

"I can lead by example for the rest of the state," he added. "I have done so by embracing diversity and having no tolerance for racial hatred. My record has lost me support but it is the right thing to do."
Additionally, Bush is married to a Hispanic woman, speaks Spanish fluently, and did extraordinarily well with Hispanic voters in Florida. While he'd still do poorly compared to Hillary Clinton (or any Democrat) with black and Latino voters, he could make inroads and start to put the GOP back into contention for their votes by stopping rhetoric that outright alienates and insults them.
With the gay marriage issue hopefully off the radar screen, he's less likely to be forced to pander on the issue to win over primary voters. While expressing his "disappointment" with Friday's ruling, he has allowed that  a constitutional amendment banning same sex marriage is "unrealistic," calling for an environment where, "people aren't discriminated against," while also allowing "people to act on their religious conscience."
Even in sounding the traditional Republican line on gun control, he at least acknowledges that we have a systemic problem and that "we as a society better figure out how we identify these folks long before they feel compelled to take up a gun and kill innocent people."
On Obamacare, he's bypassed the notion of outright repeal of a program that, while unpopular as a package, contains many very popular pieces and instead is calling for  "a system that provides people with access to a high-deductible, low-premium catastrophic coverage." That's a perfectly reasonable position: one that's true to conservative principles while at the same time recognizing that there's a serious problem that needs addressing.
While he was denying the science on climate change even a few years ago, he's now at least acknowledging that it's an issue to be addressed, if mostly through market forces: "We need to restore our competitive posture, which I think our energy revolution will allow us to do, and then simultaneously … be cognizant of the fact that we have this climate change issue and we need to work with the rest of the world to negotiate a way to reduce carbon emissions" and "Right now we are one of the counties that has reduced carbon emissions because of the natural gas revolution, converting from coal, and conservation — the two things that have driven a reduction in CO2 emissions."
Bush is far more likely than the other moderate governors in the race, John Kasich and George Pataki, to win the nomination. All three of them, though, have the potential to turn the Republican Party back in the direction needed to appeal to the country that America is in 2015 rather than continuing to run as if Jimmy Carter were still in office. Most Republicans under 50 that I know—and I know a lot of them—would welcome it greatly.