A Post-Trump Republican Party
What would a reborn GOP look like and who would vote for it?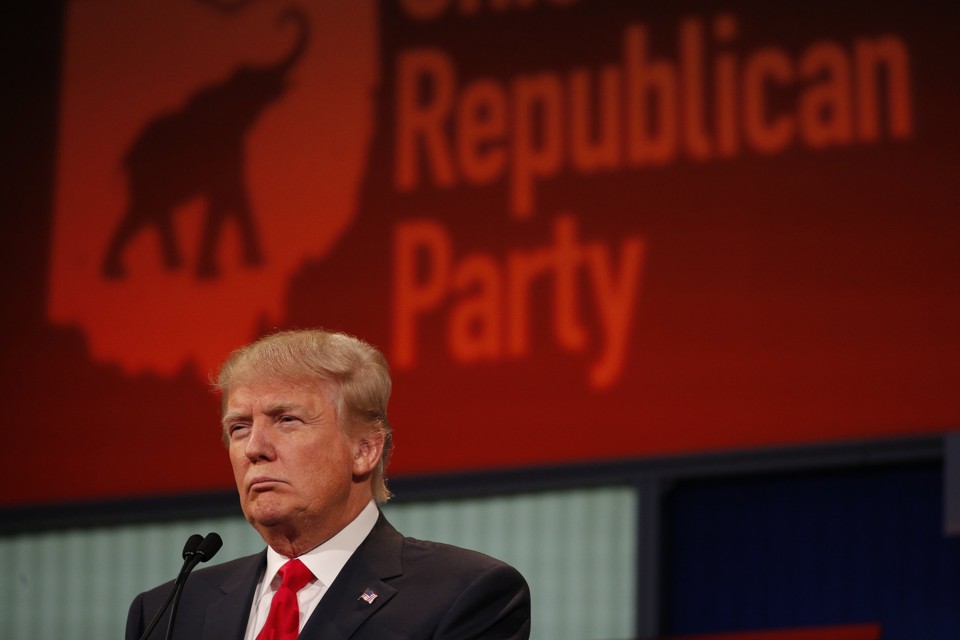 The Washington Post's two Never-Trump former Republican columnists take on the New York Times's Never-Trump former Republican columnist.
Max Boot ("If these leaders define the future of the Republican Party, it doesn't deserve to have a future"):
With President Trump trailing in the polls, there is palpable hope in some quarters that the Republican Party will get back to "normal" before long. That means a Reaganesque agenda of tax cuts, free trade, deregulation, muscular internationalism, social conservatism and a welcoming attitude toward immigrants.

New York Times columnist David Brooks — an old colleague from our days together at the Wall Street Journal editorial page in the 1990s — is rightly skeptical of this assumption. "The basic Trump worldview — on immigration, trade, foreign policy, etc. — will shape the G.O.P. for decades, the way the basic Reagan worldview did for decades," he wrote last week. But Brooks nevertheless suggests that a high-minded debate to define the nature of the GOP is underway among four youngish senators: Marco Rubio (Fla.), Josh Hawley (Mo.), Tom Cotton (Ark.) and Ben Sasse (Neb.).

Rubio, he writes, "bases his vision in Catholic social teaching" and champions "common-good capitalism." Hawley is a populist whose "core belief is that middle-class Americans have been betrayed by elites on every level." Cotton is an uber-hawk on everything from China to Big Tech. Sasse "is a Tocquevillian localist" who thinks that government's job "is to 'create a framework of ordered liberty' so that people can make their family and neighborhood the center of their lives."

Brooks's column accurately reflects what these senators are saying. But, I'm sorry, I can't take any of their high-minded blather seriously. Not when they have spent the past four years acting as enablers for the worst president in U.S. history — or at least the worst in the past 151 years.
The rest of the column catalogs how bad the Trump presidency has been, something most OTB readers likely need little persuasion on, before concluding,
And yet at every step of the way, Rubio, Hawley, Cotton and Sasse have been Trump's willing accomplices. Not one of the four voted to impeach Trump or even to call witnesses so as to have a proper impeachment trial. They have praised Trump a good deal and criticized him obliquely and infrequently. (Sasse is becoming a little more critical now that he's won his Senate primary.) They have failed to use their tremendous power to rein in a disgraceful and destructive president. They have thus become as guilty as Trump of crimes against the Constitution.
I would quibble on the margins on Sasse, in particular, but can't disagree with the overall thrust.
Jennifer Rubin ("Do we even need the Republican Party?") piles on:
In anticipation of President Trump's loss in November, there is a cottage industry of speculation about the fate of the post-Trump Republican Party. The New York Times's David Brooks pines for a Republican Party without racism, anti-government animus or unbridled faith in free markets. (The technical term for that might be "the Democratic Party.") It would be refreshing to see the Republican Party cast off its obsession with old white men in favor of "a cross-racial alliance among working-class whites, working-class Hispanics and some working-class Blacks." That, however, supposes Hispanic and Black voters have no memory of years of racism and xenophobia, and that the party's heavily White support is based on something other than racial resentment. Both propositions are questionable.

A Republican Party that does not depend on White grievance and cultural resentment (leading to incessant whining that its members are victims of everything from Facebook to climate scientists to immigrants) and does not depend on what Brooks aptly describes as "an anti-government zombie Reaganism long after Reagan was dead and even though the nation's problems were utterly different from what they were when he was alive" would frankly not have much to say. After you strip away those two failed themes, what's left?

The unpleasant truth for those expected to say "there are fine people" in both parties is that, aside from a few stray governors and Sen. Mitt Romney (R-Utah), there really are not fine people running the Republican Party. They have sold their souls to Trump and either passively or actively bought into white supremacy and religious authoritarianism (which weirdly has as its most vocal proponent the attorney general). They waged war on the Constitution and objective reality. There is nothing redeeming in any of that — or in the right-wing media machine encompassing the deluded true believers and money-hungry charlatans willing to throw red meat to an audience they suppose consists of uneducated bigots.

The issue post-Trump then is twofold: What respectable ideology could the Republican Party adopt, if it wanted to? And, if a think tank could concoct an acceptable center-right ideology, what constituency could it possibly attract?

The death knell of the modern Republican Party and of what remains of "conservatism" might have been the Democratic Party's choice of former vice president Joe Biden, not Sen. Bernie Sanders (I-Vt). The opposition to a self-declared socialist could have preached the value of moderation and the necessity of preserving capitalism in some regulated form. The opposition to Biden — a decent, center-left believer in incremental change and the power of government to solve problems — is unclear. Would that be a stated determination not to address climate change? A determination just to spend a few trillion dollars less? You see the problem.

We need a two-party system, but we do not have a two-ideology political culture if the price of admission is a reality-based, decent, inclusive and constitutionally respectful ideology. If there is to be, as I hope, a grand coalition from center right to center left that generally defends constitutional government, curbs on the excesses of the free market, globalization with a safety net, responsible international leadership and a determination to root out systemic racism, I am not certain what that leaves to the opposition. On the left, it might be Sanders-style socialism. But on the right?
This is all more-or-less true and rather silly.
First, to answer the question raised by Rubin's headline writer, America needs a Republican Party. Or, rather, it needs a second major party and it would be much, much easier for that party to bear the name "Republican" given longstanding institutional barriers.
Second, Boot and Rubin were rather staunch members of that party until it nominated Trump. I don't have the time to go back through their old columns but I suspect they were fine with Rubio back then, too. (The others have come to prominence more recently, so they may well not have had an opinion.)
That Congressional Republicans have followed in near-lockstep with Trump is both sad and unsurprising. The nature of the modern American party system is that, contrary to the vision of the Federalist Papers, the President is the agenda setter and his partisans in both Houses of Congress are expected to carry his water in a struggle with those of the opposition.
Whether true in fact or not, the popular wisdom was that the Democratic Party had gone too far left starting in 1968 and thus lost five of six Presidential elections in a row, with the exception requiring Watergate, an accidental Republican nominee, and nominating a born-again Southern governor to squeak out a close one. In 1992, the party nominated New Democrat Bill Clinton and suddenly won the popular vote in every election save one since.
Granting that there is some mythology in that tale, as well as the eliding of significant demographic shifts, it illustrates that a political party can, at the national level, shift on a dime. Just as the Party of Romney became the Party of Trump, the Party of Trump could theoretically become the Party of Huntsman or the Party of Hogan. And Rubio, Sasse, Cotton, and company would cheerfully go along with their agenda.
Now, the more interesting question is the one Rubin actually asks: What would this New Republican agenda look like?
The short answer is that nobody knows. But it probably won't be ginned up in a think tank somewhere.
Pundits love the notion that ideas matter and, on occasion, they do. But national politics tends to be more about capturing the zeitgeist than policy papers.
While Joe Biden was far and away the most experienced candidate running for the Democratic nomination this year, he wasn't the one with the great plans. That was Elizabeth Warren. She almost literally had a plan for every single policy area.
I voted for Biden in the primary and think he'll make a solid President. But I have no idea what his First Hundred Day agenda will be. I'm not sure he has one.
Rather, he ran on ridding the country of Trump and restoring some notion of decency and competency to the White House. In 2020, that's more than enough.
I don't have a good enough crystal ball to even pretend to know what will motivate an opposition in 2024 or 2028. It'll be much easier if the Democrats are the party of Alexandria Ocasio-Cortez rather than, say, Kamala Harris.
Sooner or later, though, we'll have another Republican President and they'll run on an agenda that would be anathema to Trumpists.